Made in Italy furniture is among the most beautiful and appreciated in the world. It is often made with the highest quality materials, such as wood, marble and leather, which make it durable and elegant. Additionally, Italian furniture is often designed with unique and intricate details, which can add a touch of elegance to any room in the house. What luxury Made in Italy means craftsmanship, quality and the highest level of refinement. We all know the Italian Designer brands, but do you know these leading Furniture Brands: Mascheroni, Mattellassi and Carpanelli 1919. 
Mascheroni
Mascheroni - a brand that is internationally recognised for the high quality of its upholstering. Innovatively designed products and full suits of furniture for demanding customers; and people looking for luxury Italian furniture. Mascheroni was established about 40 years ago in Cabiate, a town not far from Milan. This is where it has its head offices, in the heart of the manufacturing district of Brianza. In the 80s, the workshop became a company and Mascheroni became a brand that is internationally recognised for the high quality of its upholstering. Mascheroni is today one of the few companies that handles and controls the entire production cycle, in so doing ensuring perfect quality at each step of the production process, from the selection of the raw materials to production, right up to custom services.The manufacturing activity is based on teamwork and on the skills and quality of the individual craftsmen.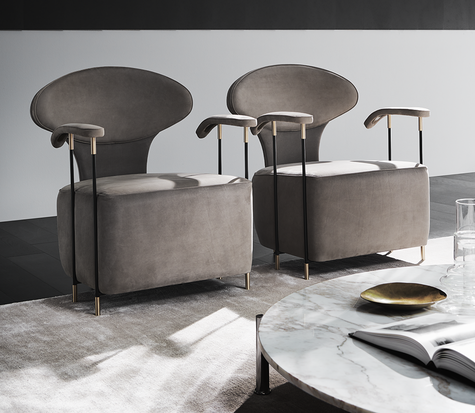 Magicabula is a drawn stroke, a game of curves, an object on which to be comfortable but without indulging in unrefined poses. Once seated, the height of the armrests makes it impossible not to assume a regal attitude, as would a king or emperor on his throne.
It has small dimensions and a fine visible steel structure black powder-coated lightly balanced on precious brass feet. The seat the back and armrest upholstered in leather give an elegant touch that is well suited to this precious armchair. Each Italian handmade Mascheroni product is marked with a plate engraved with the brand "Mascheroni srl Made in Italy" which certifies its authenticity.
The DP version is characterized by the back made with the same manual skill and technique that characterizes this collection. This product is particularly suitable to be positioned at the center of the scene, therefore at the center of salons to be able to appreciate its beauty in its entirety. Upholstery available in all natural cowhides from the "Mascheroni Leather Color System" collection. Each Mascheroni product, completely handcrafted, is marked with an engraved plate "Mascheroni srl made in Italy" which certifies its authenticity. Innovative and embracing design for the sofa set GESSATO DP, made by sewing together dozen of small leather strips. The well-crafted and unique feel contributes to the elegance, style and memory of this collection. Model GESSATO DP has been created with the same careful technique on the back making something like a unique piece. It has been conceived to be placed at center of the room, taking centre stage, in order to appreciate its global beauty.
Each Italian handmade Mascheroni product is marked with a plate engraved with the brand "Mascheroni srl Made in Italy" which certifies its authenticity.
Mantellassi
Mantellassi 1926 entrusts production to authentic master craftsmen of the ancient Tuscan school: smelters, patinators, chisellers, cabinet makers, experts in the art of carpentry, wrought iron and light, all striving for a quality of execution sublime, creating pieces that play on the expectations of those who love the 'made in Italy' style, in a continuous dialectic between craftsmanship and industry. For example, Pulce - an armchair with harmonious and timeless curves, re-proposed by Mantellassi in a modern key, using the latest generation of materials and upholstery, for an even greater result of comfort. The playful spirit of its reinterpretation make it suitable for any environment.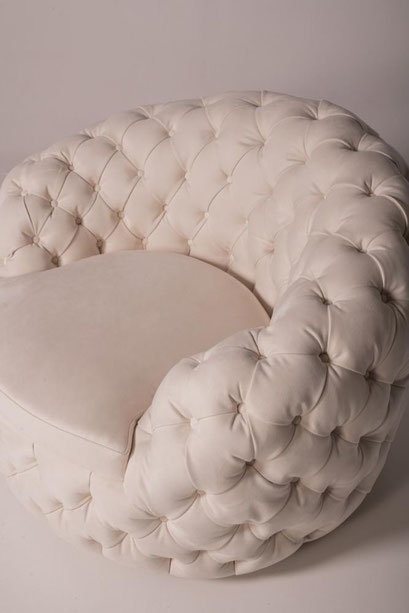 Nuvola is a series composed by sofa, day bed, armchair, coffee tables and tv holder.
A collection that has become Mantellassi' Status Symbol. Nuvola embodies the pride of being top of the class, the ambition to explore innovative solutions. In capitonné quilted pattern making it is a benchmark. The Nuvola armchair can only be made by skilled carpenters and upholsterers, able to freehand shape 8 coats of cowhide around  a solid body with over 500 buttons for the 350 cm sofa. Technically, it is made with a solid fir structure. Seat frame in fir. Padding in differentiated density polyurethane foam with acrylic fiber covering. Springing with interwoven elastic straps of coated rubber.
Carpanelli 1919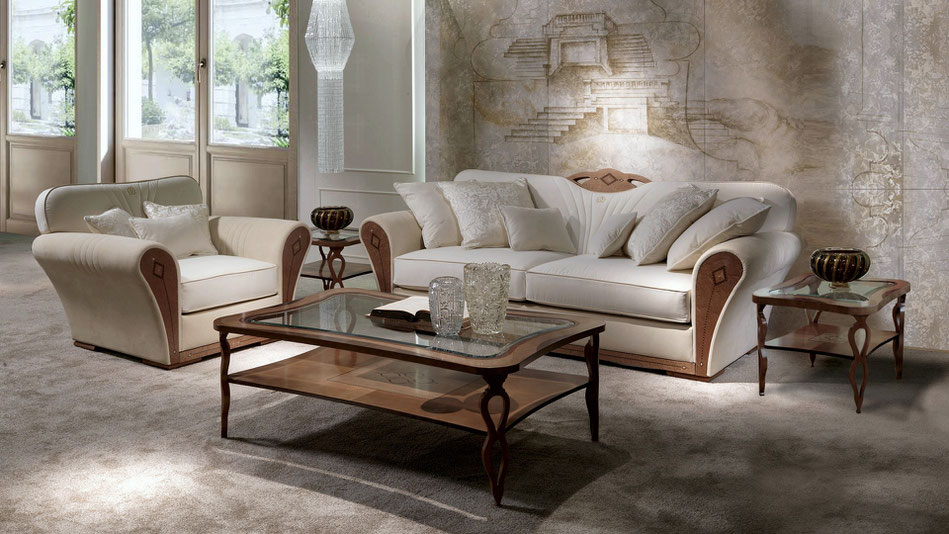 Speaking of brands of luxury sofas, we could not forget to point out Carpanelli, a company specialized in the production of high-quality furniture since 1919. Determined to give shape to the wishes and dreams of its customers, it has always created prestigious upholstered furniture that can be customized both in terms of structure and finishes and coatings. Charme Armchair from Carpanelli 1919 - Armchair with sinuous profiles enriched by wooden fronts, embellished with geometric inlays and mother-of-pearl details. Simple, elegant designs using the highest quality wood such as for the lounge chairs Mistral in walnut or even ebony. Or the Galileo armchair with beautifully curved and perforated structure and back, upholstered seat in fabric or leather.