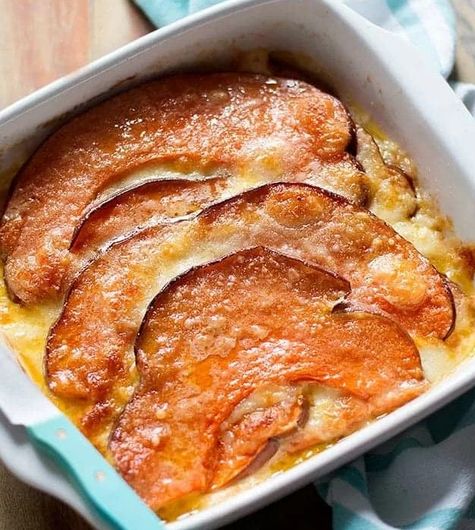 Pumpkin Parmigiana - Parmigiana di Zucca - is an exquisite single dish, also ideal as a second course, a variation of the classic Eggplant Parmigiana; in this case made with slices of pumpkin breaded without frying; then alternate in layers with mozzarella and parmesan, finally baked in the oven, until a crispy golden surface is formed that covers the stringy and tasty filling! Pumpkin slices are not fried, but thinly cut, breaded with all the peel on and then baked in the oven just like pumpkin chips. In this way the dish is light and not greasy! Just 10 minutes to assemble and your pumpkin Parmigiana is ready to be baken!
Ingredients  (for a 20-22 cm pan)
800 gr of pumpkin; 300 gr of perfectly drained mozzarella or provolone; 4 tablespoons of Parmesan cheese; 2 tablespoons of flour; 3 tablespoons of extra virgin olive oil; salt; pepper (optional)
Preparation:
First of all, cut the pumpkin into slices of about 4 mm you can leave the skin on or remove it. Then bread each slice of pumpkin, on both sides in flour. As you bread, place the slices on a baking tray lined with baking paper. Do this until the pumpkin runs out (it is possible that you will fill 2 trays). Then season the pumpkin with a drizzle of oil and salt. Bake in the oven at 180 degrees for about 15 minutes. Take out of the oven and leave to cool in the pan. Finally assemble the pumpkin parmigiana. Pour 1 teaspoon of oil into the pan, lay a layer of pumpkin slices. Finally alternate a layer of perfectly drained mozzarella and 1 tablespoon of parmesan. Then alternate another layer of pumpkin slices - provolone or mozzarella and parmesan. Continue like this until all ingredients are used up. Complete with pumpkin slices, a nice sprinkle of Parmesan cheese and a few cubes of mozzarella! Cover the parmigiana pan with aluminum foil. Bake in a preheated oven at 180 degrees for about 40 - 45 minutes. The last 12 -13 minutes, remove the aluminum foil, raise to 200 ° and operate the grill. You will see that your pumpkin Parmigiana will form a wonderful golden crust! Remove from the oven and let cool at least 15 minutes before serving.
Pumpkin is a food with a particularly delicate flavor that can be prepared as an appetizer, side dish or as in this case an entry or even as a main dish. But what type of wine would you combine with the Parmigiana di Zucca? To reinforce the sweet flavor of the pumpkin white wine goes well; as it  will delicately enhance its aromas and blend perfectly with its sweet taste. Ideal is the combination with a white such as Prendas - Vermentino di Sardegna Doc, intense and persistent, acidulous, with a delicate and characteristic bitter vein on the finish or Giunco Vermentino Doc from Cantina Mesa with an aroma of citrus zest and tropical fruits with balsamic notes and hints of iodine.