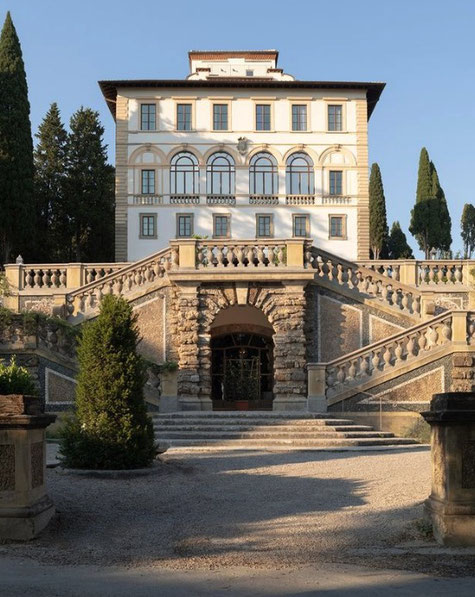 Just outside the city limits, the winding road around the wooded hillside leads up to the grandiose Villa Il Salviatino;  among a 12.5-acre private park, just 10 minutes from Florence and 25 minutes from the airport. Once home to the Rucellai and Salviati families, art critic Ugo Ojetti, and even the headquarters of Stanford University in the 1980s, the 15th-century Il Salviatino has just emerged from a two-year makeover that has brought the imposing monument up to contemporary five-star standards without losing any of its essential charm. Guests are made to feel as if at home in their own private Italian villa, offering 40 rooms and suites and five-star hotel amenities. A heavenly style that incorporates the Renaissance classic respecting the roots of the mansion, made even more elegant and fresh through a modern approach with contemporary design details.  
The villa also houses a historic library where it echos the times when the great masters Salvador Dalì and Gabriele D'Annunzio hosted literary salons. The outdoor terrace facing the Dome is perfect to enjoy a healthy breakfast or a candlelit dinner with views over Florence. Wellbeing is a philosophy at Il Salviatino, impossible not to take a moment to relax at the spa or by the heated outdoor swimming pool, while walking paths, biking tours and yoga classes are always an option.
There are options of suites and rooms; each individually decorated, respecting the many particularities of the villa and its gardens. All suites and rooms are an elegant blend of local artisanship and the latest technologies with handmade authentic Tuscan linen and lovingly selected artwork.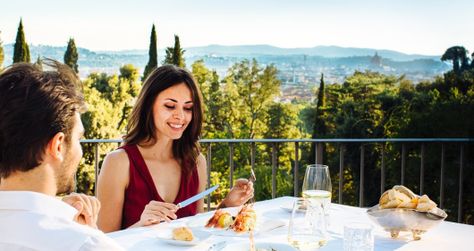 Il Salviatino's catering is entrusted to Giacomo, a well-known group of Milanese restaurants today part of the Tearose family. This strengthens the presence in Tuscany, the homeland of the founder Giacomo Bulleri, whose roots are still reflected today in the authenticity of the recipes and in the attention to hospitality.
The cuisine of Giacomo al Salviatino is focused on authentic Italian tradition, offering a menu that combines simplicity and refinement, using aromatic herbs, vegetables from the hotel's organic garden and a careful selection of local raw materials. The settings for this gastronomic experience are the unparalleled view of Florence and its monuments, which guests can enjoy from the panoramic terrace and the charm of Sala Affresco. Giacomo Milano is famous for its fish dishes and its signature mini pizza served in a deep pan, lavished with mozzarella and capers and anchovies. Other famous dishes include a langoustine, with salmon tart and peach; or a swordfish carpaccio with candied Tropea onion.