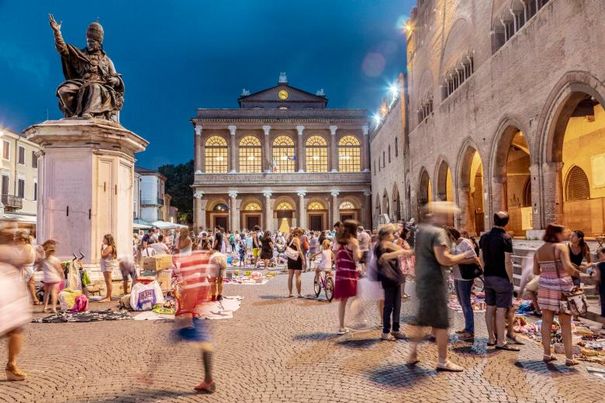 Rimini is famous for its beach front establishments and hotels. And as nice and relaxing the holidays at the sea are, Rimini also offers more. Try and explore the Centro Storico which is  wonderful ensemble of buildings and monuments from the Renaissance and Roman times. You could spend whole days here admiring the Tempio Malatestiano, a colossal church with a snow-white marble facade and a Crucifixion scene by Giotto. Stroll to Piazza Cavour with the Teatro Galli; the square is Rimini's biggest stage with its markets and open-air bars. A few steps further, the Roman roads Via Flaminia and Via Emilia meet.
From the inconspicuous boulder in the middle of the Piazza Tre Martiri, Julius Caesar is said to have 49 BC. shouted the famous saying "The die is cast" to his army after he had previously crossed the Rubicon and then continued his triumphal march towards Rome. This is not guaranteed with the saying, but the anecdote is so beautiful that every city guide mentions it.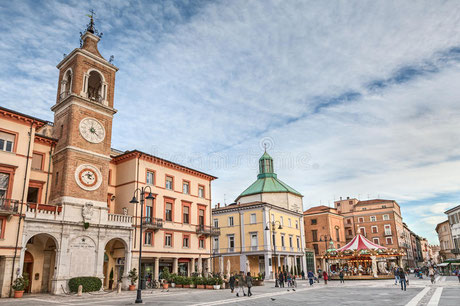 Of course, you also have to visit the 15th-century Castel Sismondo, where Rimini set up a well-done, interactive museum for his oldest son, the director Federico Fellini ("La dolce vita"), which also delights non-Italians, who may have not seen Fellini films.  Indulge in an Aperitivo Break on the Terrace of the Grand Hotel which are served on the magical terrace of the Fellini temple, by the pool with the notes of the piano in the background and in a magical atmosphere.
On one of the walking tours on offer, you will also discover the Arch of Augustus which  is a gate in the former city wall of Rimini, Italy. The arch was dedicated to the Emperor Augustus by the Roman Senate in 27 BC and is one of the oldest Roman arches which survives to this day. It signaled the end of the via Flaminia, which connected the cities of Romagna to Rome. If you are exhausted after the walking tour, take a break for an aperitivo or go for dinner at the nearby Ristorante Dallo Zio, known for its seafood. Tradition and innovation come together at the table from raw fish, served plain to enhance the flavor, to the first hand-made fillings.