Take a quick trip to Sicily with us with this very compact and easy to prepare menu of sicilian specialities. To start the famous Caponata Siciliana, followed by an icon of pasta dish in Sicily Pasta con le Sarde, followed by a piece of juicy and fluffy Torta alle Albicocche - Apricot Cake. I can feel almost that I am in sitting in a restaurant in the Centro Storico of Cefalù. 
Caponata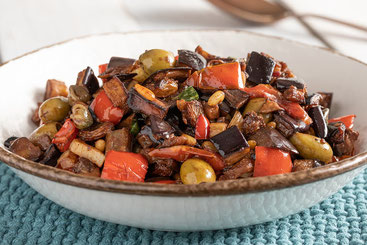 Caponata, one of the most typical dishes of the Sicilian cuisine of chopped fried aubergines and other vegetables, seasoned with olive oil, tomato sauce, celery, olives, and capers, in an agrodolce sauce. Often, caponata is typically used as a side dish for fish dishes and sometimes as an appetizer, but in recent times it has also been served as a main course. Due to the extensive size of Sicily, caponata comes in many variations. Every province, actually every family has its own perfect recipe: with or without raisins, with or without tomato paste.
Ingredients:
2 eggplants; 1 large Tropea onion; 3/4 cherry tomatoes without seeds and filleted; 1 red pepper; 40 g of raisins; a stick of celery; 100 g of whole pitted green olives; 30 g of pine nuts; 1 tablespoon of salted capers; extra virgin olive oil; 3-4 tablespoons of white vinegar; 1 tablespoon of orange blossom honey; 2 tablespoons of unsweetened cocoa; Marsala
Preparation:
To prepare the caponata, first soak the capers in water for 10-10 minutes and the raisins in Marsala for 30 minutes. Then cut the aubergines and slices, sprinkle them with salt and let them rest for 30 minutes, so that they lose excess water. Once the time has passed, dab and cut them into cubes. Peel and chop the onion. Cut the celery stalk into chunks and into strips and then the pepper into squares. At this point, dedicate yourself to frying the peppers and aubergines, to be done separately. In a pan pour three tablespoons of oil and add the peppers, let them go for about 10 minutes. Remove them from the pan and place them on absorbent paper to remove excess oil. In the same pan, fry the aubergines, a few at a time, making sure that the heat is high and turning them a little, in order to form a crispy crust. Transfer them gradually onto a sheet of absorbent paper. At this point proceed with the sautéed celery and onion, pouring oil into the pan and then adding the two vegetables. Let go and two minutes before they are fried add the pine nuts. Stir, so as to toast the pine nuts and then add the desalted capers, the well-squeezed raisins and the olives. Turn off the heat. At this point add the tomatoes, peppers and aubergines. Stir, season with salt and cook. Meanwhile, in a small bowl, combine: 3 or 4 tablespoons of white wine vinegar, one of Zagara honey and one or two of bitter cocoa, stirring to melt the honey. Pour the mixture into the pan with the vegetables, turn on the heat and cook for 3/4 minutes, just enough time for the vinegar to evaporate. Transfer it to a large bowl, perhaps the one you will bring to the table and add a few chopped basil leaves to taste. You can also complete with a sprinkling of chopped almonds or grated dark chocolate. Let the caponata rest for a few hours, or better yet serve it the next day. Grazie a Cucchiaio d'Argento!
Pasta con le Sarde - Pasta with Sardines
Pasta con le sarde (pasta with sardines) is arguably Sicily on a plate; full of fresh seafood, the island's native wild fennel and North African influences of raisins and pine nuts. Serve up with a crisp glass of Grillo (white wine) and you could imagine just sitting in the piazza of Noto and enjoying your dinner.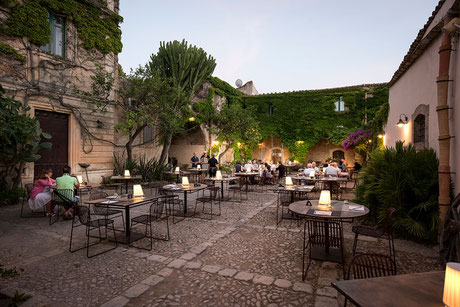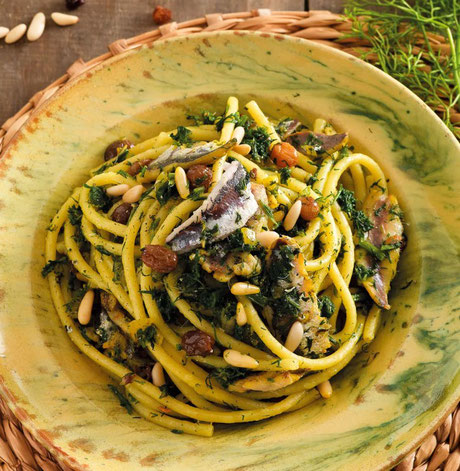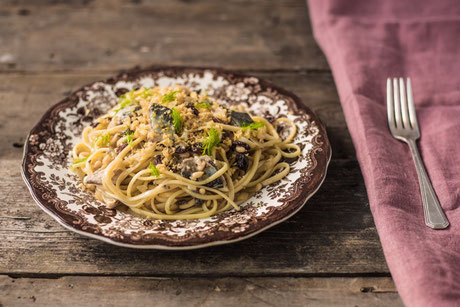 Ingredients:
400 g fennel; 300g bucatini; 300g fresh sardines; 30g raisins; 30g pine nuts; 2 anchovy fillets; 1 onion; saffron powder; extra virgin olive oil; salt; pepper
Preparation:
For the recipe for pasta with Sicilian sardines, clean the fennel, obtaining only the most tender part; wash it and boil it in boiling salted water for about 10 '. Drain it, keeping the water in the pot. Clean the sardines, opening them like a book and removing the head and the bone with the tail. Soak the raisins in the water. Chop the onion and collect it in a large pan with the chopped anchovy fillets, a glass of water, a pinch of salt and 70 g of oil; cook until it sizzles, then add half a bag of saffron dissolved in a little water. Add the drained and squeezed raisins and pine nuts to the onion, and cook for 1 ', stirring.Add the sardines, the chopped fennel, and pepper; put the lid on and cook for 2 '. Meanwhile, dip the bucatini in the cooking water of the fennel, brought back to the boil, then drain when al dente and pour into the pan with the sardines; mix gently to flavor them and let them rest for 2-3 'before serving. Grazie alla Cucina Italiana!
Torta con albicocche - Apricot Cake
A dessert that transmits a lot of love, to be served at breakfast or as a snack with almond granita, and let's enjoy and imagine sitting in a Pasticceria in Palermo. 
Ingredients:
220g butter; 210g sugar; 200g flour; 8g baking powder; 8 apricots; 4 eggs; lemon
Preparation:
Whip 200 g of soft butter with 200 g of sugar, then stir in one egg at a time, and finally the flour and yeast; you will need to obtain a soft compound. Wash the apricots, dry them, divide them in half, remove the stone and season with the juice of 1/2 lemon. Line a mold (ø 25 cm) with baking paper, pour the mixture into it, and level the surface. Distribute the apricots on top, with the cut side facing upwards; complete with flakes of butter and a sprinkling of sugar; bake at 175 ° C for about 45 minutes. Serve the apricot cake with the almond granita.