Pasta has been a culinary part of the Italian cuisine for years, and is most likely consumed every week, if not daily!  The usual Italian pasta dish is prepared with a sauce of tomatoes, oil, onion, basil, salt and pepper, and which in the beautiful Naples is commonly called classic fresh "past 'ca' pummarola in copp". However, if you want to season pasta with a sauce other than tomato sauce, you need to learn about each pasta type, in order to know which is the most suitable for each sauce. Generally, meat sauces and sea sauces are the most suitable for tagliatelle and fettuccine, while even larger, thicker and coarse shapes - such as lasagnette and pappardelle - are ideal with rich and full-bodied sauces such as game or game ragout, i porcini mushrooms, walnuts, cheeses or truffles. Spaghetti, vermicelli, bucatini and linguine go well with tomato, tuna, but also with sardines, crustaceans and mussels. Let's take a closer look.
What type of Pasta with Seafood?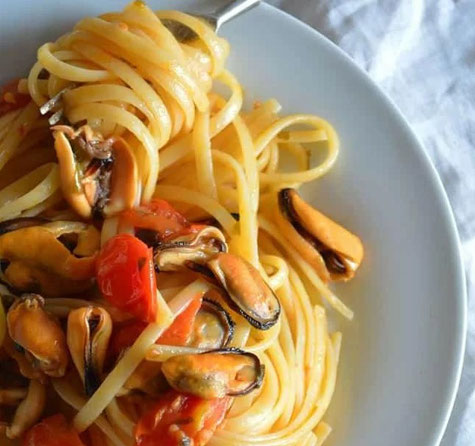 Linguine with mussels and cherry tomatoes or if you prefer the version with Spaghetti with mussels (Spaghetti alle vongole) and cherry tomatoes, is the tomato variation of the classic  Spaghetti with mussels made exclusively with the filtered water of the open mussels in pot. It is not just a well-loved traditional first course, but also very affordable.  Mussels, unlike clams or cockles can still be purchased at a relatively low price. The rule though is that the linguine has to be perfectly al dente, even after being sautéed in the mussel and cherry tomato sauce. Other seafood linguine dishes include with prawns, calamari and cherry tomatoes. The sauce is flavoured with anchovies, capers and white wine. Delicious!
Short Pasta Types and matching sauces
Among the many types of short pasta, there is the one with holes, such as macaroni, penne, pipette, tortiglioni and rigatoni, which thanks to the cavity inside them are suitable for perfectly collecting sauces, especially those prepared with pieces of meat or vegetables. In fact, a good meat sauce, full-bodied and not too liquid, wraps the penne well, coating the pasta and entering the the pasta; allowing the diner to fully enjoy the flavor of the sauce. The same goes for a sauce cooked with vegetables which are cut into not excessively large chunks, and softened during cooking  will coat  the pasta well. Such as Rigatoni alla Norma.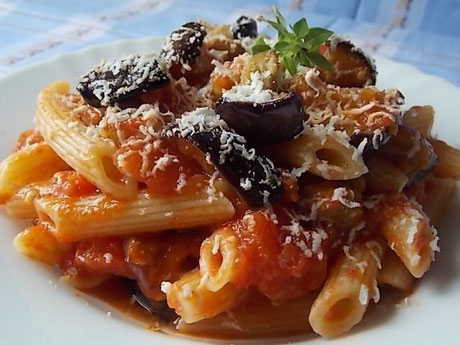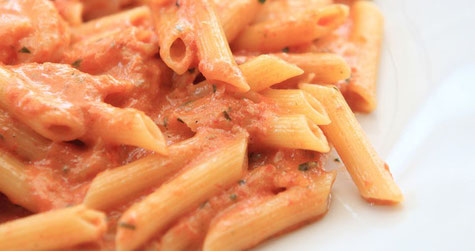 Penne Pasta comes into two different versions: with smooth surface or striped. They were both born in Campania, and the difference between the two lies in the external appearance that also gives a different taste to the dish: in fact, while the smooth ones after cooking in water remain softer on the palate, the penne rigate have grooves that collect better the seasoning. Ideal for dishes such as Penne al Baffo.
Macaroni are wider than penne, and this allows them to be seasoned with a rich sauce, for example with sausage sauce, or with a vegetable sauce such as with courgettes.  A well-known dish with macaroni is Macaroni and Cheese; now even interpreted in Italy! Or the Italian version - Pasta Ai Quattro Formaggi.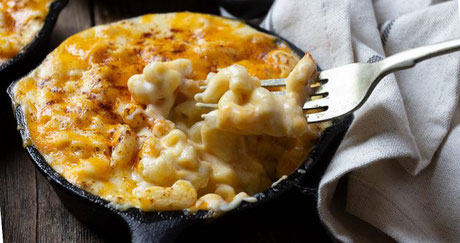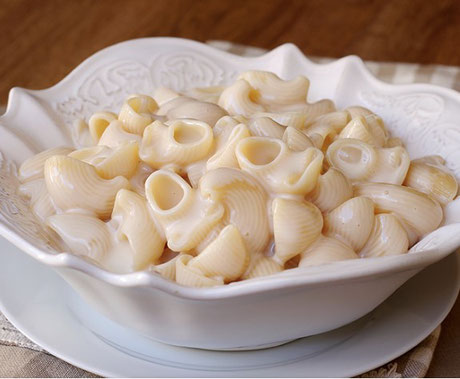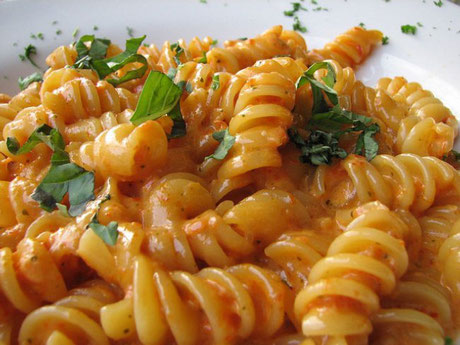 On the other hand, short pasta without holes includes shapes such as farfalle, fusilli and lasagna. This type of pasta is made by cutting a thin strip of pasta and then decorating it according to tradition. Fusilli originated in the city of Gragnano. A scrumptious dish is 
Fusilli all'isolana: with spicy pesto of tomatoes, hazelnuts and almonds. Fusilli are also often served as a cold dish in summer with fresh sauces such as black olives and mozzarella.
The farfalle are made by cutting a small strip of durum wheat semolina pasta with a pastry cutter, and then pinched in the center to create the classic fold that characterizes them. They are usually seasoned with rich vegetable sauces, or with creamy sauces such as cream flavored with tasty elements such as salmon, peas or mushrooms. The farfalle are typical of Northern Italy, although with the commercialization of industrial pasta, they became part of the tradition of the whole country. A typical dish for the start of spring, is Farfalle Primavera with zucchini and fresh peas.; variations with ham or tuna.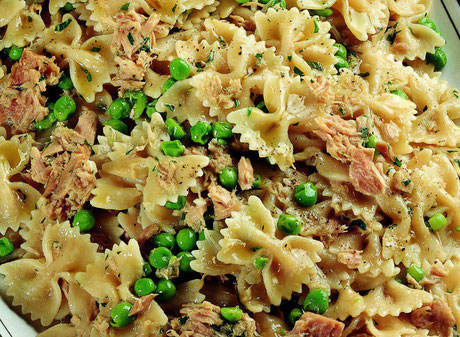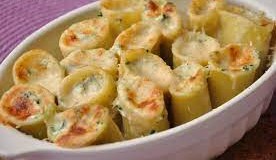 Short pasta is also often sold in the giant format: shapes such as paccheri become maxi and can be used instead of cannelloni as pasta filled with meat sauce and béchamel. A nice dish such Paccheri ripieni con purea di patate, speck e asiago. Heaven!!!
For soups and broths, on the other hand, very short pasta is used such as gramigna and pipette, but also stelline and gnocchetti. They are all pasta shapes of a few millimeters, suitable to blend in with the legumes and vegetables of homemade soups.
The lasagna naturally originates in the Emilia Romagna area, where it is used to prepare the classic Bolognese lasagna. Lasagne al ragù (with meat sauce) is a great classic of Italian cuisine, a dish known all over the world. Lasagna is made with rectangles of puff pastry, cooked in salted water for a short minute and then seasoned with a good full-bodied bechamel and a Bolognese meat sauce; finally the dish is baked in the oven for about half an hour, so that everything mixes well and develops a nice crust.
Long Pasta and matching sauces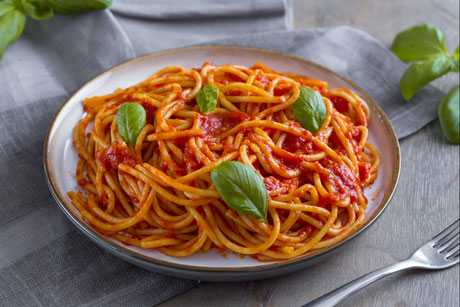 Bavette and linguine were born in Liguria and are the ideal accompaniment to the famous Genovese pesto; linguine are often also called trenette, especially in Northern Italy.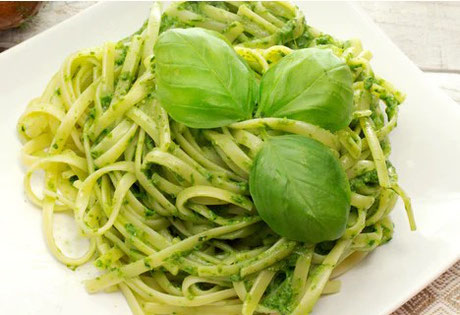 Similar to spaghetti but with a much smaller diameter are angel hair, or capellini. This type of semolina pasta needs a few minutes of boiling, because being so thin it immediately reaches its al dente state. They are usually seasoned with butter and sage, or butter and ricotta.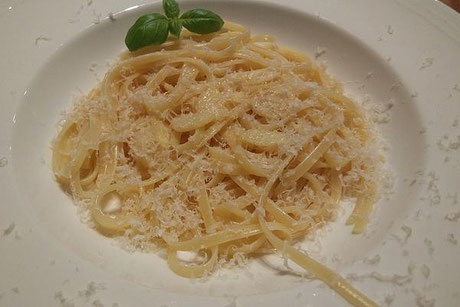 Long pasta is also made both flat or with holes. Among the classic long pasta shapes, there are spaghetti and spaghettoni, bavette, linguine and vermicelli, reginette or mafalde. These types of pasta are the most versatile in the kitchen, because they can be seasoned with any type of sauce, without altering the result. Spaghetti originates from Naples and was invented in the mid-1800s; according to tradition, they have always been seasoned with the classic sauce of fresh tomato and basil.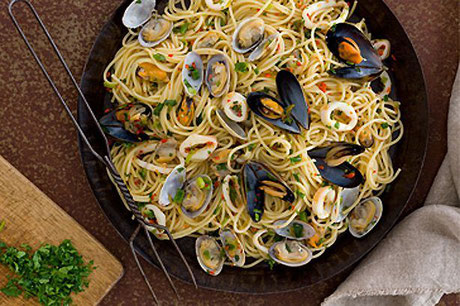 Vermicelli, on the other hand, are distinguished from spaghetti because they have a wider diameter, and are therefore suitable for the preparation of first courses with not too full-bodied sauces, for example with mussels and clams, or with just a couple of ingredients such as the
Pasta pomodori e fresella. In general, long unperforated pasta can be seasoned both with sauces with simple flavors, such as garlic, oil and chilli, and with white seafood, or even with cream or classic meat or vegetable sauces.