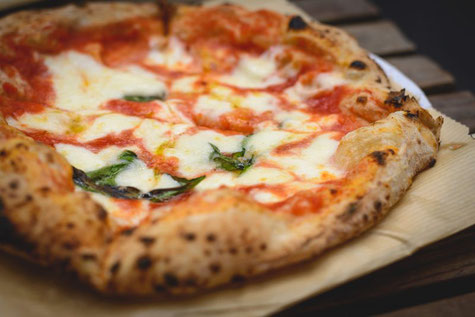 Is it possible that the stars influence our choices, even in the pizzeria? There are astrologers who will go that far - but we have taken those from an Italian Astrologer Ginny Chiara Viola, but added our interpretation to suggest the matching pizza for the 12 zodiac signs.  After all, pizza is part of the Italian DNA, a proudly Made in Italy recipe for our favorite pizza, is just the best. There is a Neapolitan pizza maker based in New York Pasquale Cozzolino, who argues that eating pizza is absolutely compatible with a slimming strategy, and has dedicated the book The Pizza Diet (published by Simon & Schuster) to this topic. Next time, we are faced with a long Pizza Menu, why not be guided by the list here. Enjoy and Buon Appetito! (Thanks for the inspiration to La Cucina Italiana). 
Aries and Taurus
Aries is in constant motion, appreciates take-away pizza and orders it super stuffed with energetic and caloric foods, on all cheeses and cured meats. He eats it straight from the cardboard, doing a thousand other things in the meantime. So Pizza di patate con acciughe e origano (Pizza with Potato and Anchovies and Oregano) is the best match. Taurus - You prefer to enjoy pizza in a restaurant; confident and refined as you are, you prefer gourmet combinations, preferably signed by some renowned chef. Such as? Thin and crunchy pizza with Tartufo (truffles). 
Gemini and Cancer
Gemini - the eternal Peter Pan of the zodiac loves a luscious pizza to be shared with a large group of friends. A lover of having variety, the Gemini would chose the Quattro Stagioni without second thoughts. Cancer - a zodiac sign with a tendency for classic and tradition may choose an artisanal pizza prepared with ancient grains, such as the Pizza con Farina Senatore Cappelli (made with ancient grains). 
Leo and Virgin
Leo - a sign obsessed with physical appearance, energetic and tireless, the Lion opts for the protein pizza, thin, crunchy and topped with cherry tomatoes and bresaola. Perfect for a post workout. Virgin - another very strict sign, not prone to excesses, often on a strict diet. Those born of the Virgin choose a wholemeal pizza: thin thin, with goat ricotta instead of mozzarella such as Pizza di Patate con Formaggio di Capra.
Libra and Scorpio
Libra - elegance first of all for this  Zodiac sign linked to their sense of harmony and order. Their Pizza con stracchino, porcini e pesto is not just chic but not too excessive: Ligurian pesto, parmesan and rocket.  For the Scorpio sign - a loving sign of the "more is more" concept, strongly linked to the sense of pleasure and enjoyment. The Pizza con farina di polenta, salsiccia, radicchio e cipolla  wins, with a profusion of sausage and cheeses. Without any sense of guilt.....
Sagittarius and Capricorn
The travelers' sign of Sagittarius goes in search of the most exotic pizza such as Pizza "fusion" con salmone marinato  on the menu. This sign likes it unorthodox combinations such as Pizza with Crema di Ceci and Baccala or Pizza Marzolina with Caciocavallo, Artichokes and Pancetta Piacentina artigianale.  Capricorn - the traditionalist of the zodiac orders only the true Neapolitan pizza: with high crust, buffalo mozzarella, tomato sauce and the inevitable basil leaves. Patriotic.
Aquarius and Pisces
The Aquarius hates feeling heavy and is not a great Gluten fan; this signs is known to be very focused and can forget about meals. So the criteria here is a light and fresh pizza such as with tomato, shrimp and zucchini (Pizza Bianca Gamberetti e Zucchine). For Pisces - a pizza that comforts the soul and makes you remember happy childhood memories. Those born of this sign seek the memory of their favorite childhood dishes, such as a simple pizza with cooked ham and mozzarella - Pizza Prosciutto Cotto e Mozzarella (or with Nutella - Pizza alla Nutella!)