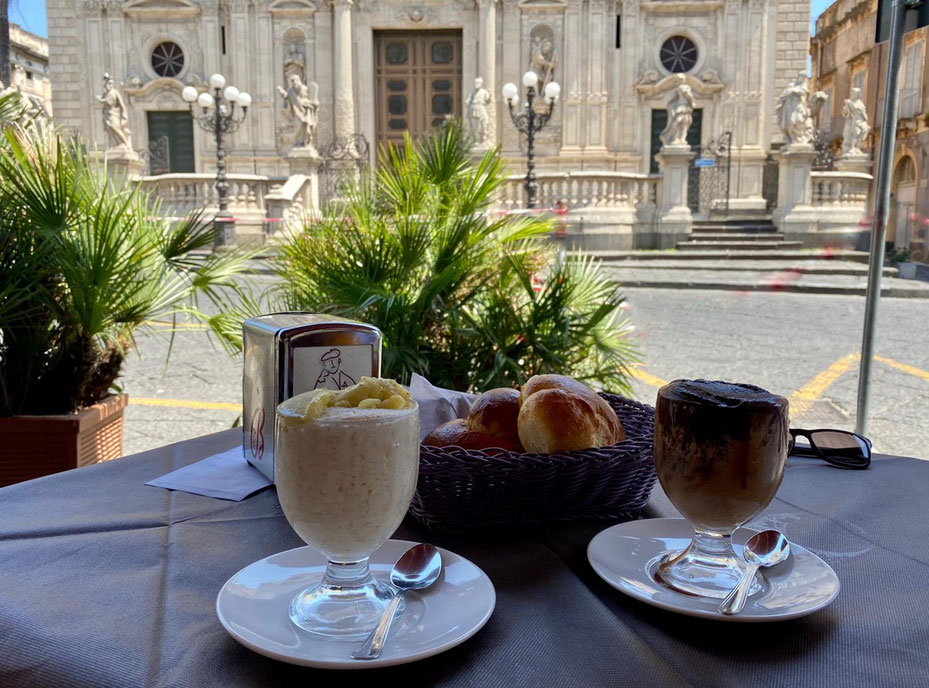 Granita and brioche are the absolute stars of summer breakfast in Sicily;  a typical Sicilian breakfast with a long history. The Sicilian granita, in fact, is a typical dessert of the Sicilian culinary tradition born at the time of the Arab domination. The origins of the Sicilian granita lies the Arab sherbet, a sort of fruit juice enriched with rose water and subsequently frozen. Made by combining water, sugar and fruit juice or adding other components, granita is a spoon dessert that is eaten very cold, and made by a procedure that allows the mixture to be frozen very slowly and above all by mixing continuously to avoid the formation of ice crystals: what you get is a sort of thick cream.
The traditional Sicilian granita is usually based on almonds, pistachio, citrus fruits and even white mulberries and black mulberries. In fact, in the list of traditional food products of the Sicily Region, the black mulberry granita appears: a preparation based on mulberry or mulberry blackberries, fruit trees originating from South Asia. There is no shortage of versions with seasonal fruit, such as prickly pear and peach, as well as coffee, chocolate and of course lemon slush. Where to try the best Granita in Sicily? Bar Alecci in Gravina, not far from Catania or the Bam Bar in Taormina or Corsino Pasticceria in Palazzolo Acreide (Sr); or Al Cassaro Gelateria in Palermo.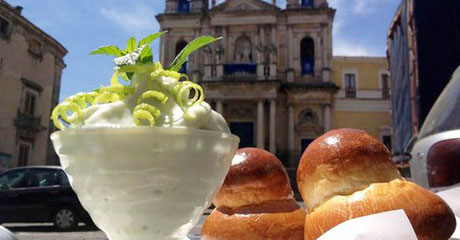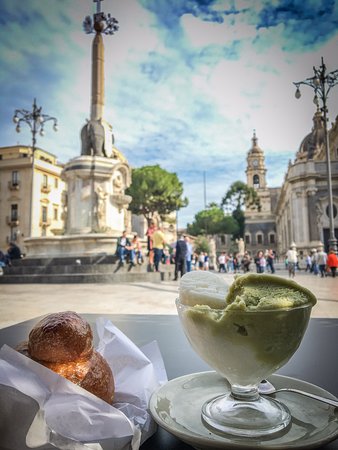 A practice that began to spread even in Sicily in the years of Saracen domination, was collecting the snow on Etna or on other island peaks, such as the Iblei, Nebrodi and Peloritani mountains. The so-called nevarolu took care of collecting the snow and storing it inside stone caves that could guarantee a sufficiently low temperature. The frozen snow, if necessary, was then scratched and used in various ways. It was then carefully mixed in wooden vats equipped with a zinc bucket and crank, sweetening it by adding lemon juice, honey or fruity syrups. All this was made possible by an innovative discovery, based on the use of snow mixed with salt to refrigerate. Only many years later, in the twentieth century, the rotary movement of the crank began to be replaced by the mechanical one of the ice cream makers.
More than brioche, in Sicily we speak of "brioscia con tuppo", that is to say the upper part that recalls the chignon and which usually represents the first bite. According to tradition, it may have been a woman from Messina who first created this delicacy, recalling the features of the female breast. Another local legend, however, refers to the love story between two young people hindered by their respective families. The young bride-to-be cut her hair in a bun just to spite her mother, thus obtaining the consent to marry her beloved.