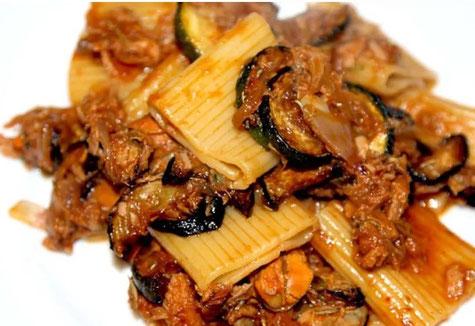 This Zucchini ragù is a really delicious and easy to prepare  as a first course. It can also be used as a condiment for any type of pasta but also for a baked lasagna or baked pasta. It can also be enriched, to make it even better, even with seafood, such as mussels or clams that will be added at the end to create a real gourmet dish. A beautiful dish not just for the summer season.....
Ingredients
4 courgettes; 700 g r tomato puree; 150 g r sautéed (celery, carrot, onion); 100 ml white wine; fine salt to taste pepper as needed. Extra virgin olive oil to taste.
Preparation
Let's start preparing our red zucchini sauce by taking a pan and pouring olive oilt, then fry the well-chopped mixture of celery, carrot and onion to make the basis of the sauce. Once ready, add the courgettes that you have already washed, cut at the ends and finally cut into small cubes. Keep the flame high and lively for at least 5 minutes and finally deglaze with 100 ml of white wine. When you see that all the alcohol has evaporated, pour the tomato puree into the pan and add a glass of water, season with salt and pepper and chop a few basil leaves. Then cover the pot with a lid and let it cook over low heat for about 40 minutes, turning the sauce from time to time and checking that it does not dry out excessively. Our courgette ragout is ready, but to enjoy it even tastier it will be better to let it rest for a couple of hours.In reality, the more it rests, the better it is therefore a recipe that can be easily prepared in the morning whether it is then consumed for lunch or dinner. It is the right sauce for any pasta, excellent with paccheri but also with long pasta. If you want to give an extra touch to the sauce, you could add the seafood at the end, in particular the mussels, which you will have opened separately and then shelled. In this case, instead of the glass of plain water, the water from the shellfish will be added to the cooking sauce. A few minutes before the end of cooking, then add the shelled mussels and the zucchini and mussels sauce is ready.