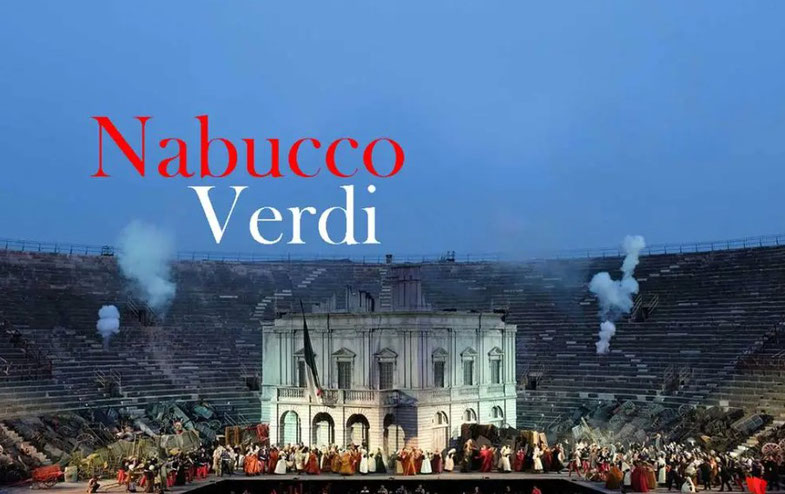 More than the scenography, it is the frame that makes the difference. Even when watching it on TV and not live in the Arena di Verona. This Rai3 production takes you to the arena to experience a sensational setting and the drama of Guiseppe Verdi's Nabucco (without commercial breaks). And introduced by Luca Zingaretti. But beyond the artistic greatness of this opera, it is the political significance - given it later - that has decreed its long-lasting popularity. The parallelism between the condition of Italians in the height of the Risorgimento. Va Pensiero from Nabucco became the Hymne of the Risorgimento movement.
The plot of Nabucco: The story draws from the Biblical account of the Jews and their struggles under the Babylonian king Nebuchadnezzar II. Nabucco, King of Babylon, conquers the city of Jerusalem. The capture of Fenena (daughter of Nabucco) by Zaccaria, the Grand Pontiff, was of no use. Seeing her again, Ishmael (nephew of the king of Jerusalem, Sedecia), yields to her love and frees her. Back in Babylon, Fenana converted to the cause of the Jews. Abigaille (who has just discovered that she is Nabucco's illegitimate daughter) is informed by the High Priest of Belo of the king's death in the war: the woman takes the opportunity to ascend the throne. But Nabucco is not dead, on the contrary he returns. And in the grip of madness he compares himself to a god, unleashing a bolt of lightning that hits him. Abigaille then takes the crown, has her father locked up and sentences Fenena and all the Jewish people to death. Nabucco, however, comes to his senses and - with the help of his trusted Abdallo - takes back the throne, frees Fenana and the Jews, and converts to Judaism. Abigaille, takes her own life by poisoning herself.
"I accepted with enthusiasm this invitation to participate in such a beautiful operation," commented the evening's guide Luca Zingaretti. Called to underline some key moments of the work. And to accompany viewers inside Giuseppe Verdi's opera. "It is beautiful in its contents and beautiful in its intentions, which are to share the emotions and beauty of an art such as opera. Which is born popular and which must remain a common heritage and continue to be part of the cultural and social DNA of our country. Seeing thousands of people from all over the world, of all ages, in that magical place that is the Verona Arena, watching this opera unfold in religious silence was a unique emotion. The staging and costumes are designed by the director Arnaud Bernard who "brings" Nabucco back to the height of our Risorgimento. On the podium of the Orchestra and Chorus of the Arena di Verona Foundation, Daniel Oren. Among the performers, Sebastian Catana (Nabucco), Ewa Płonka (Abigaille), Francesca Di Sauro (Fenena) Abramo Rosalen (Zaccaria) and Samuele Simoncini (Ismaele).