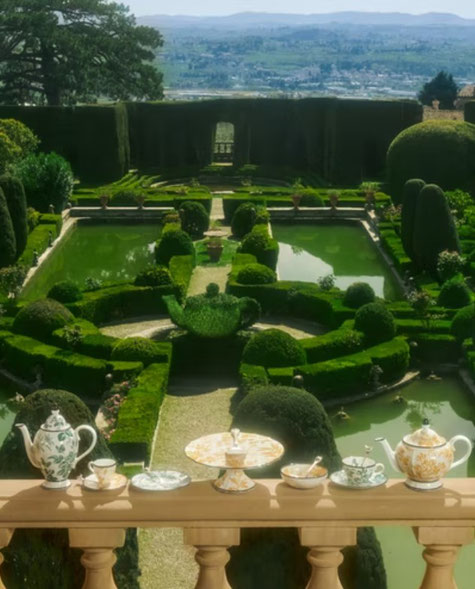 Designed by Alessandro Michele to create highly distinctive, imaginative, and poetic pieces,
introduced the new Gucci Décor line. Released this July, its new decorative home goods represent a fresh design that is based on "primacy of nature" as inspiration, and are infused with a feeling of romanticism and playfulness. The powerful, romantic collection of furniture, furnishings and tableware and decorative items is designed to dress living spaces in a way that is both creative and contemporary. Buoyant combinations of colors, patterns and words, with multiple references to Gucci's rich library of designs that often revolve around flora and fauna, create a vibrant impression. 
Distinctive, patterned crockery crafted in Ginori porcelain. Tableware, too, is abundant in this collection. Expanding on Gucci's past releases, it includes crystalline glasses and silver alpaca dessert flatware featuring animal totems, as well as silver-tone metal coasters with engravings of historic house designs. And to further the label's wallpaper offerings, there are lush floral prints and retro, geometric designs, as well as a selection of three floral motifs in linen.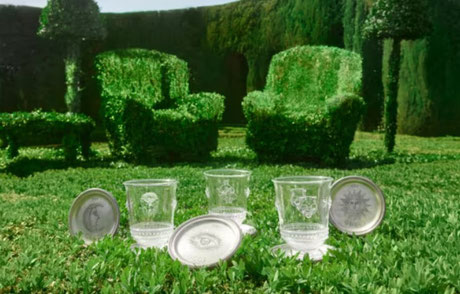 As for the products depicted within that setting (and added to the lineup), there's plenty to take in. Metal candles are an addition to the Gucci brand's 2022 collection, and come in designs and scents including Mehen, Esotericum, Herbosum, and Freesia. Colorful cushions and throw blankets are something you'll also find a lot of, often adorned with monograms, GG patterns, or floral prints.
Finally, 18th-century-inspired armchairs with beechwood horse hoof legs, moiré fabric fronts, and floral cotton jacquard backs round out the offerings. Explore the range of Chiavari chairs, velvet armchairs and decor wallpaper with Gucci motifs and archival-inspired designs.