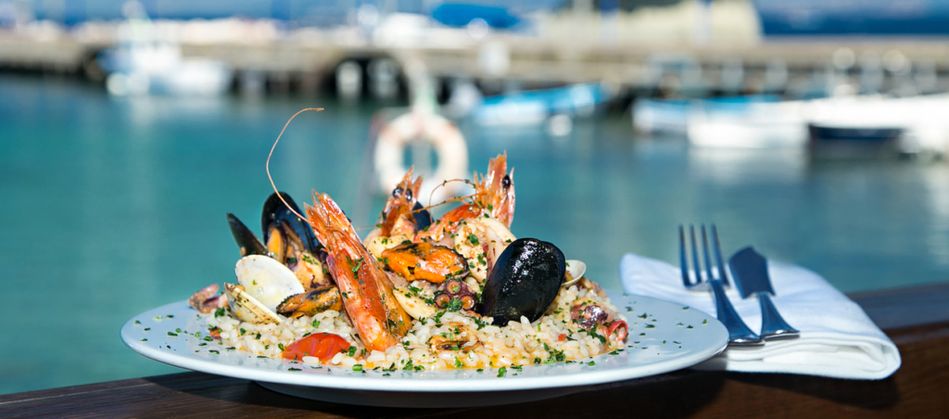 For us summer is personified by these typical fabulous Italian fish dishes. From the Adriatic to the Tyrrhenian Sea, fish-based recipes are one of the cornerstones of Italian cuisine. Often born from poor traditions, sometimes thanks to the wit of the fishermen, they are mostly simple preparations based on a few selected ingredients. In the summer, we love eating fish dishes because they are fresh and light, or they are quick to prepare and because they are often enjoyed outdoors, perhaps with a beautiful view of the sea.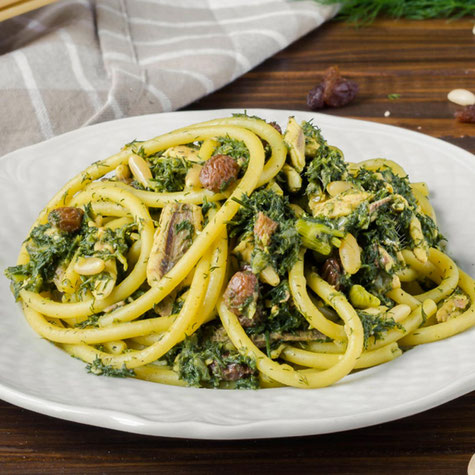 Such as Pasta con le sarde - a typical dish from Sicily - the taste of Sicily in an iconic traditional recipe. The rustic taste of sardines meets the intense aroma of wild fennel and saffron, to which the crunchy note of pine nuts is added and the sweet and sour note of raisins.
Fritto Misto di Mare - Fried Mixed Fish
A classic that everyone loves - there are various versions for each Italian region - based on type of batter and frying.  In any case, it is a dish for those who love fried fish which can be eaten in one bite. Usually with served with shrimp and squid which complement each other in taste and texture, as well as in the aesthetics of two different shapes and colors that combine a must of Italian fish cuisine. So popular that they can be found both in the most famous restaurants and in street food packets. It can be an aperitif or a main course, to be eaten on its own or with sides dishes.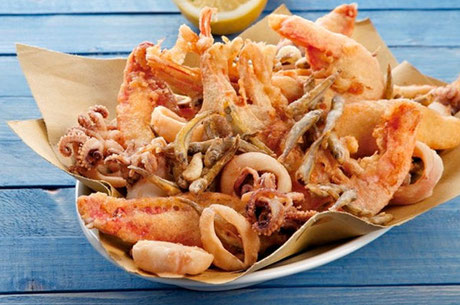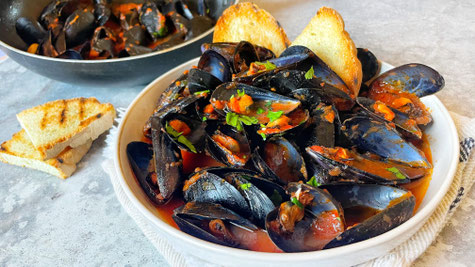 Zuppa di cozze - Mussels
"A 'mpepata e cozze", as they say in Campania, is one of those dishes that started as a poor peasant dish but it now served at King's table. A way of saying as Ferdinand I of Bourbon, king of Naples, loved this dish . Purists love the basic version, that is, only with mussels and a large amount of pepper, but some recipes also include parsley, garlic and a slice of lemon. A dish that can be enjoyed on its own or accompanied by a nice slice of toasted bread. And a cool glass of white wine -  Greco di Tufo or Vermentino. 
Polpo e Patate - Octopus with Potatoes
Whoever had the idea of pairing octopus with potatoes and making it into a salad is one of the best preserved mysteries of Italian cuisine. But one of the most beloved summer dishes.
Even the two key ingredients are paired, they are cooked separately, and combined after with parsley, capers, olives and sometimes cherry tomatoes.  An excellent condiment is the keystone: extra virgin olive oil, salt and pepper and whoever dares also adds a few drops of vinegar.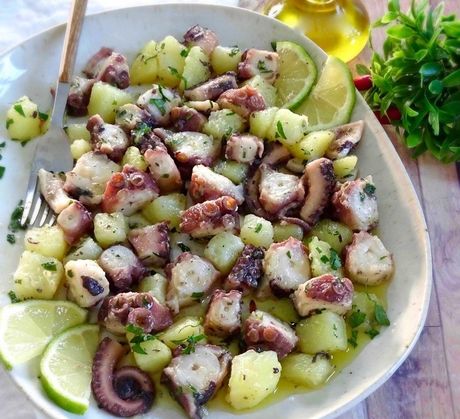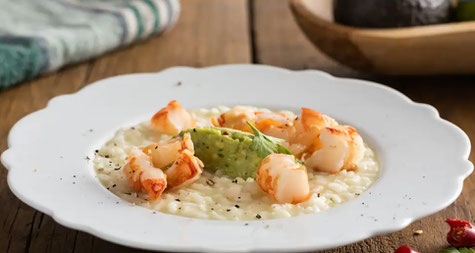 Risotto ai Gamberi - Risotto with Prawns
The first step in preparing a risotto with scampi is knowing how to choose the right main ingredient, namely the scampi, which differs from the shrimp, in respect to flavor and color which tends to be more delicate. For this reason, scampi or prawns are  ideal for a creamy and tasty risotto. The prawns are shelled and the broth is prepared with the shells to cook the risotto. The prawns should be added only halfway through the risotto cooking because they are delicate in both flavor and texture. The result is an elegant and refined dish.
Spaghetti allo scoglio - Seafood Spaghetti
Halfway between history and legend, it is said that in times of poverty the fishermen - for lack of anything else - seasoned the pasta with pieces of rock stone - scoglio, tasty because of the algae, the taste of the sea and the small organisms that were attached to it. Today, the word "allo scoglio" indicates a type of pasta seasoned with a sauce of mussels and clams and crustaceans.  The typical "feast" dish. The link with the rock remains, but the taste of this dish is delicious! The only ones who frown when they find this wording on the menu are the less familiar tourists with Italian cuisine who, looking for the literal translation on their smartphone, do not understand why a rock should season a plate of pasta....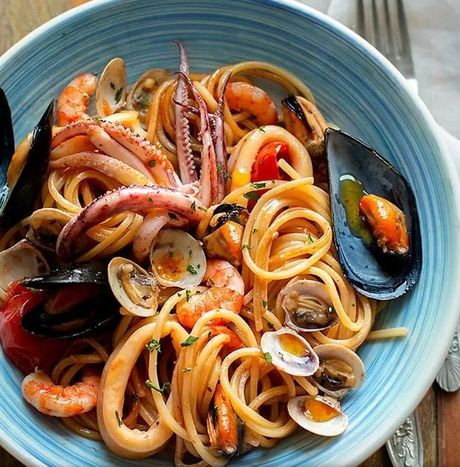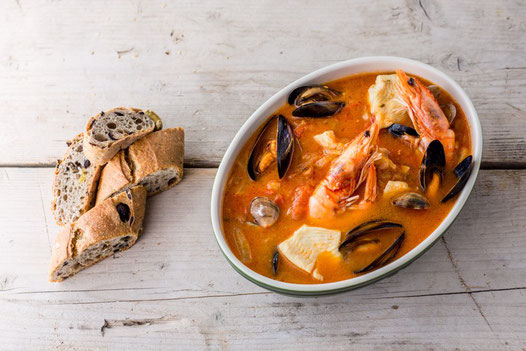 Brodetto - Italian Fish Stew
The broths are divided into two broad categories: the ones that contains only one type of fish and those that include several fish varieties. There are some who are superstitious and demand that thirteen fish varieties should be used. But in reality almost all species can be used for this recipe; the important thing is that there is variety and that they are complementarity both to enrich the flavor and entice the view. Usually inexpensive fish are used, but together and in unison they give a great combination of flavor. The name evokes the fact that in addition to eating the fish, the tasty part is the broth that is eaten with bread. And may be with a touch of chilli.
Pesce alla Spada - Grilled Swordfish
The fact that this is dish is relatively simple to prepare; there are still numerous versions of this dish - whether served with a caper lemon sauce or with a tomato-based sauce. But most importantly the fish must still be soft but firm. That obviously requires a swordfish of highest quality and and even cut. It is cooked with the skin, and can be marinated prior.  There is no doubt that the slice of grilled swordfish is a perfect alternative to steak, because it is firm, juicy but lean and rich in nutrients, tasty and versatile. It is part of the Mediterranean tradition and goes well with countless condiments.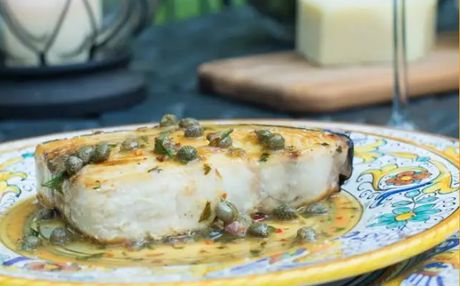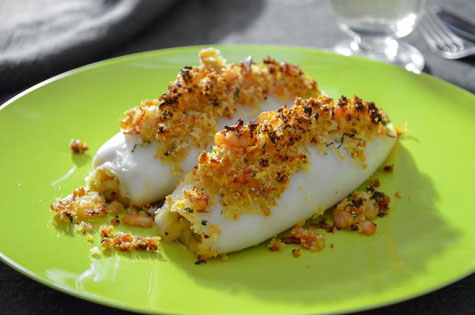 Calamari Ripieni - Stuffed Squid
It was its bag shape of the calamari that inspired this recipe: the squid, once cleaned, is in fact a natural container to be filled as desired. And its firm flesh suggests a contrast with the soft and tasty filling.  Many different recipes exist for different fillings that includes breadcrumbs, eggs, pine nuts, raisins and in some cases even cheese. No doubt though that apart from the different versions, this dish has rightfully become one of the classics of seafood cuisine. The important thing in preparing them is to be careful to close them well with a toothpick and not to overfill them so that the filling does not overflow during cooking.
Baccalà
In Venetian dialect it is called "bacalà", with only one "c", and it is one of the cornerstones of Venetian cuisine. We could talk about this dish for hours, based on its history, originality and tradition. The probably most accredited source, is the Confraternity of Bacalà in Sandrigo (VI) which is committed to preserving the ancient recipe and to keep its traditions intact. There are four important elements to this recipe: cod, oil and milk, and the cooking time, but among the various interpretations (some add anchovies, others onions, those who cook it for three hours, others no less than five), one requirement is a must : abundant olive oil and never, ever stir the cod while cooking, but only move the container in a rotating direction so as to let it "pipare". It is served with polenta.