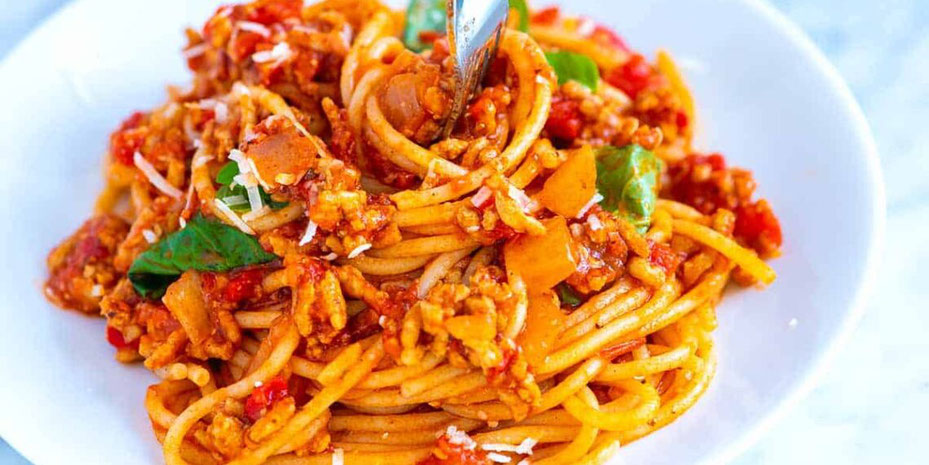 Here a recipe for a Spaghetti with a fast sauce and parmesan shavings, a very easy to prepare dish which will appeal to everyone. This delicious recipe is made in very few steps, we are going to recreate a sort of quick ragù, prepared starting from a mince sautéd with carrot, onion and celery, and a bit of white wine. Once the pasta has been cooked, we will finish cooking it in a pan with a little cooking water, then completed with delicious flakes of parmesan. The result? Absolute and creamy goodness, for a mouth-watering dish.
Ingredients:
400 g of spaghetti; 300 g of minced beef; 2 carrots; 1 large white onion; 1 stalk of celery; 150 g of butter; Salt to taste
pepper as needed; chopped parsley to taste; 80 g of parmesan flakes; A glass of white wine
To make this delicious sprint recipe, start by melting the butter in a large pan. Finely chop the carrots, onion and celery very finely, pour it into a pan and let it dry well. After about 5 minutes, add the meat, mix well, add salt and pepper, then blend with white wine and let the alcohol evaporate over high heat, continue cooking for about 10 minutes over low heat. In a separate saucepan, pour a lot of water, bring it to a boil, add salt and drop the pasta, let it cook but drain it al dente, keeping the cooking water aside. Once the pasta has been drained, pour it into a pan, add the cooking water and whisk, finishing the consistency of the pasta according to taste. After cooking and obtaining a thick and homogeneous sauce, turn off the stove, place on a plate and serve a table with the addition of delicious flakes of Parmesan. Buon Appetito!