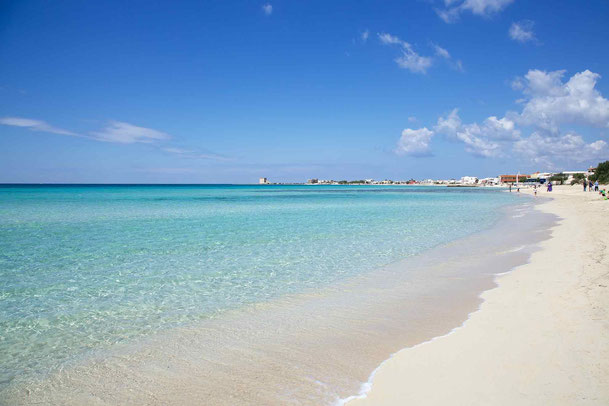 Isola dei Conigli or Rabbit Island is one of the most beautiful and famous islands of Salento - also called the Maldives of Italy due to its crystal clear waters and white sand beaches. It is located a few hundred meters from Porto Cesareo in the province of Lecce. Rabbits have long since disappeared from this island; but it is the link with these animals that gave it its name. In the past, this island was used for raising livestock, a solution to support local families during times of shortage during the world wars. Starting in the 1950s, a special initiative was promoted aimed at developing a colony of rabbits in the wild: hence the origin of the nickname.
This stretch of coast was also used in the historic past as a stopover for trade routes; numerous testimonies have been found in the area, such as fragments of marble and shards of vases and amphorae. In the Middle Ages Porto Cesareo was an important trading port and boasts a number of historic treasures such as the remains of a church dedicated to Santa Maria de Cesarea (although some claim that it was a Roman villa), and a tomb of Byzantine origin. In the central part of the island there is a stone building, very similar to a trullo, known by the locals as lu furnieddhu and which until a few years ago was the home of the island's keeper. 
Wandering around the Salento hinterland, you will also come across the famous coastal towers, all created around the sixteenth century to prevent attacks by sea from enemies. Among the most famous in the area you can explore Torre Cesarea, Torre Chianca and the famous Torre Lapillo.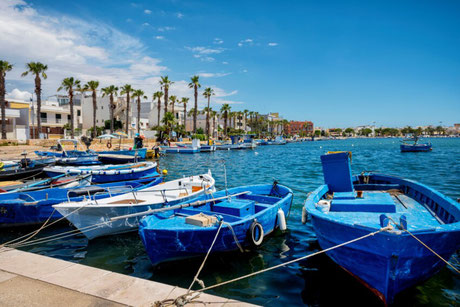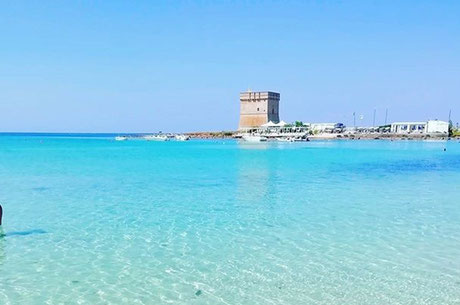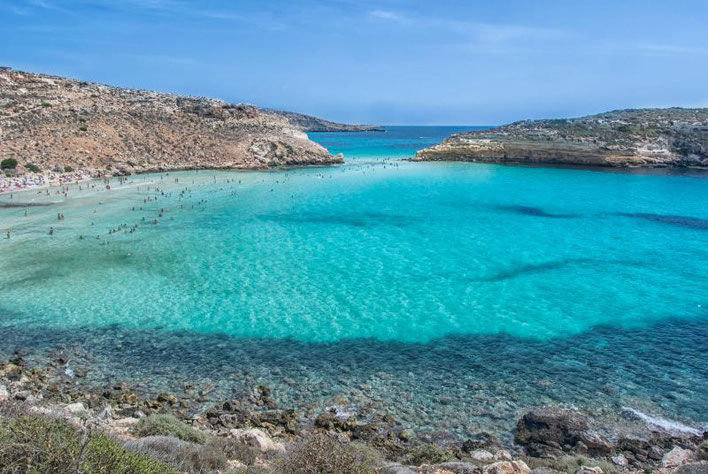 The Isola dei Conigli is part of the Marine Protected Area of Porto Cesareo. For nature lovers it may be worth spending a few moments to visit the Museum of Marine Biology and the Marine Protected Area of Porto Cesareo.
The beach at the Isola dei Conigli is located on the opposite side to that of the natural harbor where you normally disembark. It is a golden tongue of fine sand, surrounded by unspoiled nature. The water is famous for being particularly clean, almost transparent and it is also a favorite destination for diving enthusiasts who can explore the seabed here. In fact, on the bottom you can meet numerous fish, octopuses, lobsters and even small sections of coral, among the few present in the Mediterranean Sea. There are a number of diving centres offering diving excursions such as ASD Porto Cesareo Diving.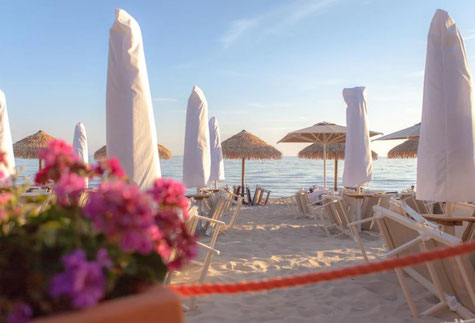 Continuing north from Porto Cesareo, you can find some of the most beautiful and renowned beaches of Salento such as Punta Prosciutto and the beach of Salina dei Monaci, surrounded by a nature reserve.  . A number of Lidos are situated along the long beach stretch; such as Lido Stella Maris, Lido Beach Hookipa or Lido Tabu Fashion Beach, offering a wide range of services including its own hotel , open from April to October with ten beautiful rooms, overlooking the sea, equipped with a private terrace and the popular Tabù restaurant, open for lunch and dinner - a great location for good food in Porto Cesareo - with its tables one step away from the sea; then you still have Lido Le Dune offering a number of sports activities as well as a great beach restaurant, its own hotel and bar or Kalura Beach. 
There are a number of beautiful hotels to stay at along the coastline of Porto Cesareo, including the Conchiglia Azzurra Resort & Beach, nestled among 12 hectares of salted lagoons hosting a wide biodiversity of plant life and fauna, along a white sandy beach, Conchigli Azzurra Resort & Beach offers you a Mediterranean style comfort for a natural and relaxing holiday. You have an equipped beach club with restaurants and bars, and a choice of unforgettable side experiences. or the "Le Dune Suite Hotel" a new construction and a few meters from the beach of the same name, is a structure created with design lines and quality materials. Its flagship restaurant AQUA, with a terrace overlooking the sea, where you can have lunch with your eyes fixed on one of the most beautiful beaches of the Ionian coast and enjoy high quality gourmet cuisine. 
Conighigli Azzurra Resort & Beach Hotel
Le Dune Suite Hotel