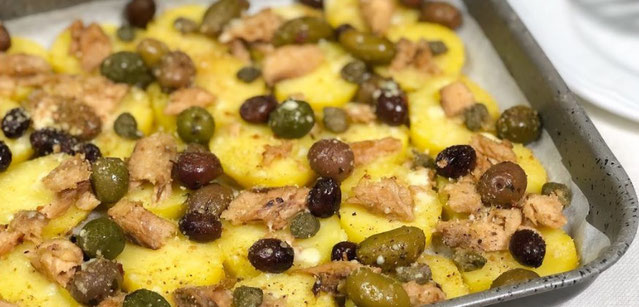 When preparing lunch or dinner, perhaps, the most difficult choice is what type of side dish to pair it with. So Baked Sicilian potatoes (Patate alla siciliana), will appeal to everyone!  In addition, if you have guests you can even serve them as an appetizer and be sure of having hit the mark.  And the preparation? Here, too, you will be amazed, because contrary to what you may think it is in fact, it can be very quickly prepared.
Ingredients
500 gr of potatoes; 150 gr of mixed olives; 150 gr of natural tuna; 40 gr of grated cheese; 40 gr of breadcrumbs; 1 handful of desalted capers; a drizzle of extra virgin olive oil; Enough of pepper and salt
Preparation
First of all, boil the potatoes (without peeling them) in a pot full of water, then drain them, let them cool, remove the skin and cut them into slices about 1 centimeter thick. Now line a dripping pan with baking paper, oil the bottom with a brush, place the potatoes next to each other (taking care not to overlap them) and garnish with the tuna, capers, olives, pepper, salt, grated cheese, breadcrumbs and enough extra virgin olive oil. Finally, put it to cook in the hot oven, taking it out only after a light golden and crunchy crust has formed on the surface.
Once the potatoes are ready, bring them to the table immediately and serve them, because they are delicious to be enjoyed while still hot.
You can accompany this side dish with a good fish dish, or you can opt for a second course of lean meat or chicken, baked or grilled.