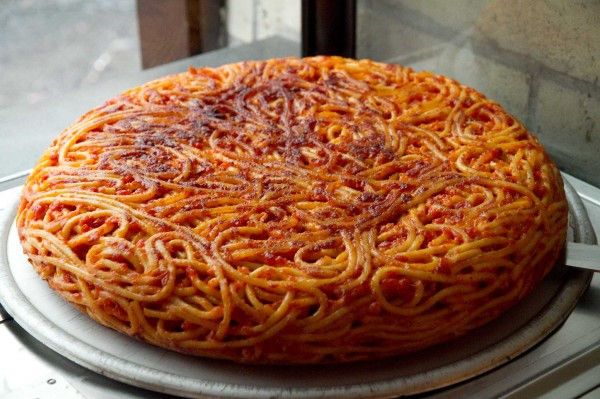 With holiday season starting, and families leaving for the beach; picnic foods are popular. The Frittata di pasta (Spaghetti frittata) is a single dish typical of the Neapolitan cuisine, also known as "Macaroni omelette"; made with pasta, even leftover, combined with eggs and cheese subsequently cooked in a pan where the ingredients will bind and form the typical golden and crunchy surface! Of ancient origins to recycle yesterday's pasta in times of poverty; over time it has been enriched and revisited, becoming a real Neapolitan classic.  It is an extraordinarily simple first course that is prepared with boiled pasta, in this case spaghetti, lots of cheese and eggs.
Ingredients:
300 gr spaghetti (bucatini or macaroni); 350 ml tomato sauce; 3 eggs; 6 tablespoons grated cheese (pecorino or parmesan); 100 gr mozzarella; 100 gr cooked ham (optional); olive oil
Preparation:
Prepare the basil tomato sauce and set aside; cook the spaghetti; season the spaghetti with the sauce and add the grated cheese. Beat the eggs, add salt and pepper and mix with the spaghetti. and grated cheese; add the eggs;  and cook the pasta omelette in a pan. For that, take a pan and pour in a drizzle of olive oil. Let the oil heat up and move the pan to grease both the bottom and the edges. When the oil is hot, add half of the spaghetti. Stuff the omelette with ham and mozzarella. Cover with the remaining spaghetti and level. At this point you will have to wait until the underside of the pasta omelette is toasted. Turn the omelette with the help of a lid or another pan and cook on the other side. When the spaghetti omelette is ready, remove the pan from the heat and let it cool. The spaghetti omelette with sauce is delicious both warm and cold. In the fridge it keeps well for 1 day.