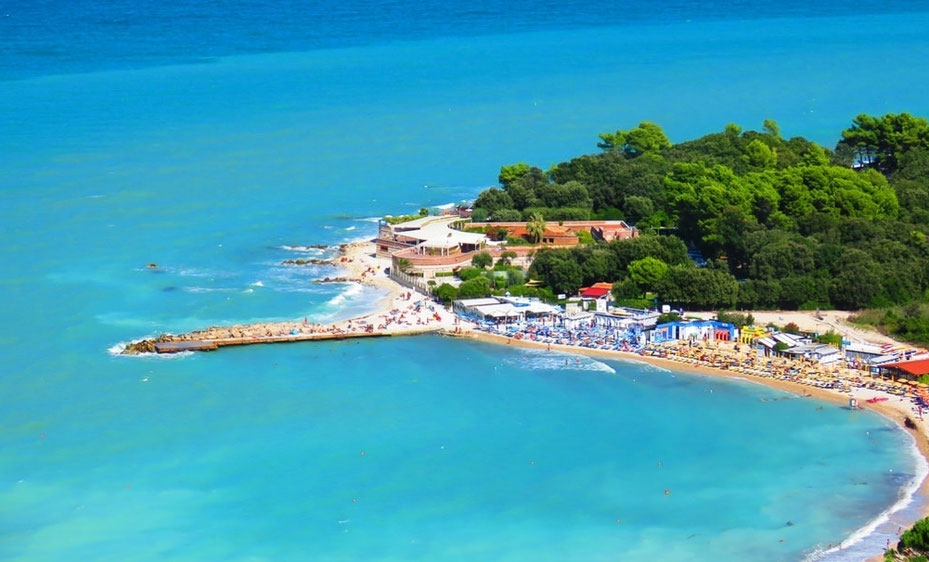 The beach resort of Portonovo is situated within the Province of Ancona, on the Adriatic Coast of Marche. It is part of the Comune of Ancona, which is located about 12 kilometres away. Portonovo has a pebble beach and is surrounded by a pretty wildlife area. Just behind the beach there is the picturesque lake Lago Grande.  The intense blue colour of the sea at Portonovo will take your breath away, and it is surely one of the most stunning sights along the Conero Peninsula. Portonovo, itself, is a fairly compact sea-side secluded resort but it can get quite busy during the peak summer months of July and August. There are a number of nice hotels nearby which we are featuring in this post.
Where to stay in Portonovo?
Fortino Napoleonico
A great choice for a stay in Ancona, Fortino Napoleonico, from 1811 has been converted into a Superior Hotel Accommodation; featuring a stunning rooftop terrace.  From 1811 this fort features a rooftop terrace. It is located just a few meters from the beach, and in the heart of the nature reserve. Its gardens or pool areas offer areas for relaxation and guests can have a bite to eat at the coffee shop/Café, or indulge in massages, facials, or body scrubs in the Hotel Spa. Its restaurant is a sought after dinner destination, even if you are not a hotel guest.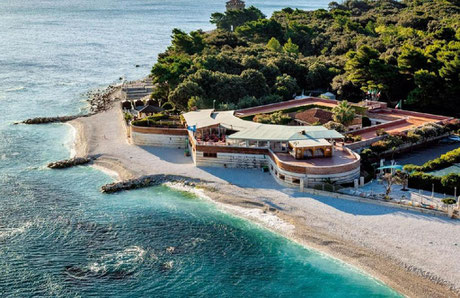 Hotel Internazionale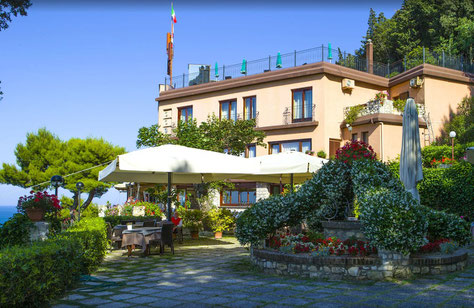 Hotel Internazionale is cozy 3 Star Romantic Hotel Romantic occupying an enviable position in the Bay of Portonovo. The Portonovo Beaches are 500 meters away and can be reached either by a short walk, or a shuttle service connecting the hotel with several beach resorts of Portonovo. At its Breakfast "Sea View", you will be able to enjoy a relaxing breakfast prepared with a homemade touch, with emphasis on traditional Marche products.
At the restaurant or outdoor Café, you can pause for lunch or for aperitif. From the terrace of the restaurant, you can enjoy an intimate and delicious dinner; featuring wide windows with panoramic view on Portonovo bay and local white limestone. 
Seebay Hotel
Surrounded by greenery, and stunning sea view of the unmistakable Bay of Portonovo, in the Conero Riviera, this 4-star hotel with full-service spa and connected to the convention center is an ideal location to stay while in Portonovo. The Seebay Hotel experiments a new style – nearly a no style – because the choice is for nature to impress, not baroque embellishments. So rooms and lounges all feature a low key simple elegance. You can visit the spa to indulge in deep-tissue massages, facials, or Ayurvedic treatments, and local cuisine is served at Ristorante La Fonte, featuring a traditional authentic menu. One of the main menu characters is the Mosciolo, the wild mussel of the Conero Riviera, protected through a Slow Food Presidium. Enjoy!