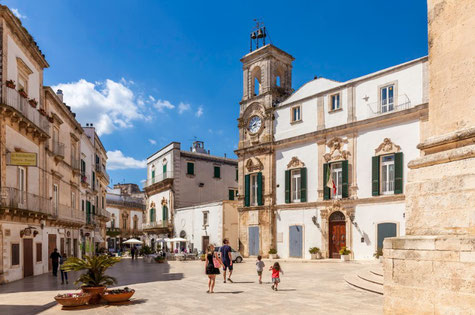 That celebrities loved Puglia was already known. Everyone has fallen in love with the "heel of Italy". For years it has already become the VIP retreat, the Italian luxury destination most sought after by national and international stars. Madonna, George Clooney, the Beckhams, Tom Hanks, Hellen Mirren - who even bought a house - the list of who has been there and who has returned several times is very long. And Angelina Jolie couldn't be outdone. Martina Franca features elegant palaces (at least 20 of note) and churches (over 15) began springing up throughout the old centre, testimony to the new-found wealth that was flowing into the town during the 17th century.
Nestling in the low hills of Puglia, Martina Franca is a quintessential southern Italian town. With winding cobbled lanes backed by the picturesque whitewashed facades of old and dusty Baroque houses, complete with ironwork balconies where blood-red geraniums hang, it is one of the South's best-kept secrets. Still hemmed in by the remnants of its old medieval ramparts; but nowadays it has a bustling, commercial town centre with a great range of cafes, shops, small boutiques and restaurants, and it sits near the Valle d'Itria, an enchanting place to walk when the evening sets in. History-lovers will love it, but so will couples looking for a romantic break that's free from the noise and bustle of tourists. Compact, beautiful and effortlessly charming, it is the sort of place you want to get lost in. The best places to stay in Martina Franca are often in the outskirts of town, in the spellbinding and rolling countryside of Puglia - ideally in one of the amazing Trullis, such as Il Carpino or Trullo Monte Cannone.
Angelina Jolie's new film as director will be titled - Senza Sangue or Without Blood, like the book from which it is based on Alessandro Baricco. Filming will begin in Martina Franca, in the province of Taranto, in just over a week. Shooting for the film has already started in Matera. But there is great anticipation for the arrival of the Hollywood star in Martina Franca: the set should be set up in the historic center. Jolie had already been to Puglia last year, in March: she had landed with a private jet at Brindisi airport with one of her daughters and had spent a few days on the Lecce coast. At the time of his visit he had already acquired the rights to Baricco's book. «It is not the first time that a film has been shot in Martina Franca, but it is the first time that our city has been chosen by a very prestigious international film production", says one of the residents.