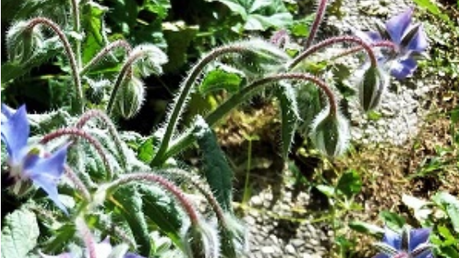 Borage is a plant that grows naturally and is a very versatile ingredient in the traditional Ligurian cuisine. In addition to basil, it forms the basis for a magnificent Genoese Pesto. Pansotti , a Ligurian type of Ravioli stuffed with a tasty filling of chopped vegetables and borage; mixed with grated Parmesan cheese, eggs and nutmeg creates the famous Ligurian Ravioli with Albenga Borage.
Preparation:
Cook the spinach: bring plenty of water to a boil, add salt and boil the spinach. Drain them with a slotted spoon and rinse them under cold water. In the meantime, peel and dice the potato, pour it into the pot of boiling water and cook until soft. Drain it with a slotted spoon and mash it with a fork. Peel and chop the shallot. Brown the pancetta until crisp and transfer it to a plate
Create the spinach cream: sauté the shallot; add the mashed potato spinach and mix. Blend the vegetables with the basil and half of the cheese until you get a smooth cream. Adjust with salt and pepper. Prepare the ravioli. Once finalised, dip them into boiling water; when ready  place the ravioli into the spinach sauce and sprinkle with a spin of olive oil. Garnish with crispy bacon cubes and accompany with grated parmesan. Buon appetito!