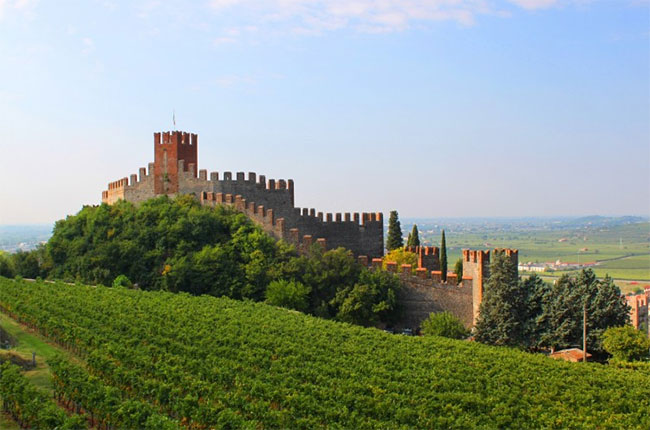 The title of the most beautiful village in Italy this year went to Soave, a medieval village on the outskirts of Verona, towards Vicenza. The well known TV program on the travel program of Rai3 featured the competition Borgo dei Borghi. It is the first time that the title has been awarded to a municipality in the Veneto region. Soave is well known for its famous white wine produced in its hills lined with vineyards. Dry but fruity taste, produced by a blend with 70 percent of Garganega grapes and with a maximum of 30 percent of Trebbiano.
The city of Soave is enclosed by a large Scaliger city wall that surrounds three courtyards.  A spectacular village, perched on Mount Tenda, which is accessed through the three monumental gates of Aquila, Verona and Vicentina, which lead to the main road bordered by palaces of nobles and lords. Such as the fourteenth-century Palazzo del Capitano, connected to the Castle. The Renaissance Palazzo Pulici. The seventeenth-century Palazzo Moscardo. The Scaliger Palace of Justice;  the Venetian Palazzo Cavalli. And the thirteenth-century Palazzo dei Conti Bonifacio, ancient feudal lords of Soave. Precious buildings that testify to the wealth of a town that has created well-being since the Middle Ages thanks to the art of cultivating vines and producing wine.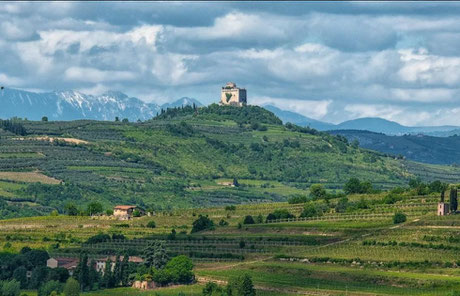 The well known wines of the Soave region include the Soave DOC, the Soave Classico DOC, the Soave Superiore DOCG and the Recioto di Soave DOCG. You can taste them in the wine bars of the Centro Storico, but you can also visit the vineyears and their cellars directly. Among the most famous are Cantina di Soave6, Rocca Sveva7, Monte Tondo8, Pieropan9 and Corte Adami10. In September the Garganega harvest is celebrated in Soave with  La Fiera dell'Uva- the Grape Festival. In the center of food stands where you can taste and buy the products of the province, such as Monte Veronese cheese and the famous soppressata all'aglio (salami). And at stands of artisans, such as the wrought iron masters of Tregnago.