The Consorzio di Tutela Barolo Barbaresco Alba Langhe e Dogliani  hosted the second annual edition of the Barolo & Barbaresco World Opening Event late April 2022 in Los Angeles, including walk-around tastings, seminars, and opportunities for press, trade, and consumers. The association representing over 500 wineries in Piedmont, Italy, featured the most recently released vintages of Barolo and Barbaresco, 2018 and 2019, respectively.  Through this event, the consortium aims to increase awareness and build excitement in the United States for those two most influential wines of Italy. With the tile of the event «Once Upon a Time in Langhe»,  two hundred producers of Barolo and Barbaresco took center stage with their bottles in the Paramount Pictures studios. Imagine the scene: past the gates of Melrose Avenue where films such as "Psycho", "Breakfast at Tiffany's", "Apocalypse Now", "Forrest Gump" and "Titanic" have been shot, behind a big red curtain, a stage with a quartet playing the music of Paolo Conte and two large screens with the vineyards of Alba welcoming the three hundred guests of the gala dinner for the Barolo & Barbaresco World Opening 2022.
The renowned Barolo and Barbaresco wines, often called the "king and queen" of the Langhe region where they are made, are produced from 100 percent Nebbiolo grapes. Age-worthy and complex, these wines have a long history of production in Piedmont and express the nuances of the region's microclimates. In addition to the Barolo DOCG and Barbaresco DOCG appellations, producers may use the term MGA (Menzioni Geografiche Aggiuntive) on qualifying labels to indicate single-vineyard bottlings. 
The Langhe region, situated in the southern part of the Piedmont region between the Alps and the Apennines mountains, was named a UNESCO World Heritage Site for the cultural history of its vineyard-covered hills, a manifestation of wine traditions that have evolved since pre-Roman times. The region's distinctive microclimates and unique geological soil types can be tasted in the glass year-after-year, making the Langhe home to some of the world's most respected wines, among them Barolo and Barbaresco. T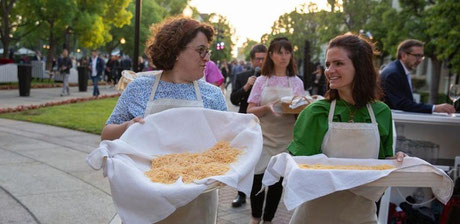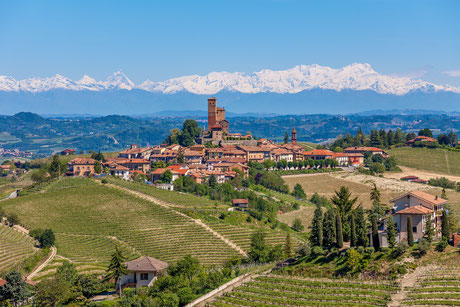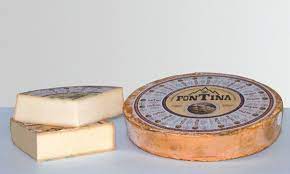 The event also included cheeses of Fontina Valle d'Aosta PDO, and rice of Biella and Vercelli Barraggia PDO. Over two days, participants will have the chance to take a culinary journey to Italy, tasting Barolo and Barbaresco wines paired with Fontina PDO cheeses and risotto prepared with Baraggia rice. The Barolo & Barbaresco World Opening event is part of the European campaign "Top Tales: A piece of Europe on your table," created to increase awareness of these three PDO products in the United States market.