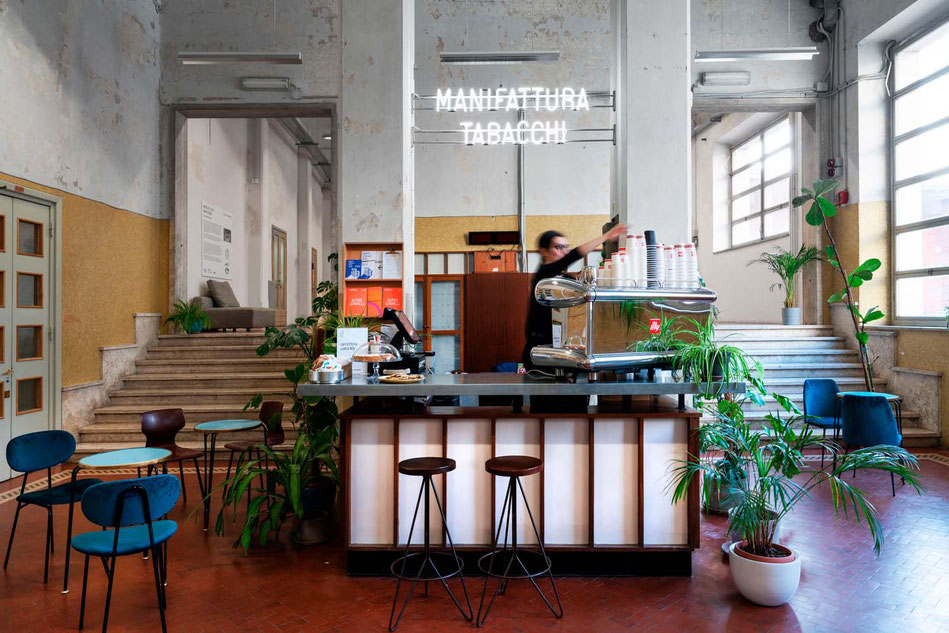 The Manifattura Tabacchi in Florence is a creative studio, a true hub of creativity established as a meeting place for emerging and established artists in the worlds of design, fashion, art, and culture. It is also a new home for the international community of professionals and creatives who want to live and work in Florence - and digital nomads. Designed by Pier Luigi Nervi it is also one of Italy's biggest urban regeneration projects, with the iconic industrial complex, expertly redesigned  with a multi-layered redevelopment plan that involves a total of sixteen buildings with floorspace of some 1.18 million square feet (110,000 m2). The project was the work of Luca and Marco Baldini's Florence-based practice, Q-bic, which worked alongside landscape architect Antonio Perazzi. Together they expanded on the masterplan originally conceived by Concrete Architectural Associates to create a new hub with a high functional mix. The project avoids demolitions, preferring instead to make the existing buildings more efficient and sustainable through the use of geothermal energy and active water resource management.
Since 2018, the 135,302 square feet (12,570 m2) of interior and exterior space of Manifattura Tabacchi has been a hive of activity. A renovated temporary space of around 10,800 square feet (1000 m2) at ground level in Building 7 comprises five studio classrooms for teaching graphic design, photography, set design, and painting. The classrooms can accommodate over a hundred students and are used by Florence's Academy of Fine Arts for part of its teaching programs. In December 2019, DogHead Animation, a 2D animation startup at the forefront of computer graphics, moved into Building 8. They were joined by Istituto dei Mestieri d'Eccellenza LVMH (IME), which offers professional training aimed at sharing the LVMH group's savoir-faire in both artisanry and sales with young people.
Building 6 runs along the north-south axis of the complex. This large construction, once occupied by the Italian authority for state monopolies, completes the second construction site. Distinguished by its symmetrical façade and large clock, this building, which once separated the clock plaza from a production area, now houses the third campus of Polimoda, the famous Florentine tertiary education institution dedicated to fashion. It comprises computer labs, classrooms, an auditorium, and workshops for teaching tailoring, knitting, and photography. Comprising 10,760 square feet (1000 m2) of workshops and accommodating eight hundred students, the new facility is equipped with state-of-the-art industrial machinery so that students can learn in an environment that's as similar as possible to the reality of the industry. Five of the workshops – four for tailoring and one for knitwear – are equipped with a hundred overlockers, with an industrial ironing table in each as well as knitting looms and mannequins. A store sells students all the materials and tools of the trade.
We would not be in Italy, if the gastronomic offer at the Manifattura Tabacchi would not be one of the key services. Designed to conquer a transversal audience, from morning to evening, the food & beverage proposal of Manifattura Tabacchi, runs from 9 in the morning, with breakfast service, until late evening, passing lunch or coffee break, snack, aperitif and dinner in a decidedly original context. Bulli & Balene is B9's bistro, open from morning until midnight; the sign betrays its origins, with reference to the Florentine restaurant in operation for several years in Piazza della Passera, which for Manifattura Tabacchi has curated an ad hoc menu, in the style of a Venetian bacaro, but according to local traditions and products . And ranging from cold gastronomy, salads of the day, sandwiches and cicchetti for breakfast, fish cheviche and beef tartare, fresh and quick dishes for the lunch break - gazpacho, fish croquettes with aioli sauce, croutons with eggs and avocado - or a more structured proposal for the evening: gnudi with cheese, pepper and pears; risotto wheat with parsley and 'nduja flakes, sea bass fillet with popped chickpeas, lemon, mint and tahini sauce. With the possibility of sitting on the outdoor terrace, 30 seats with a view of the stage, in the courtyard of the Chimney, even for a spritz or a cocktail for an aperitif.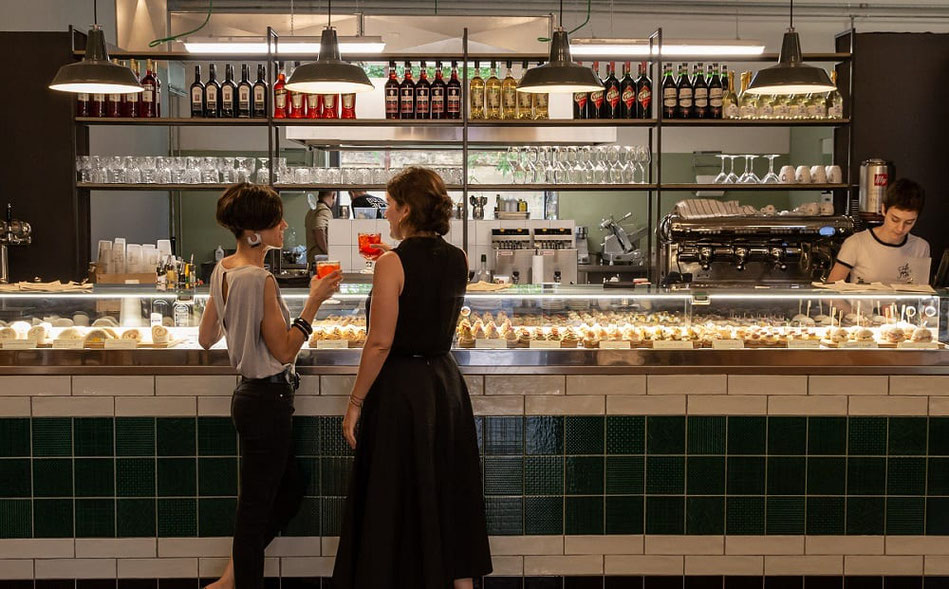 Soul Kitchen, on the other hand, takes care of the bar proposal. Also in this case, the experience is that of a place already run in the city, in Santa Croce since 2011. You drink wine cocktails, artisan spirits, organic juices, with service from 6 to 2, during outdoor events; but you can also eat pizza by the slice with seasonal ingredients (only until 11pm).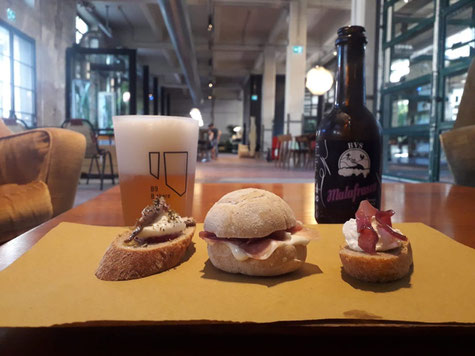 For those who prefer beer, there is the Valdarno Superiore Brewery, founded in the province of Arezzo in 2013. A Tuscan project based on artisanal production that boasts the water used in the production process, drawn from the source of Malafrasca di Pergine Valdarno. Unpasteurized and unfiltered, flavoured with natural spices, BVS beer can be ordered at the bistro or bar, to accompany pizza, cicchetti or dishes coming out of the kitchen.