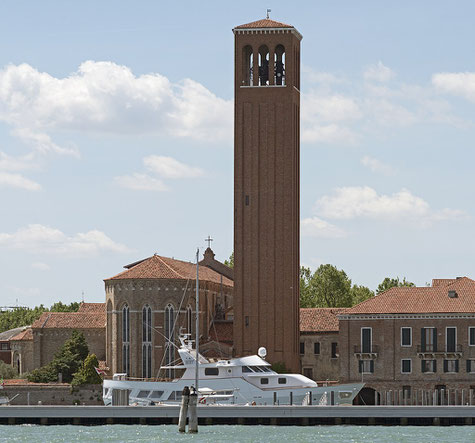 While most of La Serenissima will be visited by visitors during the Venice Biennale, which started last week, the island of Sant'Elena located at the city's eastern tip is a world apart from the Biennale happening. From 23 April, the vaporetto no 1, which travels up the Grand Canal and past Piazza San Marco, will be packed with art lovers, who will stream off at the Giardini boat stop for the Giardini della Biennale, where 30 international pavilions present the latest cutting-edge creations. But one stop further, just before the vaporetto steams off across the lagoon to the Lido, is little-known Sant'Elena, a tiny island, separated just by a canal from the rest of the Castello district. It is a very special place to visit in the sestiere of Castello. The original island was separated by an arm of the Venetian Lagoon from Venice itself, and was centred on the Church of Sant'Elena and its monastery, originally built in the twelfth century and rebuilt in the 15th.  In the 1920s, the island was expanded to fill in the gap; it is linked to the rest of the city by three bridges. It includes the Rimembranze Park, a naval college and a football stadium, Stadio Pier Luigi Penzo, in addition to residential areas and Venice Biennale buildings. The bell tower has a ring of 6 bells in B rung with the Veronese bellringing art.
Why not stay on the island Sant'Elena. The Hotel Indigo is a beautiful located 4-Star Boutique Hotel, located near the Biennale Gardens. It is housed in a converted 1930's monastery with 75 rooms including beautiful Suites and the Savor signature restaurant. And it features a stunning garden, an oasis of tranquillity. 
On weekdays the lack of crowds and tourists on Sant'Elena come as a real surprise to visitors to the island. The owner of the family-run Osteria da Pampo, Martina Gianfranceschi says: "Sant'Elena is becoming a lifeboat for the last genuine Venetians. We have a butcher, a greengrocer and a bread shop. What else do you need? I guess we must be the last part of Venice that does not have a supermarket. Bar Vincent is where everyone meets for an aperitivo, while Vecia Gina has been making fabulous pizzas for three generations. Osteria Da Pampo is a tiny place near a park in the southeast end of Venice, that opened in 2009.  It is family run (mother and 2 daughters) with a small menu and a couple of daily specials. Overall it offers traditional Venetian cuisine, with some hints of Genoa: so the Trofie with Genoese Pesto precede an excellent mixed Fritto di Paranza in the Venetian fashion, with fresh fish just extracted from the fishermen's nets, and so the artisanal cakes they go well with Venetian and Venetian wines.