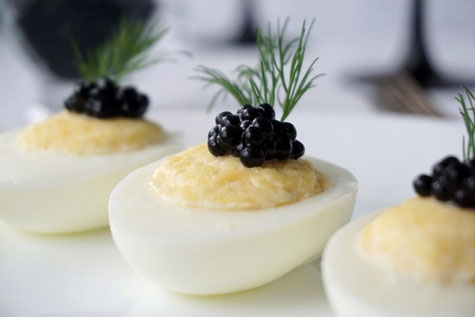 Italian Easter lunch is a special occasion to cook traditional dishes but this year in a lighter version of an Italian Easter Menu. So therewith an overview of an lighter menu options - from Antipasti option to Primi Piatti  to the main dish and dessert or cake.  These recipes are themed in line with seasonal Italian ingredients, such as spring peas, asparagus, fresh strawberries. Traditional dishes such as salty Easter Cake La Pasqualina cannot be ignored, nor Agnello - lamb - but here we have used recipes with a lighter twist. Buon Appetito!
Antipasti Leggero
Mini Pasqualine
One of the most traditional Italian Easter dishes is the Pasqualina tart, a savory chard tart with soft layers of puff pastry and symbolism linked to the egg hiding inside. But, if the original recipe seems like a lot of work to you, here's a simple, quick alternative: mini pasqualina tart parcels! They have the same filling as the famous pasqualina cake: ricotta, spinach, parmesan and eggs, in this case quail. A tip: cook them in advance and let them rest for a few hours before serving, they will be even better.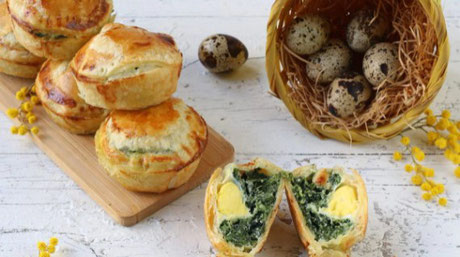 Asparagus with lemon
Among the easy and healthy recipes on the Italian Easter table, spring season vegetables cannot be missing. Asparagus, green beans, roasted potatoes and artichokes reign supreme but a nice fresh salad served in a bowl with carrots, celery and apples makes the difference. Season it with oil, salt and lemon or a vinaigrette with balsamic vinegar. If you want to serve asparagus as a side dish for Easter, try roasting them in the oven. You have to buy fine fresh asparagus, cut the hardest part, rinse and season them only with a good oil and salt, place them in a pan and cook them in the oven for 20 minutes.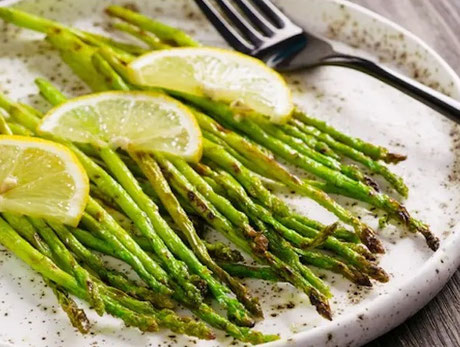 Cestini di patate al forno - Filled Potato Baskets with Mushrooms
Ingredients:
For the potato baskets -  1 kg Potatoes; 60 g Melted butter
75 g Parmesan cheese; 3 medium egg yolks; Salt, nutmeg
For the stuffing; 180 g Ready-made sautéed champignon mushrooms; 100 g Scamorza (provola); Parsley (for garnish)
Preparation:
1. Peel the potatoes, wash them and cut them into cubes. Boil them in salted boiling water for 12 minutes. Drain and mash the mashed potatoes and leave to cool for 10 minutes.
2. Add the egg yolks, melted butter, grated Parmesan, a pinch of salt and a sprinkling of nutmeg. Mix everything until you get a soft and homogeneous mixture.
4. On a sheet of baking paper, mark the shapes of a circle using a pastry cutter or a 7.5 cm round circle.
5. Turn the sheet upside down and place the potato and egg mixture inside a pastry bag.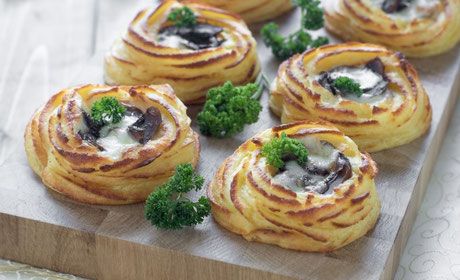 Primi Piatti - Pasta Leggero
From North to South Italy the recipes of traditional Italian first courses range from ravioli to fettuccine to rustic casatiello to various baked pastas. All very good dishes but at the same time substantial and heavy. To stay lighter and then enjoy the second course of meat, you could prepare a first course of pasta au gratin with seasonal vegetables. This recipe for butterflies with artichokes and baked spinach, for example, is prepared in less than 20 minutes. Buy frozen vegetables and boil them with the pasta. Remove pasta and vegetables from the heat 4 or 5 minutes before the cooking time indicated on the pasta package, season with oil and grated Parmesan cheese and brown in the oven for a few minutes until the surface is golden.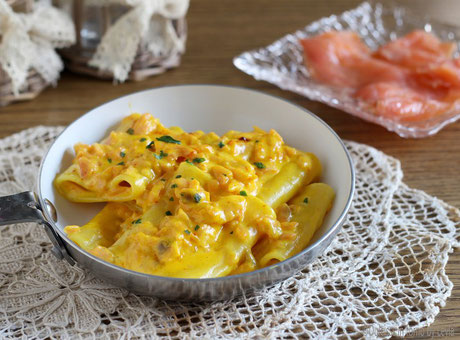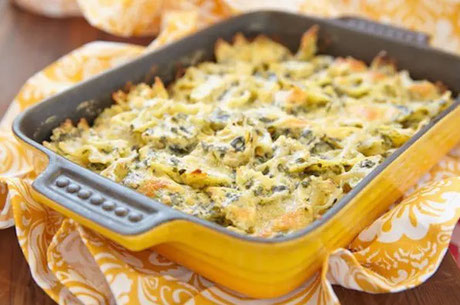 Paccheri al salmone
Try this delicious recipe of Paccheri with salmon with a really delicious mascarpone and saffron cream! The strong flavour of saffron will go perfectly with salmon. The mascarpone will blend both flavours in a very very tempting cream. It is also a quick dish to prepare, but at the same time, also very elegant.  
Ingredients:
180 g of paccheri; 100 g of smoked salmon; 60 g of mascarpone; ½ sachet of saffron; parsley; extra virgin olive oil
Preparation:
Bring the water to a boil and when it is ready, add 1 tablespoon of oil, salt and paccheri. In a pan, quickly sauté the diced smoked salmon with a drizzle of oil. After a few minutes, turn off the heat and add the mascarpone and saffron and mix. Drain the paccheri and put them directly in the saucepan. Mix everything together and serve hot, with a sprinkling of parsley. 
Agnello - Italian Lamb - the light way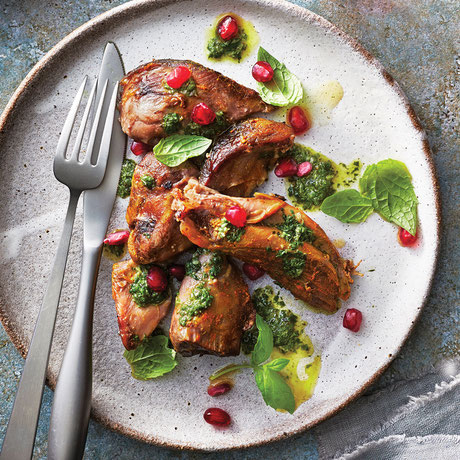 Lamb is a typical Easter course: not everyone eats it, but we need to include this traditional Italian dish but there two lighter versions. One version with Pomegranate seeds or the other with a chimichourri sauce. Combined with spring vegetables or salad, a light second dish for the Easter Menu. Simply cooked lamb chops with a jewelled dressing of pomegranate seeds and mint pesto already conjures up images of summer in spring! So ideal for a lovely Easter lunch. The Lamb chops with mini chimichurri,  a sauce of mint chimichurri, a loose pesto of sorts, with fresh mint, parsley, garlic, vinegar and oil.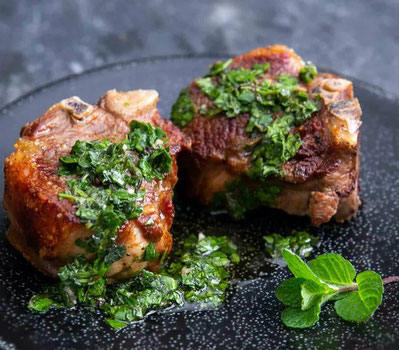 Salmone in crosta di pasta sfoglia - Fresh Salmon in Puff Pastry with Zucchini
Ingredients:
1 rectangular puff pastry roll; 500 g Salmon fillet; 2 medium zucchini; Extra virgin olive oil; Salt and pepper
Milk (for brushing); sesame seeds
Preparation:
To prepare the Salmon in a puff pastry crust you will need a nice salmon fillet. If there isn't that big, get 2 smaller ones. 
1. Wash the courgettes and grate them with a grater with large holes. Salt lightly and put them in a colander for 10 minutes, to make them lose the vegetation water. Squeeze a little too.me seeds
2. Put the courgettes in a non-stick pan with a drizzle of oil and brown for 6-7 minutes, just to give them a first cooking. In the oven they would not cook enough and would remain too soft (to my taste). Season with salt and sprinkle with a little pepper.
3. Turn on the static oven at 200 °
4. Take the salmon fillet and with a sharp knife, peel off the skin. Wash it under water and pat it dry with absorbent kitchen paper.
5. Unroll the puff pastry and spread half of the browned zucchini on the center. Place the salmon on top, salt it and cover with the remaining courgettes.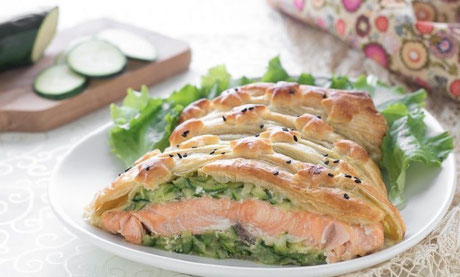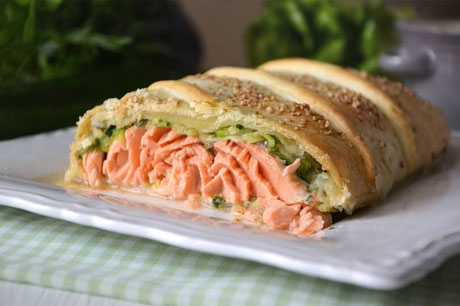 Italian Easter Cakes - a lighter version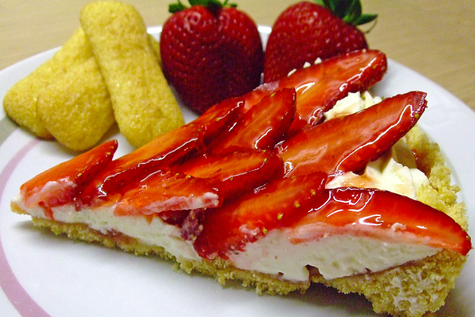 And to finish the light Easter Lunch - choose between a cake with fresh spring strawberries or the traditional Italian Easter Cake - La Colomba - but the Artisan Version. The Strawberry Tart with Pavesini is a delicious and fresh dessert with mascarpone and strawberries, which melts in your mouth!  Easy to prepare and no baking required!!
Ingredients:
For the base: 150 g Pavesini (6 mini packs); 70 g of butter;
For the mascarpone cream: 250 g of mascarpone; 85 g of condensed milk (or 80 g of powdered sugar);1 50 g of whipping cream
250 g of strawberries; 200 g of velvety strawberry jam
Preparation:
Chop the pavesini in a mixer and add the melted butter slowly. Blend again until the mixture is blended. Prepare the 24-26 cm tart mould: wet it slightly and adhere some cling film. With the help of a spoon, distribute the crumbled pavesini on the base and edges of the mould and compacted well. Put everything in the freezer for 30 minutes.
In the meantime, heat and bring half of the strawberry jam to a boil (100 g.). The jam must be "velvety", without pieces of fruit. If not, after cooking, strain it with a colander. Let it cool for 5 minutes, continuing to mix. Remove the pan from the freezer, spread the warmed velvety strawberry jam with a spoon, both on the edges and on the base, being careful not to lift the pavesini base. This operation will serve to give solidity to the base and give even more flavour to your cold tart. Put back in the freezer for approx. 20 minutes.  Remove the base from the freezer and gently pull the cling film lightly, in order to lift the cold tart from its mould. Pull off the film and lay the base on the serving tray. With the help of a sac a poche, distribute the cream on the base (the sac à poche is only used to distribute the cream equally).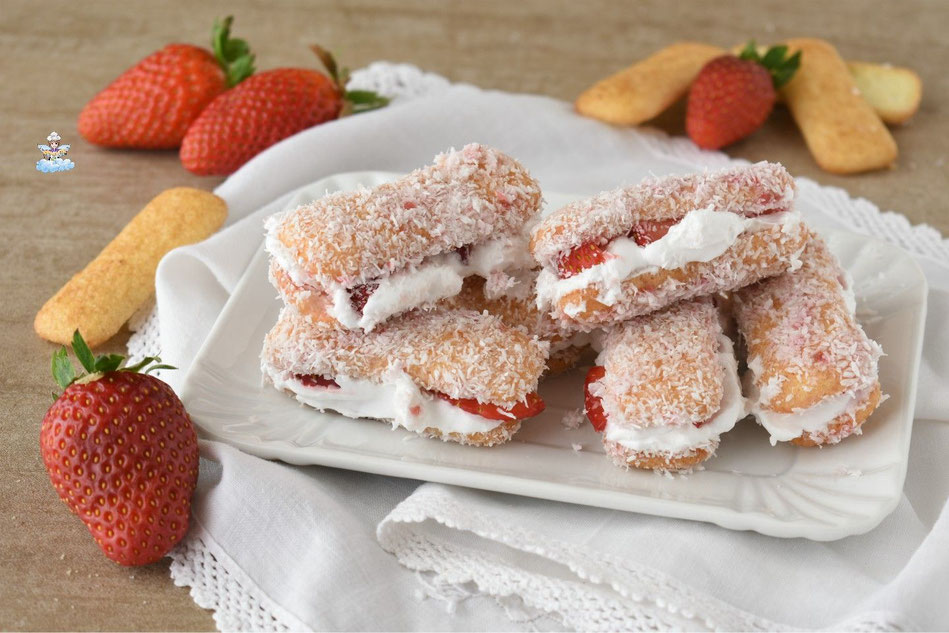 For the cream: Whip the cream and keep it aside. Whip the mascarpone at a medium-high speed for a few minutes. Lower the speed to low and add the condensed milk (half a tube, if yours is 170 g.). Mix for a few minutes. With the help of a wooden spoon, stir in the whipped cream, with a movement from top to bottom. The cream is ready.   Wash and clean the strawberries and cut them into thin slices. You can use an egg cutter, they are perfect (see Strawberry cake). Start decorating the cake with pavesini, placing the slices on top of the cream, starting from the outer edge to the center. Heat the other half of jam (100 g.). Let it cool for 5 minutes, continuing to mix. If your jam is not velvety or if there are small pieces of fruit, I recommend that you filter it with a colander. With a pastry brush, brush each strawberry slice with the jam. This operation serves to give further flavour to the tart, but also to make the fruit shiny (to please the eye too!) And to better preserve the strawberries. Return to the freezer for half an hour and serve.
La Colomba - Italian Easter Cake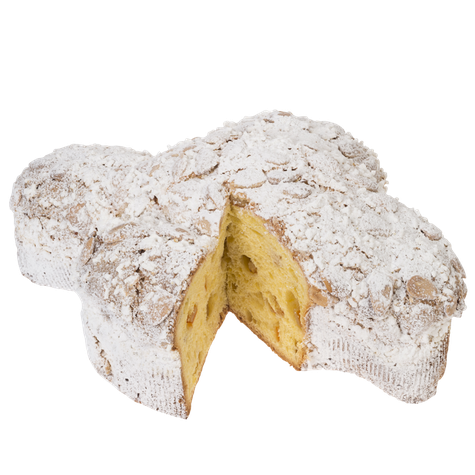 La Colomba - the famous Easter dove cake, is the symbol of Easter in Italy. Instead of trying the local supermarket version, why not buy one of the many options for an artisan baked Colomba cake or even bake it yourself. My recent self-baked version came out out rather well; but there are many designer artisan baked versions such as from famous Pasticceria Sal di Riso, Armani Dolci or from Dolce Gabbana in collaboration with Fiasconaro.