Lavishly decorated Easter Eggs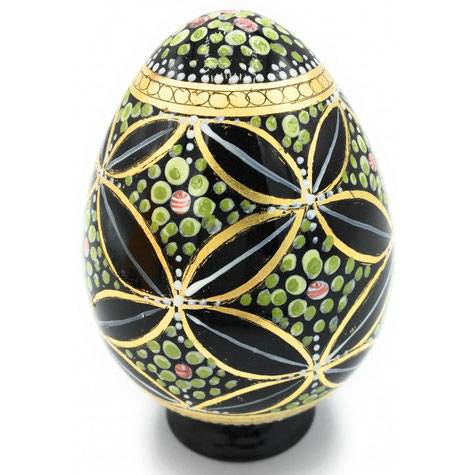 Decorated Easter eggs - not as richly decorated as Fabergè's - were a custom born in the twelfth century,  only later by the egg filled with chocolate or marzipan before. These were eggs made thanks to the use of precious metals, such as gold, often richly decorated and commissioned by the sovereigns who had now become enthusiasts and collectors of decorated eggs; such as the Tsars of Russia and the Kings of England. But also in Italy famous eggs from the famous Murano Glass Masters Fratelli Toso with millefiori motifs (which translates as "a thousand flowers"), which are created by melted particles; became collector's items.
Easter Chocolate Eggs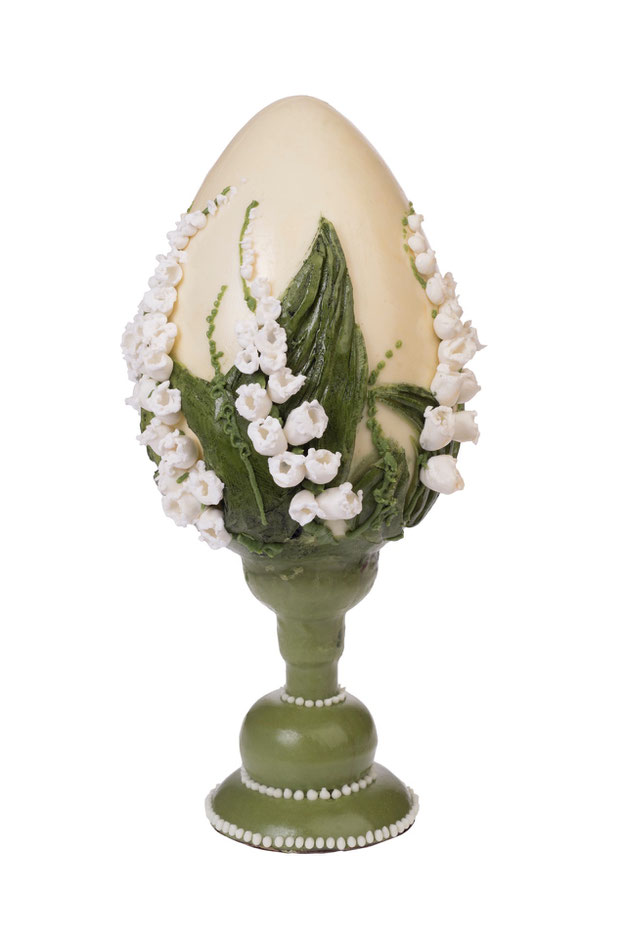 Traditionally, Italians created natural food dyes to brightly decorate eggs, which were then incorporated into Easter lunch. Today, chocolate eggs rule the Easter world. Italians take all things chocolate very seriously – and Easter eggs are no exception! For example, Sant Ambroeus is one of the most famous and elegant pastry shops in Milan where the French and Viennese high schools are joined by the Visconti and Sforza traditions and, as every year, it produces high quality chocolate using the best raw materials. The great skill of the professionals is exceptional for quality and preparation. Furthermore, as a self-respecting egg, the surprise inside is truly precious, in line with the superior quality of the chocolate. 
Not only the pastry shops, but also the fashion houses are getting involved in recent times by presenting their signature creations. The Cracco chocolate egg made with 61% dark chocolate for lovers of the intense taste of cocoa. Yes, there is also a surprise (380 grams // 48 euro shop.carlocracco.it). The Easter combination par excellence! Why not buy the Cracco Chocolate Egg combined with the Cracco Colomba Cake,  the original and tasty Easter cake. Or a special surprise -a  limited edition of 100 milk or dark chocolate eggs signed by Carlo Cracco. To make the Limited Edition special, the packaging embellished with Swarovski crystals and an elegant surprise, signed by the Austrian Maison.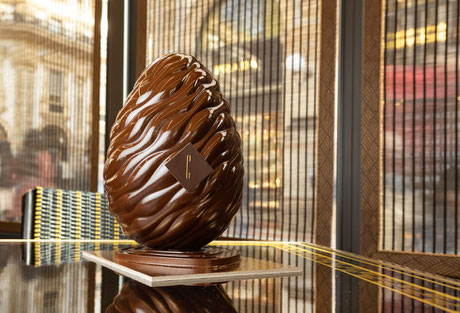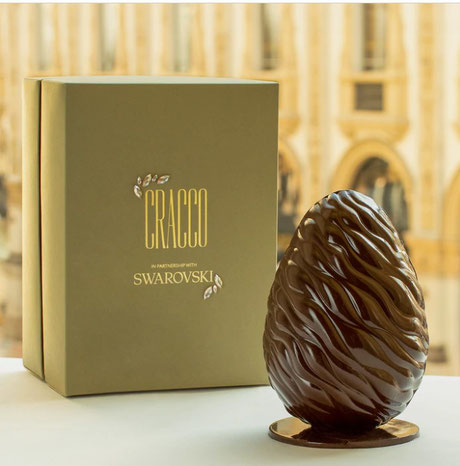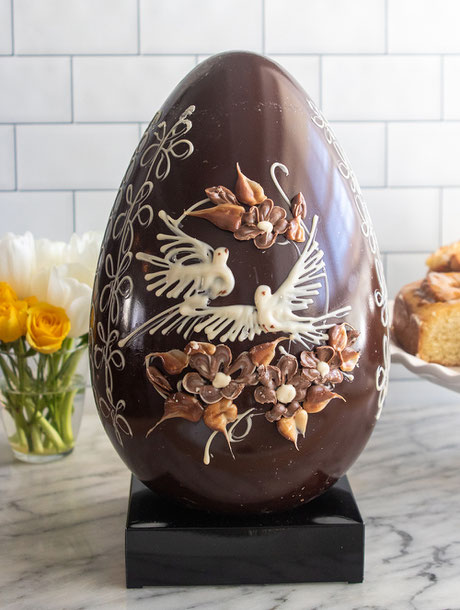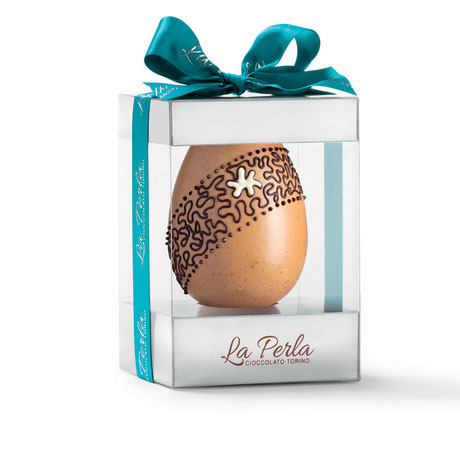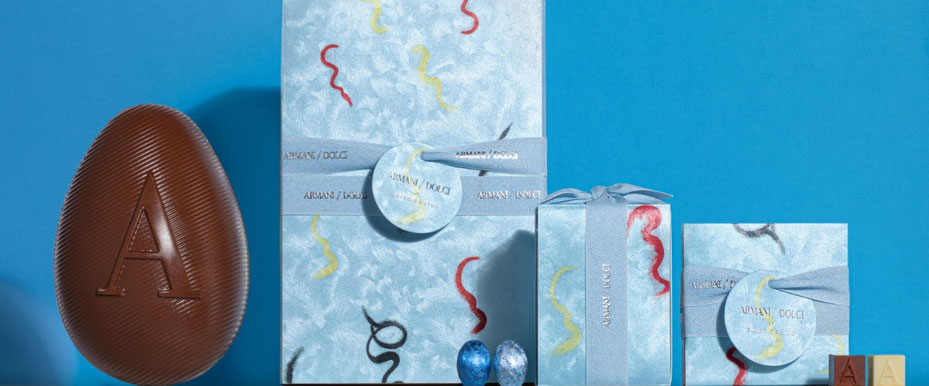 If you want to amaze with a Italian Designer Easter egg , then the new Armani / Dolci collection is probably what you are looking for. You can choose chocolate eggs, 100, 200 or 300g, both with milk chocolate filled with white gianduia, and with 75% extra dark chocolate with dark cocoa cream filling (for lovers of really strong tastes!) - the classic 200g Easter egg with surprise, in 75% extra dark chocolate or milk chocolate, and decorated with the iconic Armani letter A in contrasting colour. This, however, is on sale exclusively only at Armani / Manzoni 31 in Milan at a cost of 69 euros. All the rest can be found in the Armani / Dolci stores and on www.armanidolci.com.
Trust in this historic Milanese pastry shop Marchesi 1824 to pull out all the stops come Easter. The chicest treats imaginable, the 2022 range is again elaborate and delicious. It includes its amazing chocolate eggs; such as this small version of a case with pastel coloured mall filled eggs are prepared exclusively with the finest ingredients. This inviting assortment contains a selection of chocolate eggs filled with milk chocolate and gianduja, lemon cremino flavoured with vanilla, cremino with pistachio, gianduja and passion fruit cremino, and milk and raspberry cremino. Large Easter Chocolate eggs elaborately decorates or its famous Colomba cake.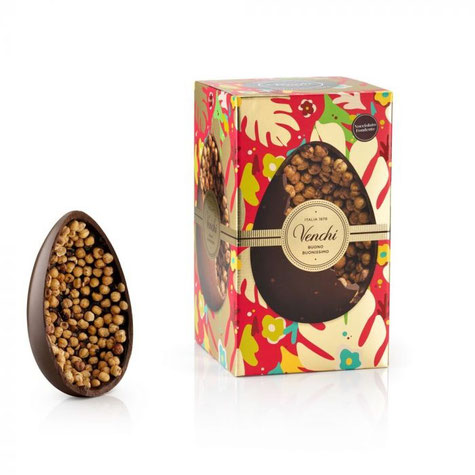 This historic Italian chocolatier and gelateria Venchi is offering a sophisticated and sizeable)take on the classic Easter egg this year. Venchi's 1kg Gran Gourmet milk chocolate Piedmont hazelnut creation is sure to impress even the most choosey of food aficionados. Its milk chocolate shell is filled with whole Piedmont hazelnuts, bringing an indulgent taste of Italy to your Easter Sunday. Or how about the 1 kg Brutto&Buono dark chocolate egg with surprise: crunchy Piedmont Hazelnuts coated in dark chocolate. Or something very special: An elegant and  cotton fabric wrapper pricey Easter Egg embellished with a spring-petal pattern, containing a delicious dark chocolate egg with a surprise to discover.
La Colomba - Italian Easter Cake
As for Colomba, the Special Italian Easter cake, the choice of Sal De Riso pastry is truly infinite; on their site you will find all tastes and colours. Colomba Cornflower, Cloud, Spring, Stregata, Limoncello, Sottobosco and many others. Or Becchis Colomba - the slow natural leavening and careful processing give softness and softness to the product and ensure maximum digestibility. The dough with candied fruit and raisins is covered with a crunchy hazelnut glaze, garnished with almonds and granulated sugar. A precious gift to give and share in the company of relatives and friends. The Designer version of La Colomba with the Giorgio Armani Dolci Colomba for a special Easter present. Armani/Dolci proposes an artisan-baked Colomba with the lightest consistency for a traditional Easter; made from French butter and free-range eggs exclusively from Italian farms. The candied fruit also comes from Italy, with fragrant peel from Navel oranges grown in the abundant orchards of Calabria. Finishing off this special recipe for the Armani/Dolci Colomba are the best sultana raisins and the natural aroma of Madagascar vanilla (Slow Food® Presidia). The Dolce & Gabbana Colomba The Colomba by Dolce&Gabbana and Fiasconaro tells the new chapter of a true Italian story all about excellence, knowledge and passion for quality food: wonderful tin boxes, specially decorated with ornaments by the best Sicilian artists, inspired by the blue and white majolica of the island, help to preserve the intense aroma of these sweet creations bringing the intense memory of the "Blu Mediterraneo" and the freshness of a sea breeze. Colomba with Sicilian candied orange and a coating of icing and Sicilian almonds.