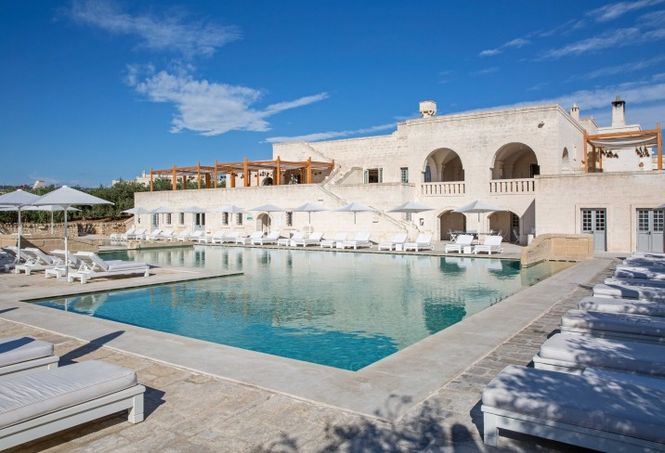 Italy features a number of regions which are known for its higher than average age being attained. Globally this is referred to a blue zone region; which Sardinia is known for.  Booking retreats that live by the nine rules of the Blue Zones:  Regular exercise is critical; you must eat responsibly; focus on plant-based foods;  everything in moderation;  have a purpose in life;  cope effectively with stress; cultivate a faith-based sense of belonging;  family ties are critical. Even in an Italian hotel you can now learn how to live long. Since 2020, Borgo Egnazia has been offering certified Blue Zone retreats.  Borgo Egnazia is located in Savelletri di Fasano, where the hills of the Itria Valley gently fall away to the Adriatic Sea, and the property itself is inspired by the shapes, materials and colours of a typical Puglian village. This authenticity was conceived to bring a fresh and original feel that is found 'nowhere else', alongside impeccable service. Since 2010 Borgo Egnazia has been part of Leading Hotel of the World and in July 2018 Borgo Egnazia has been recognized as the #1 Top Italian Resort by Travel + Leisure in their World's Best Awards, and it has also been named #4 in the Top 10 European Resort Hotels category, and #43 in the Top 100 Hotels Overall category.
The Retreat Borgo Egnazia offers a number of options including rooms in the main Retreat or individual holiday homes. All around the picturesque Piazza, the beating heart of Borgo's life, a labyrinth of dry-stone walls and prickly pears winds its way through wonderful case, embellished with enchanting private swimming pools, Mediterranean gardens and terraces nested among tufa stones. During the first lockdown, the Retreat  which is modelled on an old Italian village, developed the so-called wellbeing concept based on the Blue Zone rules.  And maybe that's one of the reasons why Madonna keeps celebrating her birthday here, on which of course she never gets older.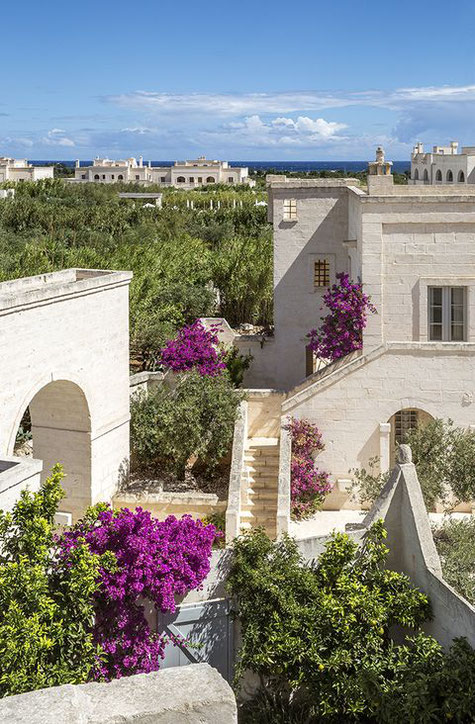 One of the most important rule of the Blue Zone regions has to do with diet. Because in the first Blue Zone, which the Blue Zone inventors defined on Sardinia in 2004, they observed that the above-average old residents take care of their own food: they hunt, fish, harvest. From this, a nutritional concept was derived that largely dispenses with meat and gluttony. Food cooked from vegetables that grow in your own garden, little salt, little butter, hardly any meat. This concept is followed by the restaurants in the Borgo Egnazia Resort. The 80 percent rule also applies, which means stop eating when you are 80 percent full. It's something they learned from the people of Okinawa, Japan, who recite the Confucius mantra "hara hachi bu" before each meal to remind themselves not to fill their stomachs completely. The main restaurant, Due Camini, with one Michelin Star, is set in the main building and is open all year round . The food is traditional Pugliese (grilled octopus, beef fillet with myrtle, gnocchi with cherry tomatoes and the ilk) the menu changes with the weather and the hotel is pretty much self-sufficient: anything that isn't homegrown is plucked from nearby.  Menu options include: Stèip ca trouv – Broad Beans, Peas, Stracchino Cheese and Lard.  Lu Purp cu l'acqua soa stesse s'coce : Octopus, Blood Orange, Apple and Potato; Pane e p'm'dor mett sang' e ch'lor : Spaghetti Pasta, Bristly Crab and Parsley  There are three other restaurants: La Frasca serves buffets and barbecues in the Borgo, and has a garden area for little ones; Trattoria Mia Cucina hosts cookery classes and serves traditional local dishes. Pescheria da Vito (open 12.30pm–3.30pm and 7.30pm–10.30pm, daily), set on the private beach, faces the sea – a picturesque setting for meals of grilled fresh fish, light salads and plates of pasta. Beach restaurant Cala Masciola is open for lunches and dinners (times change with the seasons) and serves up the likes of grilled octopus, spaghetti with clams, lobster and – of course – freshly caught fish.