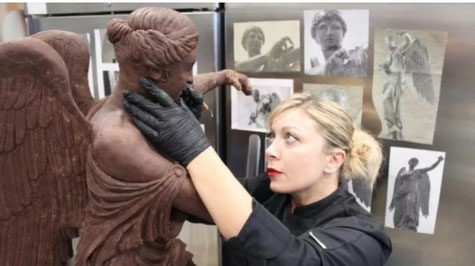 7 extremely talented Italian chefs braved the stage at their national qualifying round. But only 1 of them was to take home the title and become Italy's next Chocolate Master. Anna Gerasi will represent Italy at the next "World Chocolate Master 2022" in Paris:  My motto is: 'Chocolate is not a substitute for love, but love is the substitute for chocolate'.  Anna Gerasi, the only woman to participate and win the selection to represent Italy in the next World Chocolate Master 2022, the most important world competition in the sector to be held in Paris in October. 
NATURA BY CHEF ANNA GERASI 
This piece by chef Anna Gerasi is a plea for us all to listen more closely to the rhythm of our planet. She chose to personify nature as a woman, believing women are the source of life. In this design the feminine, vital and adaptable nature of the world around us is brought to life, blending flawlessly with the green lungs of our planet.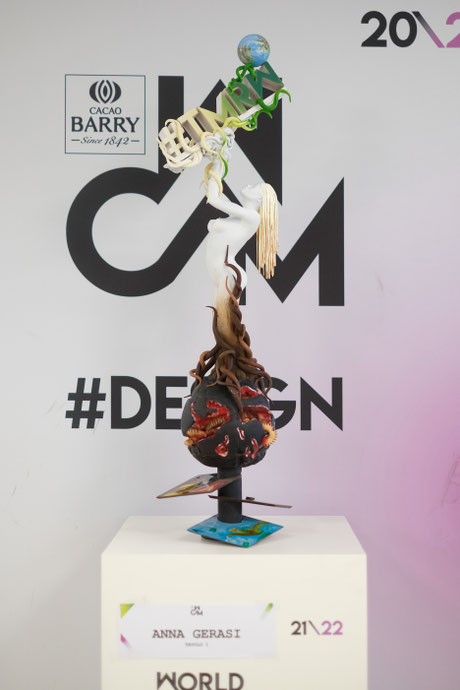 LEMON FRUIT BY CHEF ANNA GERASI
 Chef Anna Gerasi set out to create a delicious yet eco-friendly vegan candy. And she succeeded. With her bonbon, she hopes to reduce the impact products of animal origin have on our planet. Going plant-based is the future. And we as a profession should not be left lingering in the past. And saving the planet can be delicious and healthy, too, so it seems. Cacao Barry Madirofolo 65% is rich in fibre and magnesium, which relieve stress and benefit the nervous system. Combined with a typical Italian treat (Limone del Garda), you have an indulgent caramelly, sweet and seductive bonbon that will make the taste buds go wild.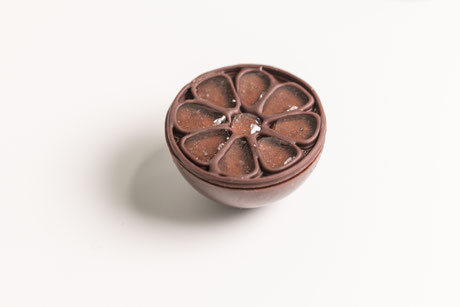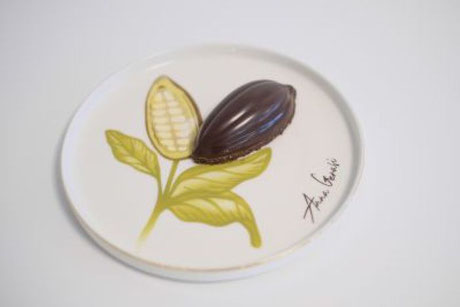 THEOBROMA CITRUS BY CHEF ANNA GERASI
 This dessert by chef Anna Gerasi links her roots with modern techniques in chocolate and pastry. Discover a Cacao Barry Madirofolo 65% chocolate shell containing Garda oranges, which according to our chef, are the Mediterranean fruit par excellence. The fruit is also rich in fibre and water and adds a healthy amount of acidity to the recipe. You'll also find almonds, hazelnut and extra virgin olive oil inside, all contributing to a healthy and sustainable dessert.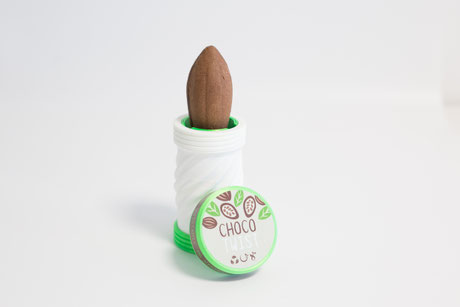 CHOCO TWIST BY CHEF ANNA GERASI
 How about a snack that will make your skin glow? This Choco Twist by Ana Gerasi might do the trick. It is made with exclusively vegan and raw materials, making it sustainable, low-impact and incredibly healthy.
 It's the perfect on-the-go snack with a plant-based and crunchy shortcrust resembling a raw cacao bean. Sunflower seeds, Madirofolo 65%, and caramel make for an indulgent flavour burst from the very first bite. And then, an extra surprise awaits in the form of Garda mandarin - an explosion of vitamins, minerals, amino acids and fibres. All neatly wrapped in sweetness. Great for a much-needed immunity boost or to help your skin glow as radiant as ever before.