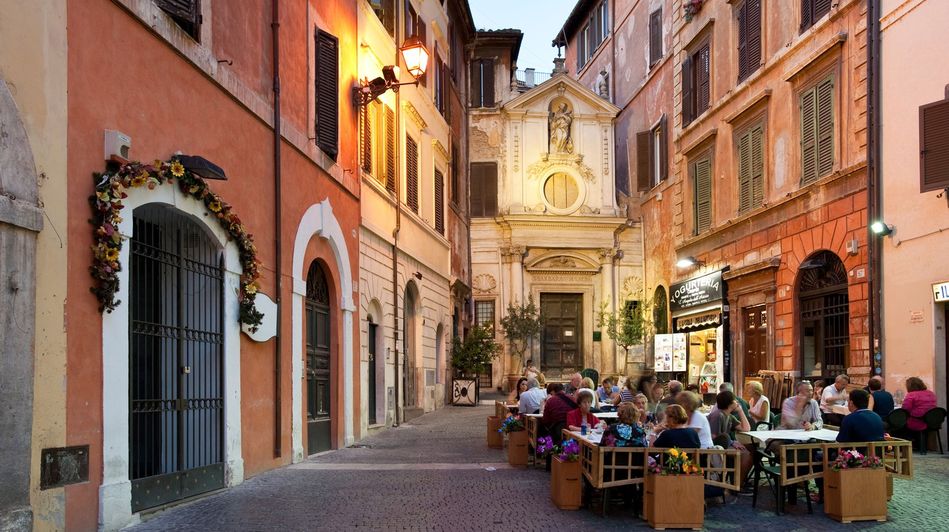 Two years into the pandemic, travellers seem more willing to trade rural escapes for big cities. The rankings of the review by the Tripadvisor platform for 2022 for favourite destinations: London and Paris in second and third place. Also in the ranking Florence and Naples and Rome at 6th place. Food lovers from all over the world this year must stop in one city: Rome. Roman cuisine is most loved for being exceedingly flavourful, simple and satisfying. Continuing centuries of old-school traditions, dishes in the Italian capital have their roots in "poor man's food", constituting a creative cuisine that pays homage to the local delicacies in the Lazio region. Typical Roman dishes include Coda alla vaccinara - a rich tomato-based stew that incorporates vegetables, pancetta, a dash of red wine and cinnamon to create a comforting dish or the delicious Jewish artichokes - Carciofi alla Giudia - deep-fried artichokes; best example of the Roman-Jewish mastery of deep frying techniques. Romans fry everything: meatballs, fish, but most of all, vegetables. At a pizzeria, one typically starts with a platter of fried snacks, which might include fiori di zucca (fried squash-blossoms stuffed with mozzarella and anchovies) or fritto misto vegetale (a mix of everything from carrots to romanesco). Another popular fried treat, is supplì, a fried rice ball that was traditionally made with a ragu of chicken livers, but now is more likely stuffed with mozzarella and flavoured with tomato. They're sometimes called supplì al telefono, because the melted cheese stretches into a long cable when the supplì is pulled apart, resembling the cord of an old-fashioned telephone.
Roman cuisine features fresh, seasonal and simply-prepared ingredients from the Roman Campagna. These include peas, globe artichokes and fava beans, shellfish, milk-fed lamb and goat, and cheeses such as Pecorino Romano and ricotta. From the pastoral traditions of the surrounding countryside to Rome's Jewish community, Roman food also favours aggressive flavours. Classic dishes are heavy on black pepper, funky pecorino, bitter greens, and an enthusiastic use of offal. Many Romans still go out on Saturday night for fried artichokes and cacio e pepe and tripe. "Thursday gnocchi, Friday baccala, Saturday tripe", is a favourite saying. Typical dishes include tonnarelli cacio e pepe , rigatoni alla carbonara, all'amatriciana and gricia, among the second courses cod and meatballs, and courgette flowers stuffed with ricotta and anchovy sauce. 
 Rome has four typical pasta dishes: cacio e pepe (pecorino and pepper), carbonara (pecorino, guanciale, and egg), gricia (guanciale and pecorino), and amatriciana (guanciale, pecorino, and tomato). All of them are based around Rome's iconic sheep's milk cheese, pecorino Romano. Three of the four pastas also feature guanciale, cured pork jowl that gets cubed and rendered into the sauce, delivering the one-two punch of crunchy meat bits and musky,
In Rome, the more bitter the vegetable, the more beloved. Cicoria ripassata is a trattoria mainstay of green chicory, boiled into submission and then finished in a hot pan with oil, garlic, and chili flakes. For the few winter months they're available, puntarelle are the subject of much lust, their harsh dandelion-looking leaves stripped away to reveal the shoots that are then sliced thin, soaked in acidulated water until they curl, and dressed with a paste of olive oil, garlic, vinegar, and a daring amount of anchovy. Some of Rome's most splendid dishes are the sauteed, braised, boiled, roasted, and otherwise simply prepared vegetables that are served with most meals. Called contorni, these fresh, flavourful dishes round out meat and fish main courses, and they are also often served as antipasti, before meals. In trattorie all over town, waiters serve braised cardoons (a cousin of the artichoke), mixed local greens known as misticanza.
Rome is famous for lamb. Abbacchio romanesco  is one of the symbolic second courses of the gastronomic tradition of Lazio, the recipe of the Roman lamb is simple and characterized by the addition, at the end of the cooking of the lamb in the oven, of the desalted, boned and pounded anchovies. A star dish on special occasions.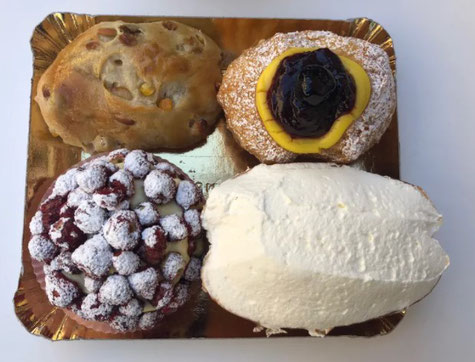 Rome does have its indigenous sweets, mostly consumed at breakfast. Around Carnevale time, bignè di San Giuseppe start appearing in pastry shops and bars — because fried choux dough filled with custard is just what one needs before the deprivations of Lent. December 2, 2017 was declared "Maritozzo Day" in Rome, so beloved are the round, eggy pastries stuffed with an absurd amount of whipped cream.