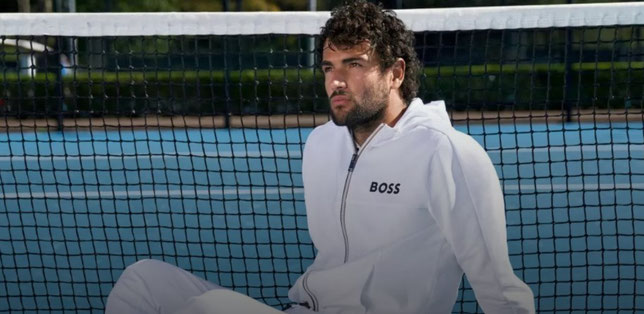 The family, the love for his partner tennis champion Ajla Tomljanovic, and his dreams to become a champion. On the eve of the Australian Open with the "capsule" created with Boss of which he became Global Brand Ambassador, the record tennis player talks about his debut as a designer. "They make fun of me because, when I call my grandmother, she always starts the conversation with: 'How good you are, how beautiful you are, and if you smile you are even more so' ". Matteo Berrettini, 25 - the first Italian tennis player to have played the Wimbledon final in 144 years, the first to win the Queen's tournament and number 7 in the world rankings - is a male of the new type. Boss welcomed him as as the latest addition to the BOSS family, as he has inspired a new collection - called Capsule. Matteo is defying expectations, overcoming challenges, and inspiring a new generation of athletes along the way. He reached his first Grand Slam final in 2021, and is set for greater things in 2022, outfitted by BOSS. 
Matteo Berrettini is an Italian tennis player, number 7 in the ATP ranking. Considered one of the strongest Italian tennis players ever, he was a finalist at the Wimbledon tournament in 2021, the only Italian player to make it.
In September 2021 he climbed to 7th position in the ATP ranking, and is the Italian player with the longest stay in the top 10. On the circuit he is known by the nickname "The Hammer", due to his powerful service and forehand shots.