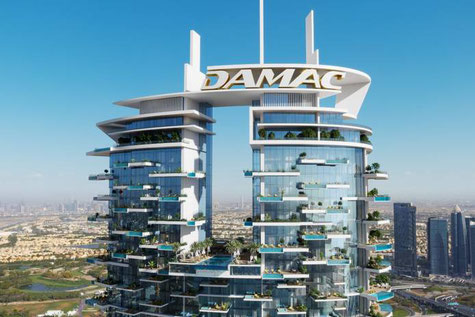 The universe of the Roberto Cavalli's fashion brand extends beyond dresses and catwalks. To create the Cavalli Tower, the latest architecture and interior design project by the Roberto Cavalli fashion house, is an ultra-luxury 70-storey skyscraper, a project in collaboration with DAMAC Properties, an international real estate development company based in Dubai.
It will be built on the beachfront in the Dubai Marina district, overlooking the Palm Jumeirah Island and ultra-luxury interiors by Cavalli. The value of the project - the work of award-winning architect Shaun Killa, creator of the Dubai Museum of the Future - is about 545 million dollars, while construction work will begin in 2022, for an estimated duration of four years. Luxury to the nth degree: access to the sky pool and sky garden, an infinity pool and even a private pavilion where you can organize dinners and hire their favourite chefs.
The interiors have marble finishes and parquet floors; a wall fountain and other water features accompany with soothing sounds that evoke rain. Within the gardens, the Cavalli Tower will boast a swimming pool that recalls the Malibu Bay style and replicates in all respects a beach, including artificial sand. Around the pool of 900 square meters, a number of dining options and a lush green landscape, to recreate an environment similar to that of an oasis.
As for services, residents will be spoiled for choice. In addition to a 24-hour butler and a la carte home management service, the tower will also offer babysitting, personal training, laundry, apartment styling, event planning, as well as chefs, gardening and home nursing. . What else? The Cavalli Tower is launched at a time when the Dubai real estate market is undergoing a much faster recovery than analysts expected, with total sales of around Dh100 billion in 2021 (around € 23 billion). DAMAC expects the Cavalli Tower to attract strong interest from Russian and European customers, loyal buyers of the fashion house.