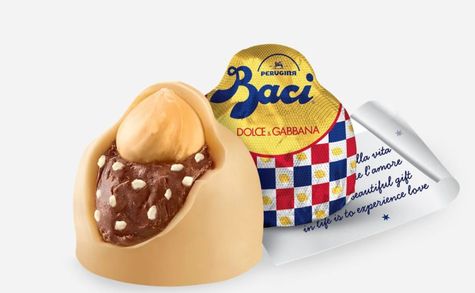 Baci, one of the most famous chocolates in the world, created by one of leading Italian entrepreneurs of the last century, Luisa Spagnoli. To celebrate the centenary of Baci Perugina, a limited series designed by Dolce & Gabbana, the Baci® Perugina® Dolce Vita®: a new combination of flavours, aromas and textures, taking you on a journey into the Italian tradition, quality and excellence of Dolce & Gabbana. A soft gianduia center, fresh lemon-flavored nibs and a crunchy whole hazelnut, all enveloped in a delicate white chocolate shell with hints of vanilla. An all-new taste sensation to enjoy. A limited-edition masterpiece made truly special by the words of Domenico Dolce and Stefano Gabbana inside each wrapper!  Impossible not to accompany the new limited edition with equally amorous cartouches, in fact the phrases of Stefano Gabbana and Domenico Dolce accompany each praline.
When Perugia-born clothing designer Luisa Spagnoli first invented the hazelnut-centred chocolate in 1922, she called it a cazzotto because it resembled a fist. The name didn't ring right to Giovanni Buitoni, managing director of the Perugina chocolate factory and Spagnoli's younger lover—Buitoni was 14 years younger.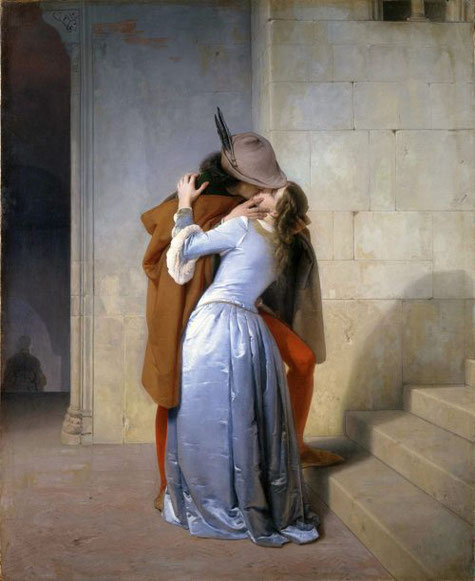 Buitoni commissioned futurist artist Federico Seneca to design the packaging and concept, hence the silver wrapping and the tiny slip of paper printed with a quotation about love we still unfurl today. The box depicting two lovers locked in an anonymous and unaffected embrace was inspired by Venetian Francesco Hayez's The Kiss (1859), on display in Milan's Pinacoteca di Brera. All these factors proved a winning recipe; a 1927 advertisement claimed, "In only five years, Perugina has sold 100 million Baci". formula is due to Luisa Spagnoli, the name to Giovanni Buitoni and to the art director Federico Seneca idea of the cartouches inserted in the wraps of the Kisses. The story tells that it was the habit of the two clandestine lovers, Luisa and Giovanni, to exchange tender messages of love hidden in the chocolates, it remains a kept secret if it is the true origin, the companion remains in history , a confident and profound relationship that has linked the two in life and work.