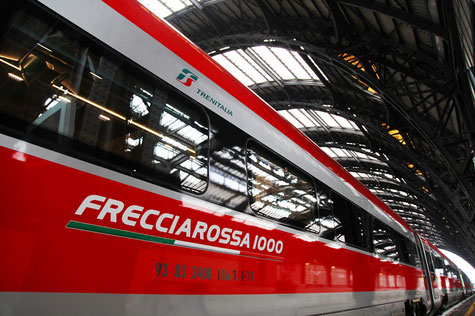 Over the last few years, Italy has invested in their high speed train Alta Velocità (AV) connections across Italy. Trenitalia's high-speed trains are called Alta Velocità (AV), and are broken down into three categories: Frecciarossa ("Red Arrow"), Frecciargento ("Silver Arrow"), and Frecciabianca ("White Arrow"). Frecciarossa trains are the fastest of these, reaching speeds of up to 190 MPH (300 km/h). There is a certain romance to what we imagine 19th-century train travel in Europe might have been like, but there's no denying the benefits of modern technology on Italy's rail infrastructure. The country's high-speed trains connect Italy's major cities, with 3 beautiful routes for a Grand Tour through Italy.  These routes make it possible to consider day trips from Milan to Rome or Rome to Naples, despite the great distance. Italy's high-speed trains help evoke the 19th-century romance of rail travel, albeit at 21st-century speeds. Making it the best transport option these days for your Grand Tour through Italy!
Route 1 - Frecciarossa - Turin - Milan - Bologna - Rome - Naples - Salerno
The Frecciarossa high-speed train in Italy - connects Turin - Milan - Bologna - Rome - Naples - Salerno.
Route 2 - Frecciargento - Rome - Venice - Verona - Bari -Lecce -  Lamezia Terme
This train connects Rome to Venice, Verona, Bari/Lecce, Lamezia Terme/Reggio Calabria on both high-speed lines and traditional lines. 
Route 3 - The Frecciabianca - Milan - Venice - Udine - Trieste - Genova - Rome - Bari - Lecce
This train offers service on traditional lines from Milan to Venice, Udine, Trieste, Genoa, Rome, Bari, and Lecce.