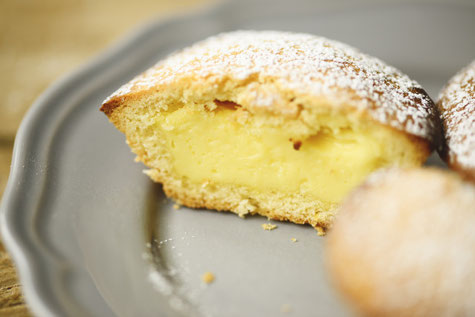 The Apulian Pasticciotti are absolutely one of the best known sweet delights of the fabulous Puglia cuisine.  Here in its original version with custard inside. The amber and golden colours make it a sight not only for the palate but also for the eyes. In many of the gorgeous cafes of Lecce, such as the Caffe Alvino, the house-made Pasticiotto are also worth trying. Or use this recipe, to replicate this indulgent pastry at home.
Ingredients:
For the shortcrust pastry
250 g of flour 00; 125 g of lard; 125 g of sugar; 2 medium eggs; 1/2 tip of a teaspoon of ammonia for sweets
For the cream
500 ml of milk; 3 egg yolks (medium eggs); 90 g of flour 00
155 g of granulated sugar
Preparation:
In a bowl, place the lard at room temperature and the sugar and mix them well, mixing them together, until you get a smooth cream. Add the eggs and incorporate them one by one. Whip the egg yolks with the sugar and, when they are swollen, add the flour and continuing to whisk, add the milk little by little, trying not to make lumps. Move everything over the heat and, always stirring, cook until a thick and velvety cream is obtained. Form the pasticciotti by filling the moulds with the shortcrust pastry, stuffing them with the cream and for those who like sour cherries and covering them with another disc of shortcrust pastry. Cook in an air fryer at 180 degrees for 12 minutes for large pasticciotti and for 10 minutes for smaller ones.