Cooking Sicilian broccoli by preparing an appetizer and a second course will be really easy with these recipes. Both dishes will make a great  impression at lunch or dinner. Among so many fruits and vegetables to choose from in winter,  we choose Sicilian broccoli. This vegetable is grown in many southern regions and has a compact shape and a beautiful deep green.
Sformato di Broccolo Siciliani - Sicilian Brokkoli Flan
Ingredients:
800 g of Sicilian broccoli; 250 ml of cooking cream; 3 eggs; bread crumbs; salt and pepper; parmesan or parmesan; parsley.
Clean the broccoli and cook them in salted boiling water. As soon as they are cooked, they must be drained and placed in a bowl. Break the eggs, add the pepper and parsley and work everything with a fork, crushing the broccoli a little. Add the cream and continue mixing. Pour the mixture into some buttered moulds sprinkled with breadcrumbs and finally cover with a little cheese. Bake in the oven at 180 degrees for 20 minutes.
Pasta con broccoli e salsiccia - Pasta with Broccoli and Sausage
Pasta with broccoli and sausage is not an exclusively Sicilian recipe but, with more or less delicious variations, it can be found throughout Italian cuisine. It is in fact very widespread especially in the south and in particular in Calabria and Puglia, where the most widely used pasta shape is orecchietta.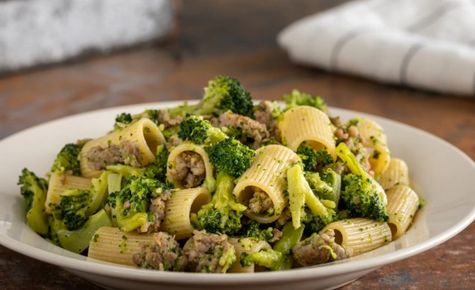 Ingredients:
500 g of Sicilian broccoli; 500 g of sausage; garlic; 250 ml of cream; salt; extra virgin olive oil.
Clean and boil the broccoli. Remove from the heat before complete cooking, drain and set aside. Take the sausage, remove it from the casing and crumble it in a bowl. In a pan with some oil, brown a garlic and then remove it, pour in the crumbled sausage and when almost cooked, add the broccoli. After a few minutes, if desired, you can add cooking cream. Remove from the heat and serve.
The Broccoli Meatballs are a second course based on Sicilian green broccoli with the addition of diced cooked ham. Similar to croquettes, they are crunchy on the outside and soft on the inside. Also excellent as an appetizer or in a savoury buffet. 
Polpettine con broccoli
Ingredients:
500 g of Sicilian broccoli; 100 g of parmesan or parmesan;
200 g of provolone; an egg; breadcrumbs; bread crumbs;
salt and pepper.
After cleaning and boiling the broccoli, drain them and put them in a bowl, together with the egg, grated cheese, a little breadcrumbs, a pinch of salt and pepper. Mix everything well. Cut the provolone into cubes. Now it will be necessary to make the meatballs and insert a cube, close well and pass them in the breadcrumbs. Then fry the well-sealed meatballs in hot oil.