The Amalfi Coast has always attracted the creative and innovative crowd; so it is not surprising that it also boasts a number of local stylish businesses with unique local designs for fashion or ceramics and delicious tasting foods unique to the Amalfi Coast - based on the famous Amalfi lemons. And thanks to web, these can now be purchased online, bringing a piece of Amalfi to you even without travelling. Although, we would obviously prefer to be there in person!!!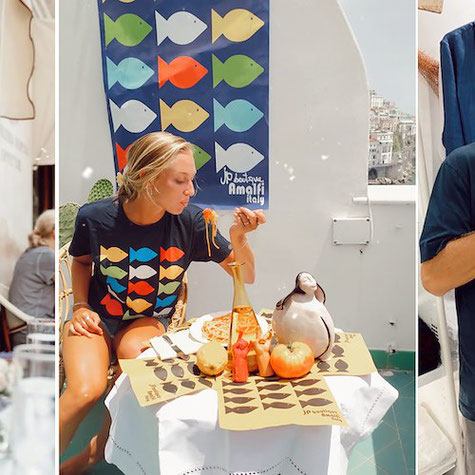 The most famous Amalfi fish has been created for you by an Amalfi illustrator - JP Amalfi. Cute and stylish designs with the brand of the #Amalficoast. Descendant of one of the oldest fishermen families in Amalfi, JP has come up with a range of designs which you can also buy online at jp-amalfi.com. Born from an idea of the Amalfi illustrator Gianpiero Di Filippo at the historic shop in via Pietro Capuano 12, the iconic fish has become one of the symbols of the territory.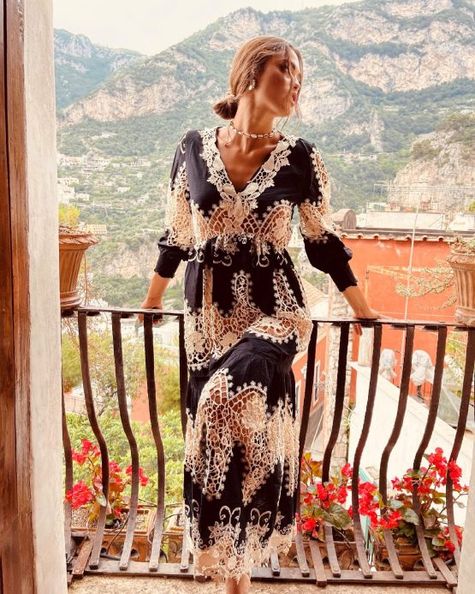 Antica Sartoria by Giacomo Cinque is an unusual shop that is located not far from the seaside of Positano.  It offers attractive designer apparel and accessories in this so unique Positano style. Fabulous tunics and dresses with cotton lace, beach outfits, and many other trendy items.  Or handmade bags decorated with embroidery and original headwear. Many items come with handmade embroidery and glass beads décor.  In the famous 60s, Positano, in addition to the hippy phenomenon, discovered and experienced the interesting phenomenon of "Positano Fashion". When you left the city for a trip to the sea, you often did not feel at ease, given the unsuitable clothing, because as if by magic, the climate in this golden bay is always mild, and therefore we went in search of sarongs, Bermuda shorts, shorts, swimsuits and everything else that could be used on the beach or on a boat in light cotton or linen and great holiday colours!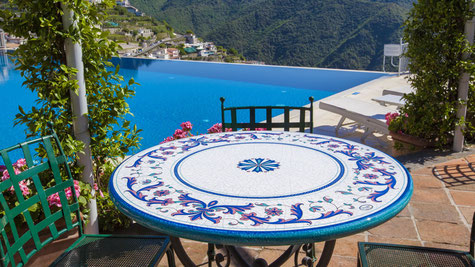 Ceramica Casola is a family owned business that follows one dream from generations "to make the houses in Italy and all over the word more beautiful and to be the exporter of a piece of the beauty of Positano and the Amalfi Coast". Their hand painted lava stone tables are pieces of Art, strong and functional. The Casola brand is the guarantee of a refined and original product. Chairs and bases are made in wrought iron, hot dip galvanized (HDG) 752°F. Their Master Artists make unique tables from lava rock, the manufacturing process starts in the volcanic stone quarry where they cut the lava rock slabs. After the glazing our Artists, with a lot of care for details, paint by hand the table tops and then fired them at 1.922°F to fix permanently the colours. Ceramica Casola's range covers dinnerware, ornaments, tables and vases all with their stunning unique designs.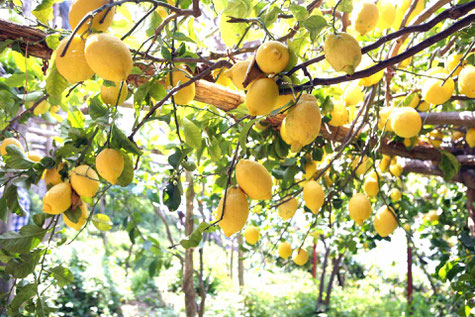 La Valle dei Mulini is the iconic brand that identifies the products of the historic Aceto Family, five generations of PGI Amalfi Coast Lemon farmers.
Since 1825 they have passed their passion for the famous Amalfi lemon from father to son, keeping intact the craftsmanship processes handed down over time and using only Organic-certified lemons that they grow, harvest and select on their own. According to the philosophy of short supply chain and organic farming, and the values of transparency, sustainability and tradition they safeguard the natural heritage and provide the world with liqueurs, flavours and aromas of Amalfi. Shop online for the real authentic Amalfi Limoncello, lemon honey or baba with Amalfi limoncello and more - bringing a taste  of Amalfi into your home!