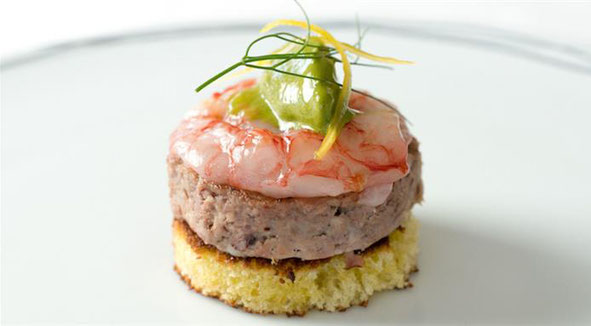 How about Michel Star dishes for a special New Years' Dinner inspired by two restaurants. Il Tino is the gourmet restaurant of Chef Daniele Usai. Awarded a Michelin star in 2015, it's considered the go-to spot for haute cuisine on the Laziale coast. Usai, chef of Il Tino, launches into a fun composition of prawns, coppa di testa and brioche bread. A delicious bite to start the celebrations with. A perfect appetizer for New Year's Eve with brioche bread, pork head and prawns. To refresh everything, green sorbet and candied lemon.
Testa e Cuore
Ingredients:
Flour 00 500 g; Sugar 50 g; Egg yolks 110 g; Egg whites 95 g; Milk 75 g;  Butter 225 g; Brewer's yeast 25 g; Parsley 2 decks
Basil 3 decks; Fennel 3 decks; Garlic Oil 20 g; Raspberry vinegar 60 g; Pig Head; Carrots 500 g; Onions 500 g; Celery
500 g; Laurel;  Fennel; Wild Fennel Seeds;  Orange peel 5; White wine vinegar; Black pepper; Lemon peel 3; Syrup
200 g; Shrimp 12
Preparation
For the Pan Brioche: Combine all the ingredients in the mixer except the salt. Knead for 15 minutes. Double in volume.
Add the salt and knead for another 15 minutes. Get in shape and double in volume. Bake in the oven at 160 degrees for 40 minutes. For the green sauce sorbet: Bleach the herbs for 30 seconds. Combine all the ingredients. Freeze and pacoss. For the cup: Flatten the fresh and whole heads. Cook for about 30 minutes in water and vinegar to remove impurities. Then cook the heads in the vegetable and herb broth. Simmer for about 3 hours. For the candied lemon:
Make a syrup. Cool it completely and keep the julienne lemon peels inside. Arrange the brioche on a plate. Add coppa and prawns. Finish with the green sorbet and candied lemon.
Capuccino di patata di montagna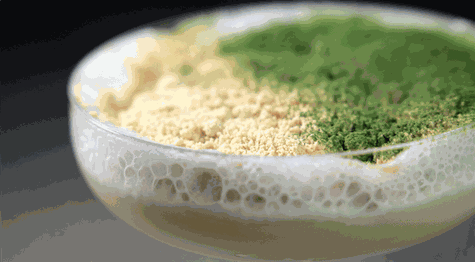 Cappuccino di patata di montagna, vongole, spuma di lemongrass, foie gras e polvere di prezzemolo
It is not a drink to bridle with but a greedy starred dish signed by chef Andrea Larossa of the Larossa restaurant. It is a precious mountain potato mousse that is first embellished with clams and foie gras, finally finished with lemongrass and parsley powder.
Ingredients:
Potatoes 250 g; Normandy butter; 100 g Clams
20 Milk 300 g; Lemongrass 1 berry; Spinach powder
6 g; Foie gras; 120 g Garlic 1 clove; Parsley 3 stems; Shallot 1; Extra virgin olive oil
Preparation
Peel the potatoes, divide them in half lengthwise and then into slices, immersing them in a bowl with water and ice.
Take the milk, add the lemongrass berry and bring the milk with the berry to 65 degrees in a saucepan, filter and let it cool. Once cooled, place in a siphon with two charges and let it rest in the refrigerator. In a saucepan, put 50 g of butter, a drizzle of extra virgin olive oil and the finely chopped shallot; stew the shallot well, add a pinch of salt and the potatoes drained from the water. Cook the potatoes until they are very soft, adding a little hot water every now and then. When cooked, put everything in a blender and blend the cream adding the remaining cold butter, seasoning with salt. Take a saucepan and add extra virgin olive oil, a clove of unpeeled garlic and parsley stalks (all cold).Turn on the heat and brown the ingredients, throw the clams and cover with a lid. Turn the heat down to low.
When the clams are open, divide the fruit from the shell and strain the cooking juice with a tightly meshed cloth.
Add the cooking juice to the potato cream still in the blender and blend for another 30 seconds; pass all the cream with a Chinese colander. In a large glass, add the still hot cream and clams; with the siphon create a layer of lemongrass milk foam, take the frozen foie gras and finely grate it over the foam. Sprinkle with the spinach powder.
Tortelli burro e acciughe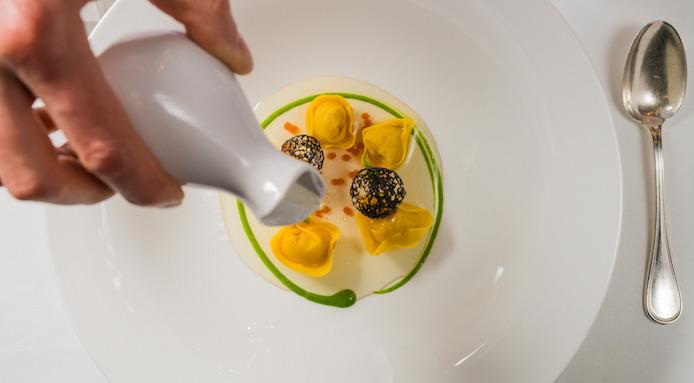 Matteo Rizzo of Il Desco di Verona proposes a classic couple: butter and anchovies. And to accompany these small tortelli is a delicate tomato consommé. Il Desco has been a leading force in Verona's restaurant scene for over 30 years. Elegance, tradition and technique, all enclosed within Renaissance walls.