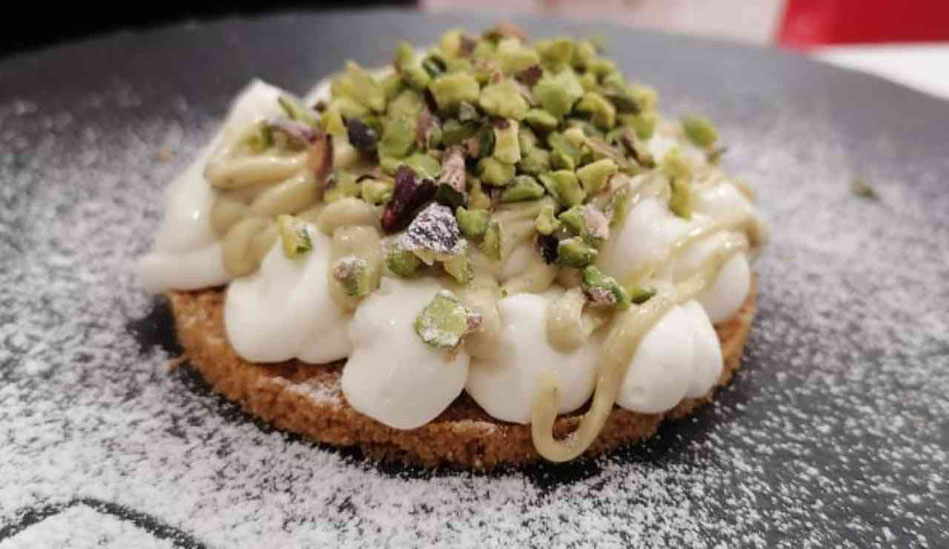 If you want to amaze your guests at Christmas, prepare the biscuit semifreddo - taking just a  few minutes. This  exquisite recipe will leave everyone speechless and above all it is prepared in a very short time, without cooking and without effort. A Semifreddo with biscuits,  mascarpone cream,  white chocolate and pistachio. A crumbly base of crumbled cheesecake-like biscuits, with a delicious and silky cream of mascarpone and white chocolate on top, with the addition of fabulous pistachio cream and crispy biscuits,  plus very pretty to bring to the table. In short, the dessert that everyone likes and amazes everyone is perfect as a Christmas meal at the end of a special day. 
Ingredients for 4 people
300 g of dry biscuits; 100 g of butter; For the filling: 500 g of mascarpone; 200 g of white chocolate; 50 g of powdered sugar; 6 g of gelatine in sheets;  80 ml of condensed milk; Pistachio cream to taste; Chopped pistachio to taste.
Preparation of the biscuit semifreddo
To make this delicious dessert, first blend the dry biscuits of your choice until they are reduced to powder, then add the melted butter until it is completely absorbed, then pour the mixture into pastry rings or single portions and compact the bottom with the back. of a spoon, let it rest in the fridge for 30 minutes. Now, in a bowl, soften the mascarpone with the icing sugar, until it becomes creamy, the white chocolate melted in the microwave (keep some aside for the final decoration) also add the condensed milk and the gelatine sheets previously soaked in cold water and then squeezed and dissolved in a little milk. Once the mixture is homogenized, pour it into a pastry bag, take the bases and stuffed leaving the center free in which a teaspoon of pistachio cream will be placed, once completed, let it settle in the fridge for 30 minutes. After the necessary time, decorate with melted white chocolate and chopped pistachios. Enjoy your meal.