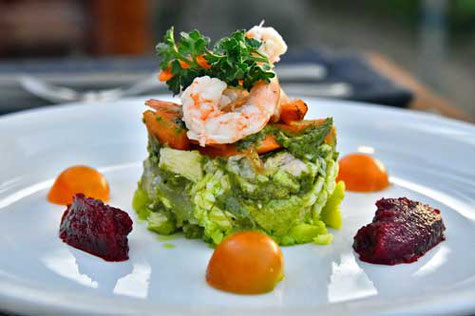 Cappon Magro is undoubtedly the most elegant dish of Genoese cuisine. Very dramatic looking dish, it does require rather an elaborate preparation, hence it is served only on special occasions. Its origins are certainly much simpler, it was in fact a lean marinara salad prepared with sailor's crackers soaked in water and vinegar and leftover fish and vegetables. Over time, the dish landed on the tables of the nobles, with increasingly refined ingredients and spectacular compositions. Various boiled vegetables, prawns and / or lobster and a particular green sauce were added to harmonize the flavours. Today, many local chefs offer it in their restaurants with original and impromptu  versions.
Cappon magro represents a real symbol of Ligurian cuisine and it is one of the traditional dishes of the Christmas holidays. The original recipe would include capon, which is not easy to find; an alternative could be to prepare the Cappon with sea bass, sea bream or mead. As a mold, the zuccotto or plum cake mold is fine. It will be delicious and look beautiful!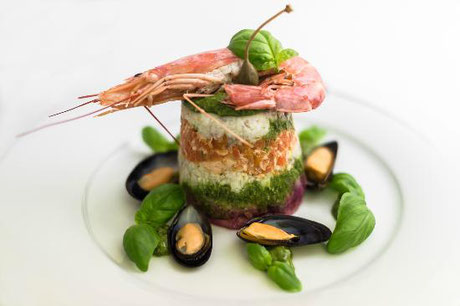 Preparation - Green Sauce
Boil egg for 8 minutes; pass it under cold water and peel it. Soak the bread in the vinegar. Wash the parsley leaves in the centrifuge. Dry them by spinning them well. In the blender, put the parsley, the bread soaked in vinegar and squeezed, the hard-boiled egg, anchovies, pine nuts and garlic (if you like) and season with salt. Blend everything. Add extra virgin olive oil and vinegar to taste. Keep aside.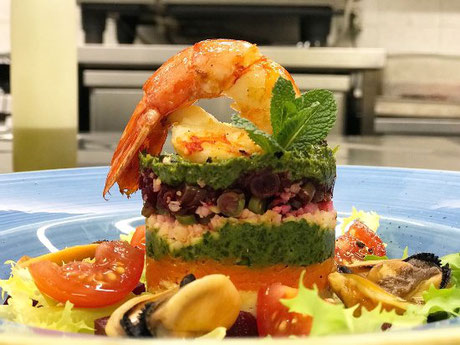 Ingredients: 
Fish and vegetables
1 Sea bass (sea bass) or croaker or sea bream;  400 g Pink shrimp;  1 Small cauliflower; 1 Cooked beetroot; 3 Carrots; 200 g Green beans;  3 Artichokes;  3 Roots of salsify; Flavors (carrot, celery and onion); q.s. salt q.s. Extra virgin olive oilq.s.Lemon; q.s. White wine vinegar; 4 Sailor's cakes (or unleavened bread sheets);
Green sauce
1 Bunch of parsley (large); 1 clove; Garlic (optional); 30 g Pine nuts; 1 Slice bread soaked in vinegar; 1 Boiled egg;  
6 fillets Anchovy in oil; q.s. Extra virgin olive oil; q.s. Fine salt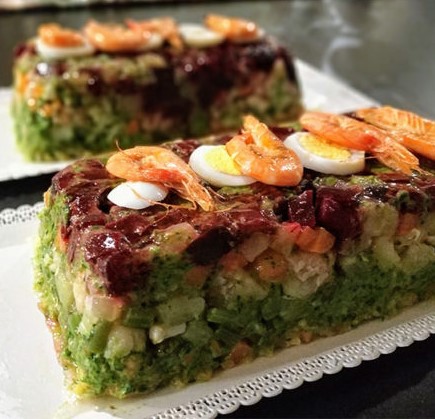 Preparation, ingredients and composition
Clean all the vegetables. Peel the carrots and salsify with the potato and wash. Cut the cauliflower florets and wash. Remove the tips from the green beans and wash them. Clean the artichokes, removing the hardest external bracts and thorns. Then cut them in half, remove the internal stem flush and make slices about 3 mm thick. Gradually immerse them in a bowl full of water with lemon juice for about twenty minutes. Steam them or blanch them all separately in salted water. They all have different cooking times. Drain them when they are tender but not soft. Cut the cooked beetroot into thin slices. Clean the fish leaving it whole and steam or boil it. Put the vegetables (carrot, celery and onion) into the water. When cooked, peel it, remove the bones and thorns and chop a little. Blanch the prawns for 2 minutes in boiling water. Drain them, peel them and leave some with the shell for the final decoration. Put the fish and prawns in a bowl and season with a drizzle of oil, lemon juice and salt. Cut the carrots lengthwise, leave them separate and season with a drizzle of extra virgin olive oil. Wet the sailor's biscuits with water and vinegar. If you can't find the biscuits, you can use overlapping sheets of bread. Cover the zuccotto (or plum cake) mold with cling film. Start with a first layer of beetroot so, being on the bottom, it will not be able to stain the other ingredients red. Alternate layers of fish and vegetables by inserting a layer of green sauce between one layer and the other. Put the sailor's biscuits last. Close with cling film and leave in the refrigerator for at least 12 hours. Invert on a serving dish. Garnish with the remaining prawns and, if you like, green sauce.