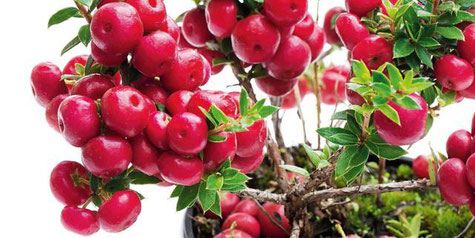 To give your terrace a festive and colourful touch, just assemble a composition of plants according to the traditional Christmas style: drooping ivy, holly and pernettia. December is not an easy month to create an original planter for the balcony, since the plants available are limited in numbers. It will also serve to bring a little joy to the terrace. These plants have similar but not the same characteristics, so it is proposed to arrange them inside a container, a box or a planter, keeping them in separate pots, in order to be able to treat them according to their specific needs. However, the external impression must seem that of a single vase, otherwise the composition will lose its effectiveness as a ready-made whole to amaze and decorate with its richness.
The coloured berries, combined with the bright light green ivy, immediately create a Christmas atmosphere. The proposed composition, with three vases in a single container, can also be given as a gift. Since there is a hanging plant, the best location is raised, for example on a terrace table, so as to enhance it and bring it closer to the outer wall of the house in case of sudden frost.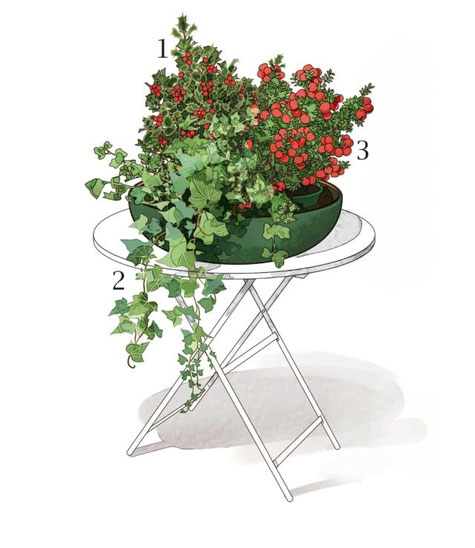 The first choice is holly with assorted leaves and red berries. It is a shrub with very thorny small leaves, dark green, variegated with creamy white or yellow green, embellished with small red berries of about half a centimeter in diameter. It is a rustic plant that can grow several meters in the ground, but which adapts well to living in pots, in any type of soil. It resists temperatures much below zero. To give a more dramatic effect to the composition, a spotted drooping ivy can be added. Its main attraction are the leaves with a characteristic shape with a pointed apex and leathery consistency, smooth, evergreen, light in colour, spotted with creamy white. The dwarf varieties of the Pernettya mucronata reach about 30 cm and have the appearance of a small bush whose branches are densely articulated and full of white, pink or red waxy berries, the latter ideal for Christmas composition. The berries will last until the following spring but are present only on female specimens. Pernettya loves soil rich in organic substance and above all with an acid pH, composed of loam, sand and peat. It loves semi-shaded environments, but is not afraid of full sun.