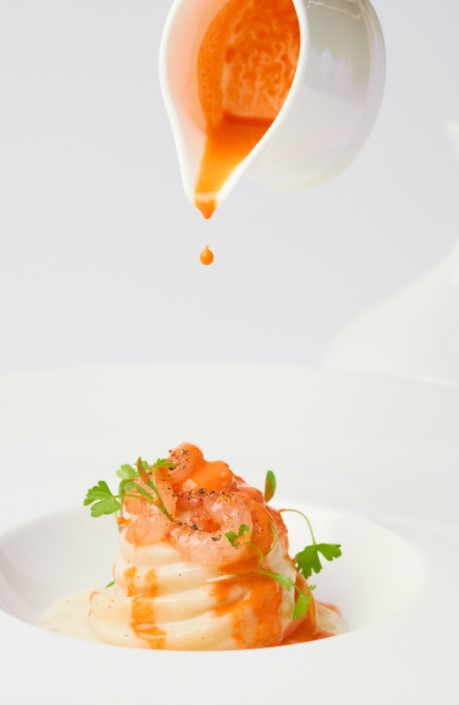 The lemons from Amalfi made it on TV on Eat Parade, a very interesting documentary for the Amalfi lemons, in which they also explain some of the recipes they use them for. The chef is Giuseppe Stanzione del Glicine, restaurant of the Hotel Santa Caterina in Amalfi among the best in Campania. The sfusato lemon from the Amalfi Coast is a "Protected Geographical Indication" product, and the start at the Eat Parade, after Tg2 at 13, with Giuseppe Stanzione, Executive chef of Glicine, starred restaurant of the Hotel Santa Caterina in Amalfi. The Amalfi lemon is a precious ingredient widely used both in cooking and baking, thus explains Chef Stanzione why it is so appreciated: "The Amalfi Coast lemon has this characteristic of having an outer skin rich in polyphenols and grows in a very favourable microclimate with the seas and mountains of our territory that make this citrus fruit unique and particularly versatile. "
Here is the menu presented by the Chef Glicine of the prestigious Amalfi hotel:
Starter
Sandwich of lemon and red shrimp, combined with an extraction of coral, an oil with herbs and the same Amalfi lemon candied and prepared in cream. The shrimp is raw and is marinated with lemon and with small pieces of lemon pulp inside.
First Course
Lemon spaghetti creamed with buffalo cream acidified with lemon and completed with raw lemon pulp, caviar, lemon peel and oyster leaf (maritime mertensia) which gives the dish a pleasant scent of the sea.
Second Course
Seared turbot flavored with lemon and completed with fresh sorrel.
Dessert
Reconstruction of lemon with white chocolate and sponge cake soaked in limoncello and lemon mousse
From Amalfi to Positano, from Glicine to Li Galli, from Hotel Santa Cateria to Hotel Villa Franca, staying on the subject of starred chefs, Savio Perna presents his menu based on the balance of flavours, a concept that may seem abstract but instead represents the principle on which good cuisine is based. In the scenario of a winter in Positano, Chef Perna presents some of his dishes that have allowed the restaurant of the exclusive Positano hotel to obtain its first Michelin star this year:
Starter
Shrimps declined in three different ways. Shrimp with rhubarb cooked in rice vinegar; shrimp with barbecue sauce, with corbara tomatoes and lime; shrimp with salted lemon and green apple.
First Course
Pumpkin risotto with goat cheese, smoked paprika and "tarallo" crumble and pomegranate vinegar scent.
Second dish
Piedmontese Fassona fillet with celeriac cream, potato, Treviso radicchio (cooked in a mixture of vinegars) and soy sauce
Dessert
A classic lemon souffle accompanied by a lemon sorbet.