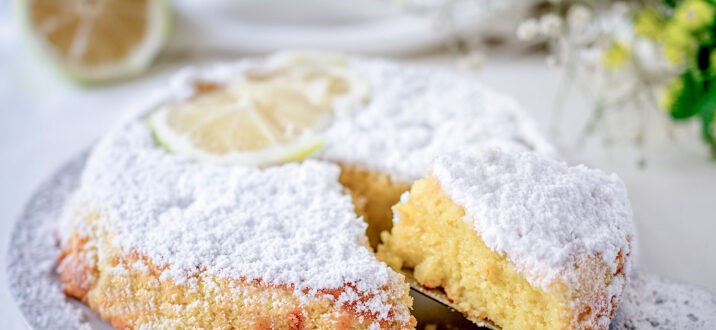 Lemon Caprese Cake by Amalfi Coasts Bakery Master Salvatore De Riso, lemon and almond dessert with white chocolate, quick and easy to prepare without flour.
A really delicious, fragrant, moist dessert that melts in your mouth. A enticing flavour, an incredible lemon scent, and the most elegant dessert to have on your coffee table when hosting your friends and family. The preparation is very simple; it is a gluten-free cake.
Ingredients
100 g almonds; 70 g sugar; 3 eggs; 90 g white chocolate; 60 g icing sugar; 30 g lemon peels (candied); 20 arancia (candied); 1/2 vanilla (berry); 1/2 lemon zest; 50 ml extra virgin olive oil
Preparation
Blend the almonds with 30 g of powdered sugar and the vanilla seeds and set aside. Chop the white chocolate or cut it with a knife and set aside. Whip the egg yolks with the sugar, then whip the egg whites until stiff with a pinch of salt and combine the two compounds without removing them. In a saucepan put two tablespoons of water and three of sugar, add the peels of half a lemon, bring to a boil and stir for 10 minutes then cut into small pieces. Combine the almonds, white chocolate, candied lemon peel, candied orange or grated zest. Mix all the ingredients, add the oil and finally the whipped eggs. Pour the mixture into a 20 cm buttered and floured cake pan, bake and bake in the preheated oven at 180 degrees for 25 minutes. Remove from the oven and allow to cool before cutting and sprinkle with icing sugar.
Bon appétit.