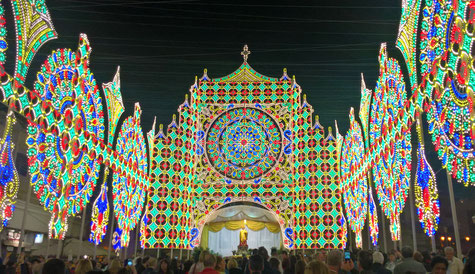 A million lights. Salento will light up tomorrow with the first edition of the Luminarie Otranto Festival, scheduled in the ditches of the Aragonese Castle until 9 January with a gallery of wonderful buildings and luminous sculptures made by the De Cagna family. For over a month it will be possible to relive the typical climate of the patronal feasts of Southern Italy but within the classic Christmas atmosphere, made even warmer by the presence of a welcoming market dedicated to food and wine and local crafts and a rich program of shows.
In the name of art and tradition, the Fossati del Castello will therefore show itself in a new light with the festival promoted and organized by the Municipality of Otranto. Hosted events, enriched by the heritage of cultural and tourist attractions  of the area - even "out of season".
Through fascinating iridescent architectures that combine tradition, technology, culture and fun with a million micro lights, the De Cagna masters have created unique itineraries for the Luminarie Otranto Festival, creating a multisensory journey into the memory and customs of a culture deeply rooted in the Apulian territory. The magnificent light creations will be open  between 27 November and 19 December, while from 20 December to 9 January access will be possible every day. Animation activities, concerts and street theater are also scheduled with the Christmas markets.