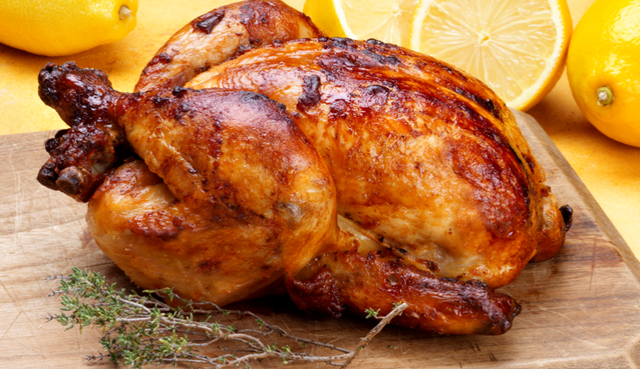 According to Italian traditions when Pollo Arrosto is served for Sunday Lunch whether one takes the breast or thigh is a  symbol of marriage promise. Roast Chicken with Potatoes is the most popular Sunday lunch recipe in Italy. And Pollo Arrosto Day is always celebrated on October 2nd. 
Perfect for Sunday lunch, roast chicken will please young and old alike, especially when served with classic baked potatoes and a beautiful salad. Roast chicken is the Sunday dish par excellence. There is nothing better than getting up and feeling the house flooded with the scent of a Roasted Chicken and then sitting at the table and enjoying it with the whole family. Although the ingredients for the preparation of roast chicken, choose above all a quality chicken. Choose one raised on the ground without antibiotics and fed with organic feed. Contrary to what one might think, the colour of the fat part of a good chicken is a vivid yellow: if it is pale it means that the meat will be less tasty.
How to make the perfect roast chicken? 
Ingredients:
1 clean 2 kg chicken; 2 cloves of garlic;  4 sprigs of thyme; 10 sage leaves ; extra virgin olive oil to taste
How to prepare the roast chicken
First, take the chicken out of the refrigerator at least an hour before starting to prepare it. This way the meat will cook evenly. Dab the chicken well both internally and externally with kitchen paper in order to dry it: so the skin during cooking will become crunchy and tasty. Prepare a chopped aromatic herbs of your choice and garlic: we recommend a classic one with sage and rosemary, but  you can use the ones you prefer, also experimenting with new flavors such as thyme and tarragon. Sprinkle both internally and externally with the aromatic mince, extra virgin olive oil, salt and pepper. In the internal cavity also put a clove of garlic, a sprig of rosemary and a few whole sage leaves that will flavor the meat from the inside. If you like, you can also add a few lemon wedges to give it freshness. Now tie the chicken thighs to close the hole and place it in a baking dish with the breast facing down to prevent it from drying out excessively. Cook like this at 220 ° C for 20-30 minutes, then turn it over and lower the temperature to 180 ° C, continuing to cook for another 30 minutes. In this last phase, sprinkle the chicken well every 10 minutes with the cooking liquid that forms in the pan. The baked chicken is ready when the temperature of the leg meat, far from the bone, has reached 85 ° C. Grazie a Primochef.it