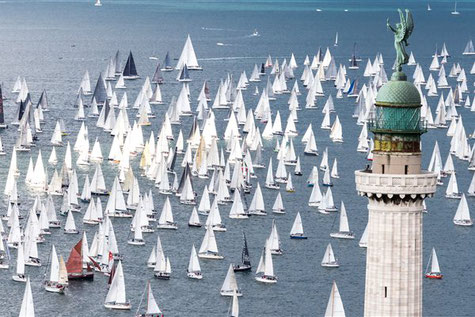 "The largest regatta in the world - writes the Guinness World Record - has 2689 participants and is the "Barcolana of Trieste." The record was obtained on October 14, 2018. But why does this regatta hold such fascination? Because it epitomises the intimate links, the love affair, between Trieste and the sea. From 1 to 10 October the city hosts the largest regatta in the world; the atmosphere during those days is special and, even if you don't get on a sailboat, a dinner at the port or an aperitif in the historic cafes are worth the trip.
The Barcolana is a historic international sailing regatta organized by the yacht club Società Velica di Barcola e Grignano. It takes place every year in the Gulf of Trieste on the second Sunday of October. The Barcolana became the Guinness World Record holder in February 2019 when it was named "the greatest sailing race" with its 2,689 boats and over 16,000 sailors on the starting line. Thanks to its particular formula, the Barcolana is a unique event on the international sailing stage: on the same starting line expert sailors and sailing lovers race side by side on boats of different sizes divided into several divisions according to their overall length.
So you can have lunch or dinner in Trieste with a view of the Barcolana; if you choose one of the restaurants at the port. Either at one of the fabulous fish restaurants or a trattoria overlooking the sea, glasses of iced white wine and long hours of aperitifs which then become dinners and cichetti.  It does not matter if you have never been on a sailboat, it is the enjoyable atmosphere, the lunches with a view of the sea whitened by the sails in the race, the empiric atmospheres of historic cafes, the lashes of wind that carry the scent of the sea. Restaurants at the port, such as the cuisine of the fish restaurant La Bottega di Trimalcione does not offer a fixed menu of specialties, but includes a wide variety of dishes prepared with the ingredients available day by day. The chef will choose the best fish, seafood and shellfish from the catch of the day to amaze and delight customers with always new and different options.
Or at  the Restaurant Nuovo Antico Pavone with some of the best fish in Trieste. At the new Antico Pavone you can taste the typical fish dishes of the Trieste and Istrian tradition. The fish is always fresh during the day. The patron chef Sergio chooses it carefully every morning. Seafood au gratin, raw tuna tartar, scampi, Sicilian prawns, creamed cod, octopus salad, shrimp roll with aubergine or blue plate, are just some of our appetizers that obviously change according to the season.