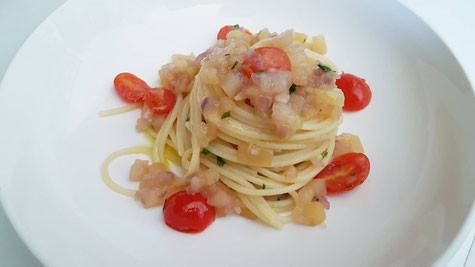 Spaghetti del brigadiere, 3 ingredients and ready in 10 minutes. Brigadiere's spaghetti is a simple and tasty recipe that can be prepared in a few minutes. It is made with simple elements such as potatoes, tomato and onion, to be fried in a pan. The recipe is so called because it is a tribute to those soldiers who have little time to cook. So, imagining them between one shift of service and the next, someone has seen fit to dedicate them a tasty but also quick and simple recipe.
Ingredients:
400 gr of pasta (you can use whatever you want, spaghetti are fine); 1 onion; 1 large or two medium potatoes
5 cherry tomatoes; oil; salt; parsley
Preparation:
The dish is really very simple and it doesn't take long to prepare it. We take a pan and heat some oil. We insert the chopped onion and let it brown. While browning, we also add the diced potatoes: the cubes must be very small, the smaller they are, the more they will be able to cook quickly and evenly. When everything starts to turn golden, then we put the cherry tomatoes cut in two. We add them at the end so that they will not pulp and keep a little crunchy (if you like). While everything is cooking, we put the pot of water on. Once it reaches a boil, we lower our spaghetti. A couple of minutes (even 4) before cooking, drop the pasta, keep some cooking water and pour our spaghetti into the pan. Sauté the spaghetti and create a single dish where, thanks to the water in the pasta, they will become creamier and tastier. As soon as they are cooked, a sprinkle of pepper (if you like) or chilli (if you like) and enjoy your delicious spaghetti.
An interesting variant, but obviously you have to like it, could be the addition of burrata or stracciatelle from Puglia. It will make the dish tastier and certainly creamier and tastier.