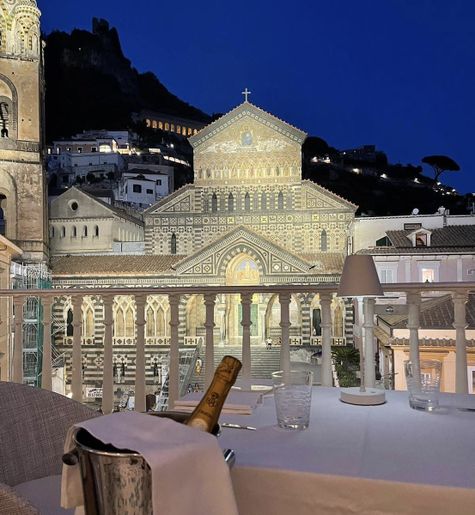 Like Milan and Rome, New York, Venice, Amalfi also has its own exclusive rooftop restaurant. Terrazza Duomo is the new panoramic restaurant of the Hotel Terrazza Duomo, a privileged place that allows you to dine on the roof of a historic building overlooking the ancient heart of Amalfi. Naturally the most sought after tables are those along the terrace with a direct view of the Duomo for an exclusive dinner of extraordinary charm. Not only,  Terrazza Duomo overlooks the city's famous Duomo and is set just a few metres from the sea shore.
Located in one of the oldest buildings in the city, the 14th-century Palazzo Piccolomini, the hotel and restaurant is centrally positioned. Completely renovated in 2021, the hotel offers bright, comfortable rooms with modern amenities, yet maintains the ambience of a period structure. Some rooms feature panoramic views of Amalfi's Duomo. As you have breakfast on the hotel roof, you will certainly enjoy the stunning views of Amalfi's elegant city and beautiful surroundings.
The two key players at the Terrazza Duomo and its haute cuisine are the executive chef Salvatore Milano and the maître de waiter and sommelier Alfonso Minutolo. A proven and winning combination, as proven with the success of Trattoria Da Gemma. With the opportunity to take over the management of the historic hotel with that wonderful veranda on the terrace which previously had only been used as a breakfast room for the hotel. Renovated in the post Covid period, it has 17 rooms with the restaurant, opening last July which caters for 80 guests (50 outside and 30 inside).
In the well-assorted menu, there is no shortage of certainly the fish crudités, the so-called "Amalfi sushi". The "Gran Raw Terrace Duomo", made with high quality raw materials, puts the sea on the plate: and one of the most popular dishes is the tuna carpaccio marinated with citrus fruits, the amberjack tartare and the grand royal plateau with the addition of caviar and oysters.