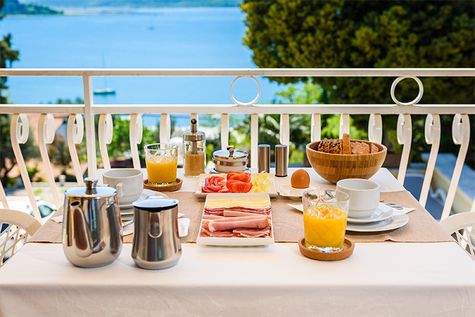 I remember when travelling to Italy in my early 20s, many Italian hotels did not offer buffet breakfast but only continental breakfast. It is amazing to see how the breakfast habit and offer have changed over the years. Initially, the hotels were starting to provide offer fruit and cereal in addition to continental breakfast and then later came the addition of a range of cheeses and charcuterie; and much later even egg dishes. Nowadays, even bed and breakfast offers vegan options.  So it is not surprising now, when Italian are travelling, they do expect the same options and diversity. This is further endorsed by the TV Program 4 Hotel Bruno Barbieri, where the latest episodes have brought in the category of Breakfast as a rating factor!
This is confirmed by research conducted in July 2021 by One Pool on behalf of Hotels.com involving 10,500 travellers across Europe. 87% of travelling Italians say they make the most of the buffet, even making repeated trips from the table to the juice and croissant station. A beautiful large room, a reception open 24 hours on 24, the presence of a spa or a swimming pool do not top the desire for a good breakfast which often becomes a real race against time! 34% of Italians admit, in fact, to get up early just to have a better selection at the buffet. Brioches and croissants, hot drinks, juices and juices, yogurt, waffles, pancakes and crepes become key success factors of the hotel stay.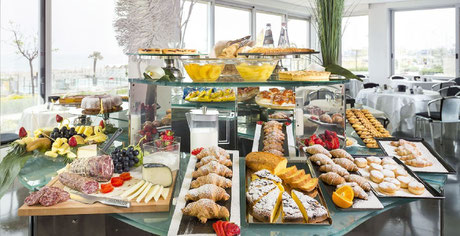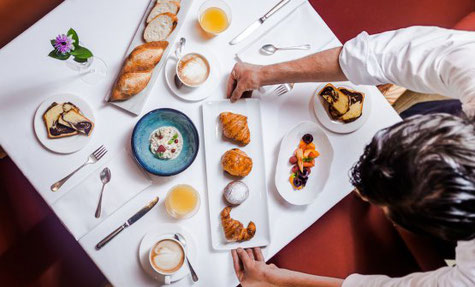 How does the breakfast work of a 5-star hotel work such as the Rosa Alpina hotel in San Cassiano in Val Badia (Bolzano). The buffet and à-la-carte offer must be the sum of the daily offer. Let's have a closer look of the Rosa Alpina breakfast room, a peaceful corner that accommodates up to 120 seated people. "There are always 7 different pastry types: kouglof (typical Alsatian dessert, ed), Venetian, French croissant, wholemeal croissant, two-coloured croissant, pain au chocolat, Italian cornetto. Depending on the season, we add pandoro and panettone, bossolà from Brescia, panfrutto ... ». 
 In Orta San Giulio, Antonino Canavacciuolo takes care of the Villa Crespi breakfast with an enviable selection of cheeses, his two-star trolley and home-smoked salmon. Massa Lubrense, in the province of Naples, hosts the Don Alfonso 1890 Hotel Restaurant, a 5-star hotel where food is an integral part of the stay and at breakfast you can taste real specialties such as bread baked in a wood oven, fresella, brioche all ' extra virgin olive oil, cinnamon-flavored banana smoothie, eggs with Irpinia bacon and toasted bread croutons, wholemeal flour biscuit with cherry tomatoes, Cetara anchovies and basil. In Milan, the Mandarin Oriental Hotel offers guests fantastic brioche with almond ice cream and pain perdu with vanilla ice cream. Everyone can choose between a continental breakfast - with eggs and a choice of a selection of cheeses, smoked salmon or cold cuts - and a typical Mandarin Oriental breakfast. 
A new trend - buffet breakfast @ your local luxury hotel
Whether you travel for holiday or work, a delicious breakfast in the hotel - especially if it is a gourmet one, with freshly baked pastries, fresh fruit and delicatessen - remains one of the small but essential pleasures of a stay away from home.  Some Romans have transformed their breakfast habits by going for breakfast instead of their local bar, into one the exclusive hotels to enjoy a buffet breakfast; as many of the luxury hotels offer morning buffets not only to guests but to anyone who wants to enjoy this luxury. From large chains to historic hotels in the center, up to the latest generation boutique hotels, the city meets at breakfast, with menus with a thousand nuances and prices for every pocket (from 15 to 45 euros).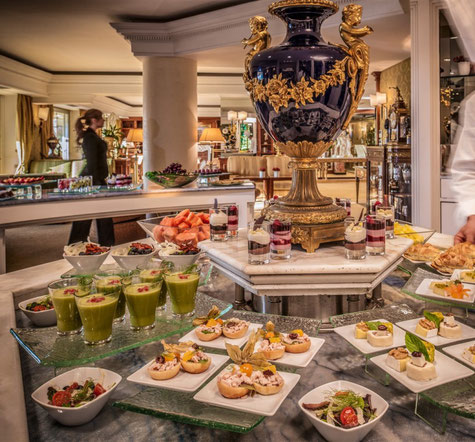 The breakfast at the Rome Cavalieri Waldorf Astoria is multi-ethnic, signed by the chef of "L'Uliveto" Fabio Boschero and pastry chef Dario Nuti (which is served by the pool in summer). There is the Italian version with cornetti and Italian cakes, but also the American version (pancakes, muffins, brownie bacon and meatballs) and the Intercontinental, with 35 different jams, an oriental buffet including steamed dumplings and spring rolls, the Finnish corner dedicated to smoked fish and the Arabic one between hummus and kataifi pasta.
The breakfast at Hotel Aldrovandi Villa Borghese is sumptuous and with a view, with its sweet selection (yogurt, croissants, crepes, cereals and fruit) and savory ones (crispy bacon, scrambled eggs, smoked salmon, chicken and pork sausages). While that of the Hotel Chapter, designed by Marco Cilia, is immersed in design and art. Where breakfast - between organic and gourmet - can be enjoyed seated on soft velvet sofas, admiring the mural by Alice Pasquini, the works of the American duo Cyrcle and the installation by South African Tristan Du Plessis.