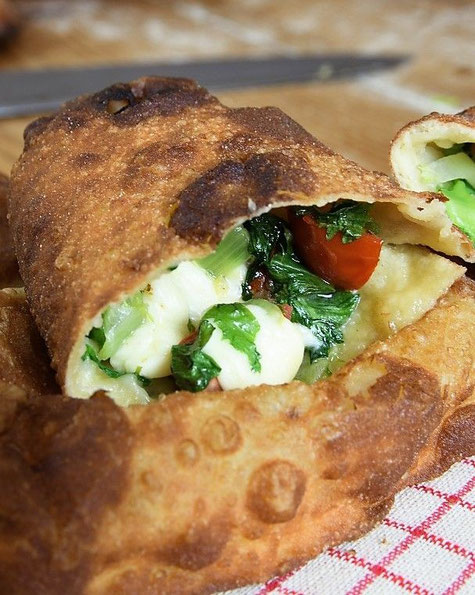 Pitoni Messinesi or Sicilian Fried Calzone are a typical street food of Messina, Sicily. A pizza-like dough - but very thin, is filled with endive, cherry tomatoes, tuma and anchovies. A tasty treat enjoyed as a snack or quick lunch. What is the origin of the Pitoni or Pidoni? One interpretation has its roots in Greek Sicily. It would concern the ancient custom of offering the Apollonian priestesses, the pizie or pitie (from pythía), spelled and laurel buns, so that they could promote favorable future events.
Ingredients for the dough: 
700 g of flour 00; 300 g of re-milled semolina flour;  450 g of warm water; 30 g of fresh brewer's yeast; 3 tablespoons of extra virgin olive oil; 1 tablespoon of salt; 1 teaspoon of sugar
Ingredients for the stuffing:
1 head of curly endive; 1 \ 2 kg of ripe tomatoes; 400 g of tuma or primosale cheese; 1 jar of anchovies in oil; 5 long spring onions; ground black pepper; extra virgin olive oil
Preparation:
Dissolve the fresh brewer's yeast in half a glass of warm water with 1 \ 2 teaspoon of sugar. Gradually add the flour and water and knead. Add the oil and salt and continue to knead until you get a smooth and homogeneous dough. Put the dough in a large bowl, cover with a clean cloth, a cover and leave to rise until doubled. Wash the endive, drain it and chop it coarsely. Put it in a bowl with two pinches of salt and mix. Before stuffing the pythons, drain any vegetation water that has formed and season with a little olive oil and a pinch of black pepper. Wash the tomatoes, remove the seeds, chop them and put them in a bowl with a pinch of salt to make them lose some of the vegetation water.
Cut the cheese into small pieces. Peel the spring onions and cut them into rings. Remove the anchovy fillets from the jar and place in a dish to drain. Take the dough and divide it into pieces of equal weight, plus or minus 70 grams each.
Lightly roll out the dough balls. Distribute the ingredients across the triangles of dough. Close the edges by tucking the flaps and pressing firmly with your fingers. Fry in plenty of seed oil.
Serve hot (but also cold they are delicious)! Grazie a Siciliafan.it