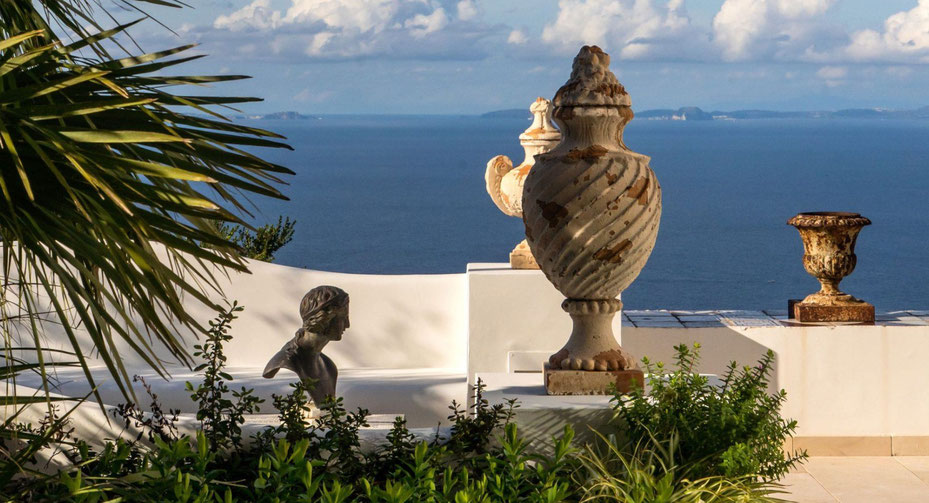 Why not take a trip to Capri - even if we may not be able to travel at the moment; we can escape in thoughts and through reading.  Capri is a place of longing, a dream destination, a picture of an iconic stylish island.  The perception is shaped by films such as "Le Mépris" (1963) by Jean-Luc Godard with Brigitte Bardot (including the Villa Malaparte, built in 1937 and sometimes used as a film location) or "La Pelle" by Liliana Cavani (1981) with Marcello Mastroianni and Claudia Cardinale or the film "Avventura a Capri" (1958), which almost appears as a commercial of Capri.
This perception is also shaped by personalities such as Jackie Kennedy, Maria Callas, Emilio Pucci, Princess Soraya of Iran and Sophia Loren, who spent their holidays on this island from the 1950s. They appear buoyant, cosmopolitan casually elegant - proven by photos from this time. It was a long time ago, but somehow the longing is often nourished by images of the past. Everything is meant to be brighter, more glamorous on Capri; indulging around lunchtime with the freshest fish and wine; sunbathing in one of the chic beach lidos; and the beauty and elegance of the people more self-confident and stylish then. the lemons more yellow. Fashionable parties of the 60s and 70s shaping Italian Fashion and lifestyle.
And today? If you travel in the off-season, you can actually find some of the stylish past . The then hopefully no longer overcrowded places of longing for Capri between natural beauties (Blue Grotto, the Monte Solaro mountain, breathtaking cliffs) and social show meeting points such as the Beach Club Fontelina, the Hotel Punta Tragara (when the villa, initially designed as a holiday home, was also built Corbusier his hands in the game) or the La Capannina restaurant. Everything is still there. A little something has to come from you. Nonchalant elegance and the will to fulfil your fantasies. So the backdrop is still there - lovely Capri, so go ahead.