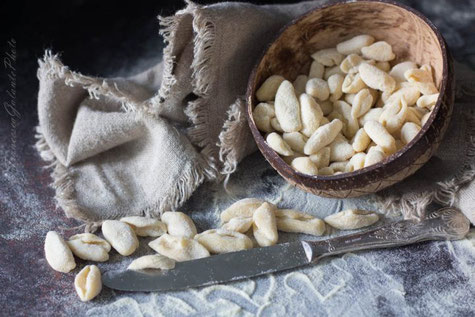 Cavatelli are the oldest type of pasta in Italy. They are especially loved by people who love to travel and discover the fabulous foods and wine of "the boot of" Italy. Cavatelli originate from the Molise and Puglia area. Cavatelli or 'cavatielle' in Molise dialect, are durum wheat semolina dumplings made strictly by hand and represent one of the main dishes of  the Molise cuisine. They are produced from a mixture of semolina, warm water and a pinch of salt and the name describes their hollow shape suitable for collecting sauce and seasoning. Cavatelli have an elongated shape and hollowed inwards, which is obtained with a light pressure of the fingers to be exerted on a small piece of pasta.  Cavatelli are excellent served with tomato sauce and salted ricotta or with meat sauce or with vegetables. 
Cavatelli originate from Molise but have spread over time to other regions of southern Italy. The exact date of origin is not known, but it already present on the tables of the South during the reign of Frederick II. As the King of Naples, and the Holy Roman Emperor Frederick II (1194-1250), he was particularly fond of this kind pasta, at that time called Croseti. There are many celebrations involving Cavatelli in the Molise region, usually around the July and August months. For example, in the town of Petrella Tifernina, Cavatelli seasoned with sausage and pork sauce is prepared at the festival of "cavètièlle e savecicce". At the end of July, the Cavatelli Cercesi festival takes place in Cercemaggiore, featuring Cavatelli with pork or wild boar sauce. In Pietracatella, Cavatelli seasoned with sauce is served at their festival. At the same time, Caggiano holds their crusìcchi festival, another name for Cavatelli.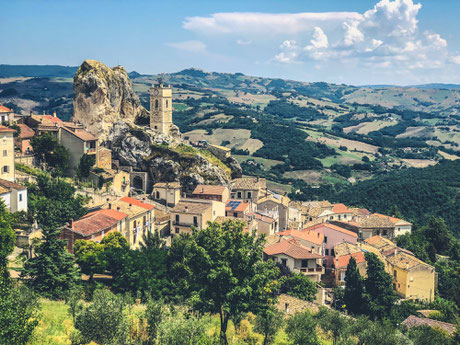 In Molise, Cavatelli are a dish of devotion on the occasion of January 17th, which is Sant'Antonio Abate . This fresh pasta is topped with stewed pork sauce during this holiday. Other ideal toppings for the Southern regions are turnip greens, with peppers - Cavatelli fatti in casa al sugo di peperoni , mutton sauce, aubergines or broccoli. Or, as it is used in Molise, with a "widow" sauce, that is with a tomato and lard sauce, without meat, but with the addition of aromas: parsley, basil and pepper.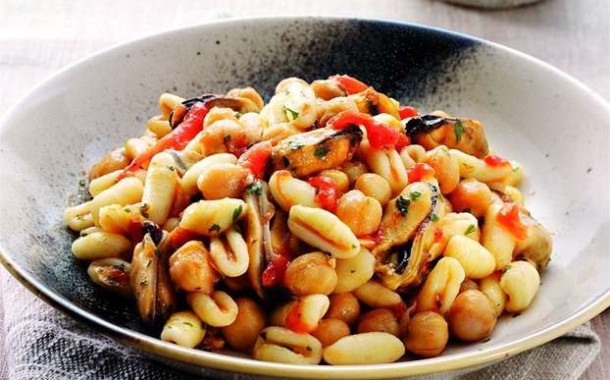 Ingredients:
Water 130 g; 00 flour 125 g; Remilled durum wheat semolina 125 g; Extra virgin olive oil 1 tbsp
Preparation:
To prepare the cavatelli, start with the semolina pasta: mix the two flours in a bowl 1 and transfer them to a pastry board, forming the classic mould in the center. Add the water a little at a time and knead. Finally, add the oil and continue to knead until you get a very smooth and soft dough to which you will give a round shape . Wrap the semolina pasta in cling film and let it rest for 10-15 minutes so that the dough becomes very elastic. After this time, take a piece of pasta at a time and form a not too thin tube with it. Divide the pasta tube into 1 cm wide pieces. Now form the cavatelli: exerting a slight pressure, dig the cavatello inside, curling the edges a little. Place the cavatelli on a tray and sprinkle with the semolina. You can also cook the cavatelli immediately, but we advise you to leave them dry at least a couple of hours on a pastry board (or even in the fridge) so that we have a more robust consistency during cooking. Cook the cavatelli in boiling salted water for at least 7-8 minutes. Grazie a GialloZafferano.it
One dish, you have to try is Cavatelli  with chickpeas and mussels which is very simple to make. Combining a legume with a seafood is not a very usual practice but believe us, the final result is truly amazing. In fact, the sweetness of the chickpeas blends perfectly with the flavor of the mussels and together they create a truly incredible dish.